Eduard Sd.Kfz.232 (6-Rad) (35794)
by Frank De Sisto
Photo-etched brass in 1/35 scale for the Italeri kit. Price: $19.95 USD.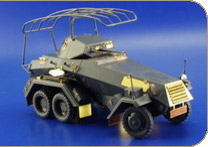 Italeri continues to issue very desirable kits in 1/35 scale, such as the Sd.Kfz.232 6-Rad (six-wheeled) armored car. They typically deliver a sound basic kit which is usually only in need of some refinements. For this type of kit, Eduard's approach is tried-and-true.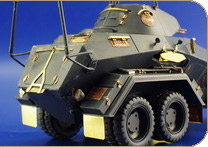 Eduard begins with hinge details for many of the vehicle's hatches, as well as details for the peculiar internally-mounted lights (including reflectors) and their aperture covers. All of the tools receive clamps and brackets, as does the fire extinguisher. The shovel gets a new head as well as a sheath for it. The next item of mention is new slats and front plate for the armored radiator covers, as well as mounts for head- and tail-lamps. There is a mount for a Notek black-out head-lamp, but modelers should note that most of these vehicles were out of service by the time these lamps became a standard fitting. Notek head-lamps were NOT seen on vehicles in the Polish or French Campaigns, for instance.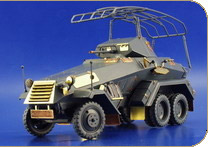 There are also new racks for the small lubricant cans carried on the vehicle, as well as details for the various fender-mounted storage lockers. There are also new view ports (with parts for the splash plates that surround some of them), gun mantle details, perforated barrel jackets for the co-axial MG13, flash suppressor for the 2cm KwK30, brackets for the "Rahmantenna" (frame antenna), mud flaps, license plates and spare tire mount for the rear of the body.
Altogether, this is a comprehensive set, which will enable the novice photo-etch user to add quite a bit of fine detail to the Italeri kit.
Highly recommended.
Eduard products are available at retail and mail order shops and directly from the manufacturer at: www.eduard.cz. Visit their web site for additional images of reviewed items.