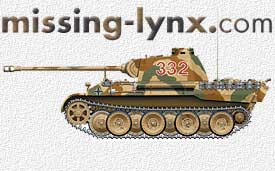 Squadron Signal #6081 Panzerkampfwagen IV
Frank De Sisto
SQUADRON/SIGNAL PUBLICATIONS #6081, "Panzer IV, the Panzerkampfwagen IV medium tank, 1939-1945". By: Kevin Hjermstead. Soft cover, 8.5 x 11 inches, 64 pages, 112 B & W photographs, 8 pages of color drawings, two general arrangement drawings and specification tables, 23 CAD drawings of components. Price: $11.95, US. Available from retail
and mail order shops.

Every once in a long while, Squadron/Signal throws us AFV modelers a bone in the form of a book devoted to our interests, thus this recent title. It is a creditable effort on the part of the author and features some well done color drawings, but it still does not "make it", in my view. There is really nothing new within the covers, save for a few photographs. I suppose that is the
only reason I bought the book, because there were some I had not seen. But, I digress.

The photo reproduction is very well done, and the captions are quite competenty done. The text gives a good basic overview of each model variation, but does contain the odd misunderstanding. For instance, the author states that late Ausf. G's were fitted with the Ausf. H drive sprocket, which in essence is true. However, it was not the drive sprocket, but the entire transmission/final drive that was fitted as the Ausf. H drive sprocket could not fit the Ausf. G transmission/final drive. Ah, the subtleties! The two general arrangement drawings cover the Ausf. D and the Ausf. H. They are accompanied by specifications for each type. The drawings should not be considered as scale representations and are really quite superfluous. The CAD
drawings show some components in order to illustrate changes in such things as exhausts, road wheels, drive sprockets and turret hatches. But if they show one type of hatch for the turret side, they don't show the others, limiting their
usefulness. This is common throughout. So, this book could be a useful primer on this Wehrmacht Workhorse for those who
have either nothing on the subject, or just a passing interest. Anyone who may have the Jentz/Doyle Panzer Tracts book or any of the Achtung Panzer or Spielberger books, may wish to let this one pass.
Recommended with reservations.