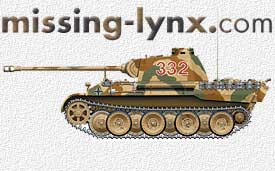 Tamiya 35248 Marder III
Andrew Dextras/John Prigent
Andrew's Comments:
Whenever Tamiya is about to release a new kit the amount of speculation surrounding the impending release runs rampant on the discussion groups. Once in awhile a kit is released that is almost on everyone's "most wanted" list. This latest Tamiya release is one of those kits.
What's in the box? 5 sprues of Tamiya's usual peach coloured plastic with some of the finest molding and details I've ever seen in an injection kit. Parts breakdown is quite logical, especially when you consider the amount of spin offs Tamiya can get from some of the parts that are common to the 38(t) series. 2 identical sprues contain the running gear. Detail on the sprockets and idler easily equal Modelkasten's 38(t) sprocket and idler set. The roadwheels themselves are beautiful and include bolt detail on the rear faces. Also included on this sprues are some detail parts like seats and 76.2mm rounds.
The next sprue contains all the chassis parts, upper hull and fenders. The lower hull is broken down in a manner similar to some of the Eastern European manufacturers ie: the lower hull is constructed from 4 parts as opposed to the "tub" usually supplied in Tamiya kits. A cursory dry fitting revealed that the is very good and should pose no problems. Detail on these chassis parts is exceptional, plenty of rivets and bolts in sight waiting to be weathered!
The parts for the 76.2mm main gun and gun shield are contained in the next sprue. For those of you who spend your time complaining on discussion groups about how Tamiya kits aren't that good, just put these parts next to Alan's Marder IID 76.2mm gun parts. It should be noted that these 2 kits cost about the same up here in Canada. The gun shields themselves have a few knockout marks on their inner surfaces which will require some attention and careful filling/sanding.
The final sprue consists of all the exterior and interior fittings as well as 2 crew figures. These are nicely done, but it will only be a matter of time for Warriors and other resin figures manufacturers to produce their own figures for this tank destroyer. The tool detail is spectacular, even the most detail obsessed will be very happy with the perforated toolbox.
The tracks are the typical Tamiya vinyl one piece type. Accuracy freaks will want to look into Modelkasten or Friul replacements, but these are very nicely done one piece tracks and will be more than adequate for the vast majority of modellers.
Decals are provided for 5 vehicles, 2 in panzer gray, 1 North Afrika, 1 winter whitewash over gray and one in 3 colour camo. Instructions consist of a nice 16 page booklet with good paint scheme information given.
In summary, I can't wait to begin building this kit and hopefully this is just the start of a new batch of 38(t) based vehicles from Tamiya. Is the Marder III Ausf. M next perhaps?
click on images for larger view
John's Comments:
My Marder has arrived from Japan, so here's a quick look at what's in the box. Five sprues moulded in Tamiya's usual sand-coloured plastic give just over 200 parts, excluding the one-piece gluable tracks and the poly caps. There's a 16-page instruction leaflet and a neat decal sheet in perfect register. All well up to the expected Tamiya standard, so far so good.
Looking at the twin suspension sprues first, each gives four road wheels, one sprocket and one idler as I was expecting. The suspension swing arms and springs are here too, and all very nicely done with no knock-out pin marks as the pins connect with the sprues instead. Also on each sprue are the return rollers, parts of the guncrew seats, shells etc. The only pin marks I've spotted are very light ones on the backs of the seats.
One large sprue contains the hull parts. Yes, it is a multi-part lower hull. Even Tamiya's multi-part moulding technology would be hard-pressed to render all the rivets on this hull, but doing it this way they're all present and correct. Some care will be needed in assembly but most of us shouldn't have a problem. The two sides fit to the bottom plate, which turns up at the front to help alignment. A front plate goes over the turned-up part, then the glacis and rear plate are added. The suspension, wheels, trackguards and driver's front plate go on next. Interestingly, there are two hull MGs, one on each suspension sprue, and they have full breeches. Only time will tell whether this is an indication of a gun tank Pz 38 (t) to follow. The MGs are very nice anyway, complete with their barrel cooling fins. A full suite of tools is provided, and that perforated grouser box comes in four parts so you get all the holes pierced right through. A little care in assembly to get the corners straight and this will look really good.
The hull top is a single piece, complete with the gun's cruciform support. One small part goes under it, to trap a poly cap for gun traverse, then the main ammo racks, drivers' gas masks and a stowed machine pistol are added before it's fixed to the hull together with its side and front armour. This stage also adds the rear travel lock, a simple snap-in job which will remain movable. Final hull details include the rear rack, very cleanly moulded and with its bars about as thin as can be moulded though still a bit on the thick side. I suspect that some masochists will build new racks with soldered brass rod, but the kit version looks good enough for me. The ready round racks also go in now, and here's a bit of a mystery. Tamiya has moulded all the ammo racks empty, but only gives you eight dummy "shell ends" to fill the 30 holes. Sign of an ammo set to come? You do get four empty cases and four complete rounds, but that still leaves a lot of racks unfilled.
The guncrew seats come in four parts each, and can be built erected or folded over the sides like the real ones were when in action. Their backs are a little simplified, with the sockets moulded to them – so if you build the seats erected there are no empty sockets on the stowage rack, and if you build them folded there are not empty sockets on the seats. Not a major problem, four bits of small-gauge tube in either place will be easy to fit
The front gun crutch is also able to fold after assembly, but its actual gun clamp is fixed solid. Who'll be the first to adapt this to work, I wonder? The two drivers' hatches are moulded as single pieces to be fixed closed, but Tamiya indicates where to cut and fold them for the open position. Since there's no drivers' area detail many will keep them shut – but how long before a detail set comes to fill that gap?
OK, on to the gun. This takes up a sprue to itself, and is nicely detailed. Yes, it does have those bolts-heads or whatever they are on the rear of the breech. They are catered for by splitting the breech transversely, so you get a single piece to add to the rear of the gun instead of having the breech split longitudinally like the gun barrel. The breech block is separate, and Tamiya shows the alternative positions for the separate operating lever for the open and closed positions. Its carriage is well-detailed, and the upper shield supports are moulded to the carriage halves so there shouldn't be any problems getting the shield straight and its supports in the right places. The gunner and loader figures look good, too. Unfortunately there are knock-out pin marks on the gunshield parts and the side armour, and these will need attention as they'll show after assembly.
Now, that decal sheet and the colour schemes. You get the well-known Heidi of 42 PzJagAbt in 7 PzDiv, in the three-colour scheme, #35 of 19 Abt, 19 PzDiv in snow camouflage over grey, III2 of 33Abt in 15 Pz Div in sand over grey in North Africa, a plain grey one of 42 Abt, 7 PzDiv, and #23 of what Tamiya calls 2nd Tank Destroyer Battalion, Russia, autumn 1942, also in plain grey. Tamiya are being a it coy about this one, as the 2 SSPzDiv rune is on the decal sheet above all the other markings and is indicated for this vehicle by a blur and the decal number. I suspect the SS marking will be trimmed off the sheet for some markets!
All in all, and leaving aside Tamiya's usual indication that combat vehicles carry burnished bare metal tools in a suicidal attempt to create reflections, this looks like another great kit from the masters of mould-making. It checks out well against the plans I have to hand, and most importantly it LOOKs like a Marder and should be fun to build.