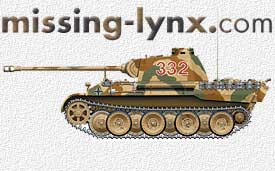 Tamiya 36202 1/16th scale Kubelwagen Afrika Korps
Andrew Dextras
The old saying "bigger is better" is only accurate some of the time. Luckily, in this case bigger is most definitely better. Following on the heels of Tamiya's recent 1/16 scale RC Kubel, this latest release is a highly accurate static model that only shares one sprue with it's motorised cousin.
The kit consists of 8 large sprues with extremely crisp molded parts in the now usual Tamiya peachy coloured plastic, 2 sprues of clear parts, 5 hollow rubber tires, a decal sheet and nice 24 page instruction booklet.
The parts layout is quite similar to the smaller 1/35 scale version Tamiya makes of this kit, except that there is a significant amount of added detail. A large number of parts on sprue "F" deal with a beautifully detailed engine. Molding quality is top notch and some of the detail has to be seen to be believed. In particular the cooling fins on the cylinder heads, flexible hose heating ducts and transmission are beautifully rendered. Suspension detail is excellent and the front wheels can be displayed "turned".
Sprue "A" deals with the main body side panels. Knockout marks are kept to a minimum and usually located in areas which will never be seen once the model is assembled. This sprue really gives you and idea of how large this kit is. The finished model will be longer than a 1/35 Tiger I, the notek light is simply huge compared to it's 1/35 version!
Sprue "B" deals with many of the interior parts. A nice touch is that the seatbacks are separate so that the knockout marks are hidden, the 1/35 scale Kubel has 4 nasty knockout marks on the rear face of the seats in between the seatback springs. Speaking of springs, the 1/16 Kubel seatbacks have nicely rendered springs, this saves you having to scratchbuild them out of thin diameter wire. The texture on the seats themselves is restrained as they should be for the type of material used, the folded roof of the Kubel is excellent with the folds being well reproduced.
click for larger images
Sprue "K" contains the hood (or bonnet), wheel rims and some accessories. Again top notch stuff here.
Sprue "E" contains the main chassis pan and doors. One of the best features of this kit is that the wood floorboard of the Kubel is molded separately making painting much easier. You can simply paint the model interior gray or tan and insert the wood coloured painted floorboards after. The doors themselves have separate handles, a nice touch. The doors have 4 very small knockout marks on their inner surface, these will be easy to deal with as Tamiya has placed them on the "raised" portion of the door rather than the sunken sections.
Sprues "J" and "Z" contain a driver figure and the previously released figure of Rommel. These are very nicely done and sprue "Y" contains personal equipment to fill your Kubel with stowage.
The windshield comes on a clear sprue as to be expected, but also included are a clear taillight which allows you to mask off the clear areas before painting. Also included is a normal plastic tailight in case you don't want to mask a clear part. The speedometer is supplied as both a standard plastic part you have to paint in or as a flat part in which a decal is applied and then sandwiched between a clear face. As someone who hates painting small details such as this, I'll take the decal route thank you very much.
Tires are very similar in material to the ones included in the 1/35 Famo kit, that being a soft flexible thin rubber. These "Afrika" balloon tires should look great painted up with a nice dusty coat of paint. A gripe would be that it would have been nice to see Tamiya include the regular Kubel tires from their RC kit as it would give the modeller more choices for markings and camo schemes.
Markings are included for 5 vehicles: sPzAbt 501 in Tunisia, a Luftwaffe AA unit in Tunisia, Ramke's brigade in North Afrika, 999 Light Divison in Italy and a vehicle from an unknown unit.
In summary, a great kit which should go together with typical Tamiya ease and with excellent detail without the need for aftermarket sets. If you're in the market for a large scale softskin, this is the best I have yet seen and will go together much better than any 1/16 resin Kubel could ever hope to.
Highly recommended.