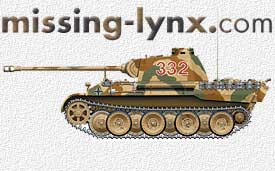 Tamiya #89562 Tiger I Ausf. E with crew
Frank De Sisto
Item: 89562. 1/35th scale Tiger I Ausf. E late version with Commander and His Crew. Contains: 221 plastic parts, 240 plastic individual track links, 10 pages of instructions in 15 steps, two page painting guide for figures, five sets of markings options. Price: $46.00 USD. Availability is limited.

First released in 1989, this kit heralded Tamiya's new approach to manufacturing AFV kits. Gone were the toy-like motors and more importantly, gone were the oddly proportioned dimensions of kits that had to contain large batteries. Proper engineering for parts fit and accurate detailing was also reaffirmed. Since then, Tamiya's kits have been the most consistently accurate kits of any plastic manufacturer currently in the business.

This review is presented not only due to the advent of this particular issue of the kit, but also because there are many modelers (if one can go by queries in the various discussion groups) who still ask which is the best Tiger I kit on the market. Arguably, the Tamiya series is superior to other offerings on the market with only its relatively higher price working against it.

This is the eighth issue of the Tiger I since 1989 and the third "special" or "limited edition" available. What makes this issue special is the new sprue with four casually posed crewmen. Including the original figure, there are now five figures, or a complete crew. The four new figures are as good as injection molding can get and come in useful poses: one man leaning back on to the gun tube holding a pipe, one half-sitting on the turret edge, one sitting on the turret roof and the commander in the cupola. They wear a variety of uniform styles from the standard black jacket and trousers to camouflage overalls. One fellow even has his jacket opened up to show his turtle neck sweater. The original figure is also quite acceptable and comes with choice of headgear.

The Tiger kit itself still holds up rather well after more than a decade. It has optional gun tubes and loader's hatches. All hatches, including the engine access hatch are separate parts. The driver's, radio operator's and loader's hatches are completely detailed, inside and out including periscopes and locking levers. Suspension swing arms are separate and all wheels are fully detailed. The individual link tracks are very well done and fit together extremely well, although each link has ejector pin marks that will need attention. Also, due to injection molding limitations, the guide horns are solid. All tools and accessories are included as separate parts and are crisply molded. There is a rudimentary 8.8cm KwK 36 gun breech and seats for the turret interior, plus an optional anti-aircraft MG 34 and mount. Overall, the fit of all parts is excellent.

The only major problem with this kit, which it shares with every other plastic kit on the market, is the shape of the turret. Until just a few years ago it was thought that the Tiger I's turret was symmetrical. However, that was not the case; there was a subtle difference in the angles of the way the turret side-walls turned in towards the center line, as seen from above. Researchers
and kit manufacturers alike have always overlooked this subtle feature. The best alternative is to purchase Armoured Brigade Models outstanding corrected turret in resin. The belly hatches also need work, as they are not entirely correct for this version. Anvil makes the parts for the correction and they can be purchased either separately or with a full set of their extraordinary replacement resin tracks.
The markings options include Michael Wittmann's white "007" (the vehicle in which he met his death, and no, the new crew figures are not represented as being Wittmann's), black "312" on yellow background with Charging Knight, black/white "1", white outline "3", and red/white "308". All are in dunkelgelb base with rotbrun and dunkelgrun mottle, except "312" which is dunkelgelb with rotbrun stripes. All appear accurate according to references. Wittmann's vehicle was a Befhelspanzer, so extra antennae, mounts and storage tubes will need to be added. DML makes an antenna set which provides most of what?s needed.

These tanks all had Zimmerit and so instructions for its application (but no materials or tools) are included. Here, one can avail himself of the Cavalier Zimmerit sheet custom designed for this kit, or use any of the traditional methods.

Nearly every manufacturer of photo-etch and after-market items has sets for this kit. For the interior, the most accurate is the one from The Tank Workshop. It includes the correct final type layout. The Verlinden set is only (marginally) accurate for the early Tiger I. In addition, Eduard, Royal Models, Aber and The Show Modeling have photo-etch sets for this kit. Tamiya also markets a set of photo-etch engine deck grill screens, an engine insert kit with tools, accessories and mechanics, and an ammunition set with accessories and crew. There are also literally dozens of resin figures on the market, which are appropriate for this kit. Fruilmodel and Modelkasten also have replacement track sets designed for this kit.

References for the Tiger I are everywhere (whatta shock?)! An inexpensive primer is Jentz and Doyle?s Osprey New Vanguard book, Number 5. The legendary "Tigers in Combat One" and "TIC Two", from Federowitz, provides extensive unit histories and an incredible amount of photos of "in service" vehicles. For production differences the recent Schiffer book by Jentz and Doyle, "DW to Tiger I" fills the bill in that team's usual thorough style. There are many others, but those
listed above should be considered essential. A visit to David Byrdan's astonishing web site (Tiger1E.com) will also allow the modeler to visit components of a "Virtual Tiger I" for an extremely unique perspective.
In conclusion, I cannot say that modelers will be wild about this release, since most would rather see a new item. However, if you have always wanted a "State-of-the-Art" Tiger I for your collection, or simply enjoy building a well engineered, hassle-free kit, then this is the perfect cat for you.

Recommended, skill level intermediate (because of the tracks), value for money: fair. Overall appeal: fair.