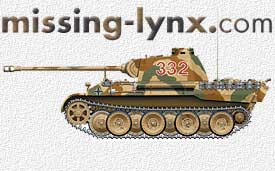 How to Build Tamiya's Steel Wheeled Tiger I
Andrew Dextras
This new modelling manual from the publishers of Tamiya Modelling Magazine consists of 58 pages printed on very high quality paper. The author is well known uber-modeller Angus Creighton who takes the modeller step by step through 5 beautifully done Tiger I steel wheeled models (plus one Borgward) in full colour. Each specific Tiger I is covered in great detail through numerous images showing both the completed model and in progress images.
The specific vehicles that are covered are:
- "300" of sPzAbt 505
- "009" of sSSPzAbt 101
- "321" of sPzAbt 504
- "A12" of Grossdeutchland
- "F01" OF Kampfgruppe Schulze
Far from being a simple study of 5 Tigers, the first 27 pages of the book cover pretty well every aspect of AFV construction, detailing and finishing. Topics include: applying texture, zimmerit, hull and turret features, markings, tracks, battle damage, painting & weathering and figures. Again, all of these topics are covered with excellent quality full colour images showing each topic in a step by step nature. In addition, interspersed in each section are images from the Vimoutier Tiger I showing specific details.
In summary, this is the best "how to" book I have yet seen for AFV modelling. Even if you have no interest in Tiger I steel wheel versions, every modeller can benefit from the excellent tips and techniques that are covered in the book. For the german armour fan, run out and buy this book…. now!
An upcoming volume will cover the non-steel wheeled versions.
Very highly recommended.
For purchasing information in North America please visit this website . For purchasing information in Europe, email to this address: Tamiya.