Verlinden Productions: 1/35th Hummel Details, Ammo and Stowage (no. 2067)
by Daniel Lewis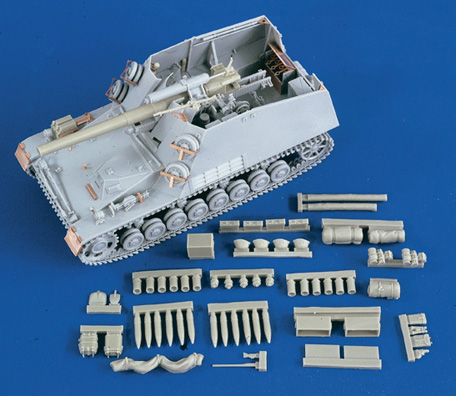 Scale: 1/35
Media: Resin, photo-etch
Released for those wishing to add just a little bit more to the relatively new Dragon 'Early' Hummel kits, this is for the most part an excellent addition for a subject for which not too many accessories have been released.
My first impression was "How did they fit so much into such a small box?" Packed inside the box are 84 resin pieces and 45 photo-etch pieces. You will find a jerry can rack, spare wheel racks, rear ammo box improvement parts, fire extinguishers, jack block brackets, jerry cans, a new gun barrel and breech, new mud flaps, charge shells, propellant bags, shells and much, much more.
For the most part the detail is crisp, but occasionally a little bit soft. Some of the detail is so delicate (jerry cans; ammo boxes), that it had disintegrated in some places in transit. There is little flash. As usual from Verlinden, the crew gear is a little bit closer to 1/32nd scale, but some is closer to 1/35 than earlier offerings. From what I can see there are no seam lines, as in some resin castings. I have found no air bubbles. If you wanted to show some of the supplied boxes open, you would have to thin down the sides quite considerably.
In my update set, the supplied MG 34 was badly warped. I deduced parts 28 to be the propellant bags. Unfortunately the propellant shells are attached to the resin carrier at the bottom so the necessary detail here is not present. The carriers are rather hefty on some parts so I would pity someone lacking a rotary tool.
The photo-etch ammo box updates are superb (lids, shell holders and front flaps) and really add a lot to a Hummel kit. The gun barrel is a step up from the plastic one, but an aluminium one would still be better as the resin barrel still comes in sections. Some detail parts are quite flimsy.
The instructions are adequate, but the bare minimum and some of the photo-etch parts are notably too small for the job. I replaced them with some parts from the fret to which no reference is made in the instructions. (Parts 27 were supposed to hold the spare barrel container but I replaced them with Parts 22). I cannot find any photographic reference for the MG mount on the top of the front superstructure.
I opted to use this set as part of a conversion and detail project based on Dragon's old 'Late' Hummel'. (This was all that was available in my price range.) If you opt to use the update set for this kit, some rather heavy modifying or all-out scratch-building is in order to use the rear ammo box updates. I ended up scratch building the basic boxes altogether.
Despite a few shortcomings, this update set will add a lot to a Hummel, for those not wishing to tackle a full photo-etch set.