Voyager Models photo-etch update set for the 1/48-scale Tamiya Tiger 1 Early (48005)
by Nick Cortese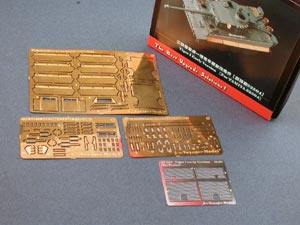 When Tamiya's Tiger 1 first hit the shelves it was an obvious hit with many of the modeling community. 1 /48 scale armor is going thru a resurgence of sorts and continues to slowly grow with companies like Tamiya, Skybow and Trumpeter leading the way of this "medium" scale modeling…
Voyager Models of China have now focused on producing detail sets for the 1/48 scale market of kits and they have done an excellent job with this simple yet very comprehensive set for the Tamiya Tiger 1.
The etch set consists of 4 etch frets and 2 lengths of ABS rod.
This set is packaged in the typical Voyager sliding style cardboard casing which includes a half sheet, double sided instruction sheet.
Most of the larger fret etch items make up the side fender detail back fenders and 2 rear exhausts and wraparound exhaust shields.
The kit molded on one piece fenders are nice however Voyager offers individual fender sections for those daring enough to add some wear and tear drama to the kit.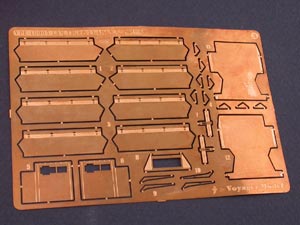 The Tiger turret gets the much needed spare track holders as well as small commanders hatch details as well as 2 part etch smoke dischargers mountings.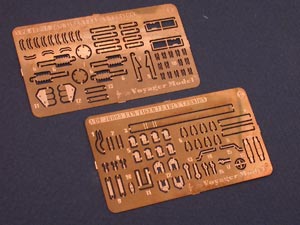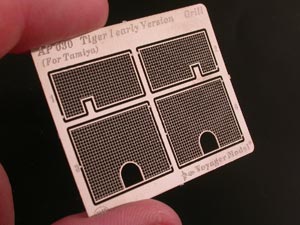 The much needed and most distinctive area is the rear deck screens.
Once more the mesh weaved–effect is very well done and looks superb.
Unfortunately, Tamiya have omitted etch screens and quite frankly is the only sore point to another wise excellent kit.
Not much surgery is involved, mainly removing and or sanding small items off, nothing too drastic. The only part that may be tricky is the back fender detail which has some rather small delicate items, other than this area it's pretty straightforward throughout.
Overall a really nice update set which addresses the rear engine deck area as well as smaller subtle detail items very well.
Once more Voyager Models quality and value easily make this etch set a winner.
Highly recommended.
Thanks to Francis at Gryffon hobbies for supplying the review sample http://www.gryffonhobbies.com/ and to Voyager models http://www.voyagermodel.com/