Voyager Models photo-etch update set for the 1/48-scale Tamiya Hetzer (Mid Production) (48)
by Nick Cortese
Voyager Models has jumped into the 1/48 scale amour frenzy with this simple upgrade etch set, which compliments the Tamiya Mid production kit Hetzer perfectly!
The Tamiya kit is very nice out of the box; however can use a bit of help with some of the smaller detail items as well and the engine grill detail.
The update set
Packaged in a plastic sleeve with a simple half page instruction sheet which is easy to read and very clear.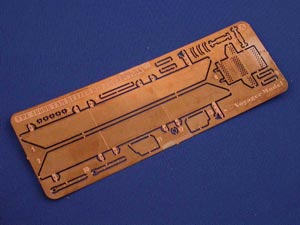 The main items on this simple etch fret include the side skirts, perforated toolbox, and top M.G. plates as well a clamps and top hatch locking mechanism.
Also included is a separate etch fret for the engine exhaust grill, which will be a huge improvement over the non-existent mesh detail from the Tamiya kit.
Once more Voyagers Model's mesh detail is astoundingly fine and really makes it worth purchasing this update set for the engine screens alone.
Tamiya's one piece Hetzer side skirts are quite crisp and sharp in detail but a bit thick in scale.
Voyager Models offers both side skirt sections complete with nicely detailed bracket attachments complete with the proper tiny bolt detail.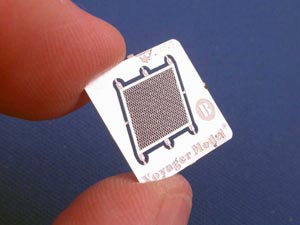 Conclusion
A very simple, yet effective update set that will surely beef up the look of this already nice little kit. Because of the relatively small quantity of etch parts involved, it's heartily recommended for anyone interested, especially first timers to etch.
Highly recommended.
Thanks to Voyager models http://www.voyagermodel.com/