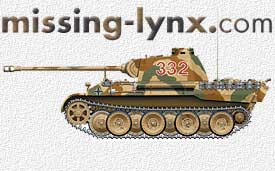 Warriors MW023 Tigers in Normandy Dry Transfers
Andrew Dextras
The third Warriors dry transfer release is a set designed for anyone wanting to model a Tiger I tank in the Normandy campaign.

The sheet contains a number of choices for SS 101 Tigers in the plain thick white style as well as the familiar red on white type. Also included are some black on white numbers for a sPzAbt 503 Tiger I. Warriors has also included plenty of balkenkreuz to outfit your Tigers. Oddly enough they have also included a number of sPzAbt 501 stalking Tiger logos on this sheet...an afterthought from the Tigers in Tunisia sheet?

The sheet measures approx 3.5" x 8" and features 4 colour printing. Registration is good on my sheet although one or two of the numbers are slightly off. One nice point about these transfers is that they are extremely thin so they should weather very well.

Overall, a nice addition to this line of dry transfers.