Dragon Sd.Kfz.164 Hornisse (7234)
by Frank De Sisto
1/72-scale injection-molded styrene kit containing 190 plastic parts, two lengths of DS100 tracks, one photo-etched brass fret, six decal/markings options and six pages of instructions in eight steps.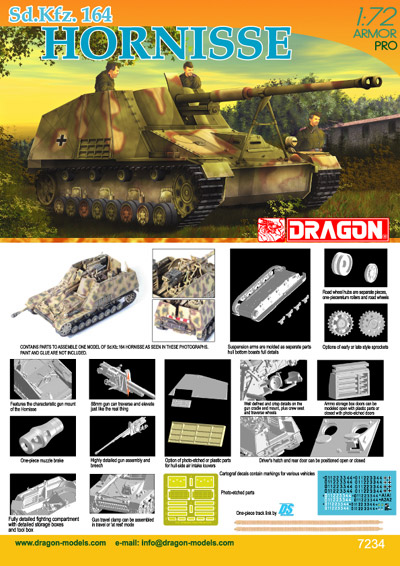 DML continues to build on the parts from their previous Pz.Kpw.IV kits, issuing the self-propelled 8.8cm PaK43 on the hybrid G.W.III/IV chassis. The kit is, in fact, nearly all-new with only the wheels coming from the previous Pz.Kpw.IV-based offerings. However, the wheels deserve repeated mention since each dual road-wheel and return roller is molded as one piece, with the proper separation achieved through the innovative use of slide-mold technology. To ease painting, the tire segments are separate rings that should be added after they and the main parts are painted in their respective colors. This technique has also been used to produce an opened muzzle brake. The reader should note that slide-molds are nothing new and have been in use for as long as injection-molding of styrene plastic has been around. What is innovative here is how DML's engineers are using the technique to either make construction easier, or to provide more details on a given part.
Being an open-topped vehicle, the "Hornisse" (Hornet) has quite a "busy" gun compartment. DML has done a fine job of capturing this aspect of the vehicle, while also providing some options including opened or closed ready-round ammunition racks and a gun that elevates and traverses. The compartment's rear doors are separate and can be depicted opened or closed. Aside from ready-rounds in their racks, there are also three separate rounds. The remainder of the compartment is detailed with tool and equipment boxes and lockers, AA machine-gun mounts (but, unfortunately, no MG34s), radio, antenna mount, internal gun travel crutch and stiffeners for the superstructure side plates. The gun mount is very nicely done and includes seats, sights, hand-wheels and operating spring cylinders.
The walls of the fighting compartment are commendably thin at the top, because the part is engineered with a very subtle bevel. Unlike many other bevels, this one is positioned very low down on the part, so it will not be easy to see once all stowage is in place. The jack and its block as well as head-lamps, spare track storage racks, mufflers, exhaust pipes, tow hooks, hand-holds and external gun crutch are all separate parts with very nice detail. The driver's compartment hatches and forward visor can be shown opened or closed, while the two small view-ports on either side of the driver's hood are separate parts, ensuring sharp details. The final option is the choice of plastic or etched-brass parts for the engine vents on either side of the fighting compartment.
I mentioned the road-wheels earlier; the remainder of the suspension system consists of two styles of Pz.Kpfw.III-type drive sprockets as well as separate final drive housings. The idler wheels are in two halves and there are also boxed-in mud flaps for the rear end. The tracks are each in a single length and are made of the DS-100 material, which can be glued with standard liquid cements.
Overall, the details on this kit are crisp and quite fine. There are no ejector pin marks on any exterior part. Likewise, they are noticeably absent on the interior surfaces of the superstructure panels. There is one pin mark on the insides of the driver's hatches, but they are above the surface and will sand off in a few seconds. Just about the only thing I'd replace are the molded-on lifting hooks on the superstructure sides. I did a "dry" parts fit check of the major components, and every thing seemed OK. However, the two superstructure side panels will need care where they butt up to the other panel parts. Just take your time, as this is a tiny little model, only about 3-1/4-inches long, without the gun tube.
The instructions are of the "drawn style" and are clear enough. However, be careful in step 3! Don't glue the front section of the gun tube as shown, or it will be attached to the recoil slide. The markings schemes are well-done and include quite a variety of options. Three sets are for H.s.Pz.Jgr.Abt.525 (Army Heavy Tank Hunter Battalion 525) and three are for H.s.Pz.Jgr.Abt.560. They cover the middle and late war period and include an overall olivgrun vehicle with small amounts of rotbraun and dunkelgelb in a hard-edge pattern. The remainder depict variations of the dunkelgelb base with rotbraun and/or olivgrun stripes, blotches or mottle pattern. The decals are from Cartograf of Italy, and have excellent register, detail and color saturation. There will be plenty of left-over decals for the spares box as well.
This kit has plenty of detail, plenty of options and a fine assortment of finishing options. What more could you ask for? (I know: that's a loaded question!)
Recommended.
Reviewer's note: Since May of 2005, I have been working on books for Concord Publications, a sister company to DML. The reader may wish to take this into consideration. For my part, I will attempt to maintain an objective viewpoint when writing these reviews.
DML kits are available from retail and mail order shops. For details see their web site at: www.dragonmodelsltd.com.