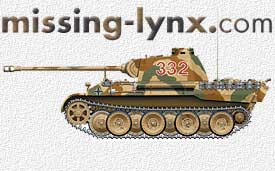 Extra Tech #72005 Beaverette
Ian Smyth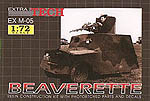 Extra Tech M-05 Beaverette 1/72nd scale.

Having seen a posting on Missing-Lynx Braille scale page asking if anybody wanted to review some Extra Tech products I answered eagerly and waited to see what would happen. With in a few days I received an answer saying that my sample had been sent.
When the package from the Czech Republic arrived in the mail I could not wait to rip it open and see what wonders where contained inside it. The posting had been for etched sets, and I was surprised to find a complete kit! The kit contains six resin castings, a 1 ¾ x 2 1/8 inch sheet of photo etch and a small decal sheet. The instructions are on both sides of an 8 x 11 ½" sheet of paper.
The resin parts are very well cast with very fine detail, including scale rivet detail, the three air bubbles in the whole kit were on the under frame / chassis, where they will not be seen anyway. The chassis part has the fuel tanks, axles and drive train, and some suspension and engine detail on it. The tires have a simple yet nice tread pattern on them. The resin works very well and is not brittle. The casting lugs are positioned in places where they will not be a problem and are thin and continuous, so their removal is quick and easy.
The Photo Etch sheet is well etched and detailed, it has 19 parts some of which have up to six multiple pieces, and I had no problems with removal of any parts. The sheet has some window hatches, which can be used to replace the cast resin ones on the body of the kit; I did not bother with them as I thought the cast ones were fine as they were. It includes a nice little steering linkage part. The turret walls will need care when being formed to get them to the right diameter. The two Vickers K guns are made up of 10 parts that also require care when assembling, but once they are put together look great. The decal sheet suffers from a register problem, which can be dealt with some decals from another source (Matchbox comes to mind right away).
I was not able to check the kits dimensions, as the two references on this vehicle I have do not give any body dimensions. Having said this the kit looks every bit the part and in my mind that counts for a lot. All in all I feel it is a good little kit and would be happy to build something else from Extra Tech.