Academy 1/35 Scale Static Model Kit No. 13203; M4A2 Sherman USMC
by Cookie Sewell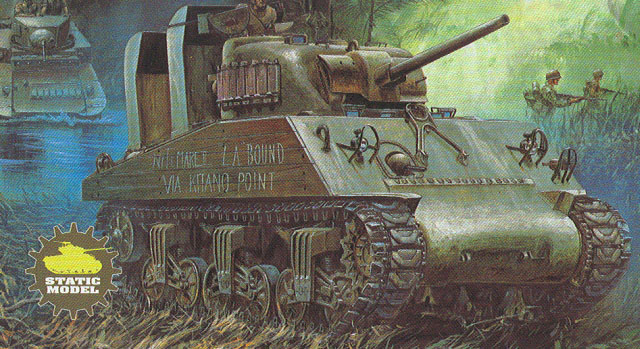 542 parts (539 in OD styrene, 2 in metallic vinyl, 1 nylon string section); price US $39.
Advantages: upper hull retooled to corrected rear profile; intake trunks appear better than the Italeri M4A2 parts
Disadvantages: use of common sprues for multiple kits results in some shortcuts; will require the parts box and some mixing and matching to make an accurate model
Rating: Recommended, for all Sherman fans and USMC tankers
One of the sadder moments in recent modeling was when Academy released their long awaited M4A2 Russian Army variant and unfortunately miscalculated the rear plate angle, thus causing a lot of complaints among the Sherman faithful. To their credit, they went back and redid the back of the mold and now have a corrected M4A2 hull profile that is far more accurate.
Regarding the problems with "rocking" suspensions due to the old Italieri method of assembling the suspension units (e.g. lower unit fixed to a central pin and no firm locking mechanism) they also provide new suspension unit lower arms with what now appears to be a locking hole for a pin on the cast suspension unit carries; oddly enough, there is no pin for it to mate with on the suspension units.
Like Tamiya and DML before them, Academy has now built up a sufficient body of US M3 and M4 based kits to use the "mix and match" system of kit production to meet a specific prototype. Here are the sprues I have noted in the kits and what they contain:
A (Sherman series) – 55 parts from one side of the basic suspension with two types of road wheels, idlers and drivers
B (have not seen this one yet)
C (Sherman series) – 61 parts forming the standard hull components and basic elements of the late model M4 series (e.g. "wet stowage" or 47 degree) hull tanks with the late model cast nose
D (Sherman series) – 49 parts forming the basic OVM and BII items, such as tools, .50 caliber machine gun, .30 caliber machine gun, fuel caps, etc.
E (Sherman series) – 33 parts forming the basic details for the late model turrets with "vision" cupola and viewers and guards for the other stations on the tank
F (Sherman series) – 17 parts forming the hull rear components of the A2 series with diesel engines
G (Sherman series) – 20 parts providing the basic late type 75mm gun turret with oval loader's hatch
H (M10 GMC) – 207 accessory parts to include ammo boxes, spare track, shackles, canteens, racks and many extra bolt heads, rivets, and casting numbers
I (Sherman series) – 33 parts providing the late type 76mm ("T23") turret
J (M4A2 USMC) – 42 dedicated parts for this kit with T48 tracks and extenders, wooden sides, and wading trunks for the M4A2 series tanks.
The M12, M10/Achilles and M36 all share the A and D sprues, as well as the H sprue from the M10 with the M10s/M36 kits.
The molding on this kit is crisp and clean, but like DML they still seem to have a problem understanding "flush welded" as an assembly technique and half of the welds on the hull are recessed.
The wading trunks are nicely done and better than the ones on the Italeri "M4A2" (an M4A3 kit that requires a lot of surgery to convert to an A2) but also do not include the screening found on most of the originals.
Based on just a preliminary scan of references (such as "Tank Battles of the Pacific War 1941-1945" by Steve Zaloga) there is only one major goof in this kit. Photos of the Marine tanks in the Pacific, especially the late model M4A2 tanks used at Iwo Jima and Okinawa, show them exclusively using the late war all steel T62 type tracks with extended end connectors. The kit comes with a beautiful set of T48 rubber chevron tracks with extended end connectors. If the modeler has an extensive spares box, the solution is to swap these tracks with the original Tamiya M4A3 kit from 1981 (or its re-releases) as they come with those tracks.
(As an aside, Academy now makes good vinyl tracks for the T48 with extended end connectors, T49 "three-bar" steel tracks, and T51 irreversible smooth rubber pad tracks. Perhaps they will offer them separately as AFV Club has done, as this is a popular option with many modelers who run up against DML three-part single link track for the first time.)
Five finishing options are provided – 1, unknown (actually a 5th Tanks USMC replacement on Iwo Jima – see page 65 in the Zaloga book), 2 - Iwo Jima (actually 4th Tanks, Iwo Jima, per Zaloga). 3 – Unknown unit 1945 (again, 4th Tanks on Iwo Jima); 4 – Tinian 1945, and 5 – Tinian 1945 (both from 2nd Tanks, Tinian July 1944). While the decal sheet and painting instructions are correct, I must admit surprise someone didn't check on the units more thoroughly (and since this book is copyright 1995, it's not like someone produced a "gotcha!" listing after the fact.)
Purists will have fun as many of the 4th and 5th Tank Battalion vehicles used ten-penny nails welded to their hatches to keep the Japanese from attaching magnetic mines and penetrating the hatches. (Sounds like a lot of drilling and sections of .015" brass wire to me!)
Overall this is a good effort and Academy should be complim ented for fixing the molds to their previous kit. (Question remains, will new issue M4A2 Russian tanks have the new hull rear end?)
Cookie Sewell