AFVisual 018: Late War U.S. Tanks, the Pershing, Chaffee and M40 SPG
by David Doyle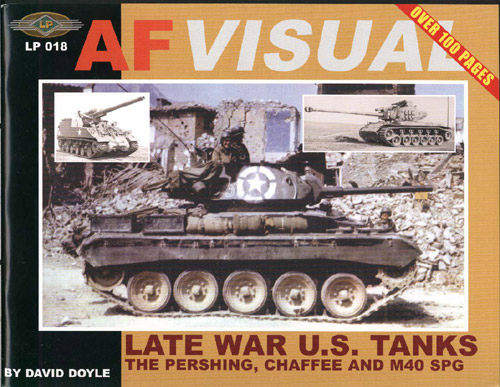 Letterman Productions, no ISBN, 108 pages.
I think we've all been looking forward to this one with its coverage of the WW2 Pershings, and the wait has been worthwhile. I've included the covers in the page count above, because both the front and back show wartime colour photos of Chaffee and Pershing respectively. On the inside there are no fewer than 61 pages of Pershing photos, many full-page, ranging from shots on the production line and wartime walkarounds taken at APG to photos of Zebra Mission training in Germany and active service. There is also a great section of photos of the damage suffered by Fireball and by the nameless number 22 tank when they were hit by German fire – 24 full-page photos showing lots of detail and the tanks' markings. To round Pershing coverage off there are 14 pages with 47 detail close-ups and Tech Manual extracts, including fighting and driving compartments – excellent! In amongst all this are some lovely shots showing just how muddy a Pershing's suspension could get, and these are well worth close study before weathering a model.
Next are two pages on the Super Pershing, the first with a nice full-page shot of the T26E1 on which it was based and the other with four photos showing the added armour before the addition of the bat-wings to the turret. Unfortunately none are rear vies, but what's here is still very useful.
The Chaffee gets the following 23 pages, starting with four pages giving 12 general views plus one of the unusual Chaffee built with the suspension and tracks of a German halftrack. Then there are 6 pages of active service photos, averaging 2 to a page, followed by 13 detail closeups and Tech Manual excerpts at 4 to a page and including turret interior and engine bay details.
Finally the M40 gets 17 pages, starting with the pilot T83 and showing how the production vehicle differed from it. Here there's a nice shot of a T83 with track extenders fitted to its HVSS steel chevron tracks, but only three shots of the Zebra Mission vehicles and one of an M4 in Korea. The remaining six pages have 24 detail closeups of the Patton Museum's M40, and all of this will be very useful when we see the long-expected kit.
This is a great addition to the bookshelf, with clear reproduction of the photos and informative captions to them, and has the best photo coverage I've seen of the WW2 Pershings.
Recommended!
My thanks to the author for the review copy.
John Prigent