Eduard M8 Greyhound (22077)
by Frank De Sisto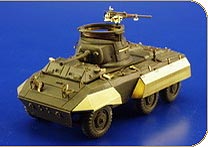 Photo-etched brass in 1/72 scale for Italeri kit. Contains: two frets and four pages of instructions. Price: $22.95 USD.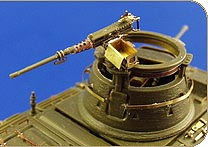 With the renewed interest in modeling in the smaller scales, several kit manufacturers have joined in the trend by releasing new items never available in these scales. A case in point is Italeri, which recently released a fine little M8 armored car. These are not your father's small scale kits!Eduard has come out with a very useful little set to detail the Italeri kit, which should be very pleasing to "Braille Scale" modelers. Just like the "big boys", the small scale modeler now has an etched brass set to rival any on the market for comprehensiveness and detail. Forget about scratch-building small fiddly bits and using "unusual" materials to depict a detail. Everything is here.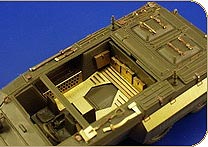 On top of the list are scale-thickness fenders to replace those in the kit. These need to have the stiffening ribs embossed by the modeler from the inside. Likewise, there is a floor panel insert which will also need embossing prior to fitting it. Continuing with the interior, there is a radio set and ammo rack for both of the sponsons, stowage boxes, ammo boxes and fire extinguisher racks for the fighting compartment, as well as foot pedals and instrument panel (with film backing for the instrument faces) for the driver's compartment. The turret interior receives details for the 37mm gun breech, ammo box and wall racks, deck plate, seats, and fire extinguisher racks.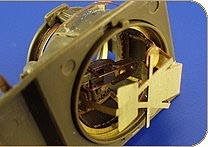 The exterior, beginning with the turret gets a new rail for the .50 cal. M2 HMG, as well as an ammo box with cradle, gun cradle and pintle, hand grips and belted ammo. There are hand rails for the turret exterior as well. Various areas of the hull get straps, clamps and brackets for tools and tow cable, as well as head-lamp brush guards. Lifting hooks, tail-lamp details, mine racks and mine details as well as two jerry can racks complete the set.
"Braille Scalers", this one's for you!
Highly recommended.
Product images are used by permission of Eduard. Eduard products are available at retail and mail order shops and directly from the manufacturer at: www.eduard.cz. Visit their web site for additional images of reviewed items.