Eduard LCM 3 Landing Craft in 1/35-scale photo-etched brass for Italeri kit (35739)
by Frank De Sisto
Price: $22.95 USD.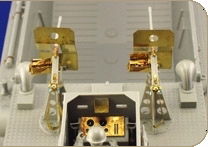 This very simple set is designed to fit the Italeri kit, but since none of the parts are for specifically-sized areas such as grills, I suppose it could be used on the Trumpeter kit as well. There are two frets, a piece of paper and a piece of film for a choice of instrument panel representations, and three pages of instructions.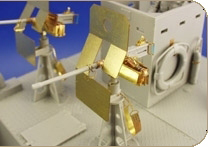 The oddest thing about this set is that there are actually very few parts devoted to the vessel itself. The main parts consist of the four perforated hoist points (two on each side of the hull) with a few other small brackets and circular plates for the bow ramp. The remaining parts for the boat are devoted to such things as storage brackets for the bilge pump extension, the boat hooks, life rings and fire extinguisher. The pilot house gets a new instrument panel using an etched plate and film or paper dial faces, as well as parts to dress up the control handles. There are handles for both sides of the door, and that's about it.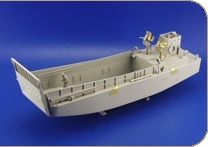 There are new shields for the two .50 cal MGs as well as full details for each gun. There are 16 parts per gun including: grips (to which plastic rod handles must be added), fore and aft sights, barrel jacket and carrying handle, pintle and gun cradle, tiny chains, ammo box with cradle and attachment mount, belted ammo and straps to keep the gunners attached to their mount in rough seas. The six infantry figures that are included in the Italeri kit (courtesy of DML) are given slings for their M1 rifles, M1 carbines and BAR. Chin straps for their helmets as well as three sets of camouflage netting complete the upgrade. These last items are really very coarse and perhaps should not be used, although they may look fine on larger scale figures. For further comments on the helmet netting, see my upcoming review, on this site, regarding set 35759.
Recommended.
Eduard products are available at retail and mail order shops and directly from the manufacturer at: www.eduard.cz. Visit their web site for images of reviewed items.