Eduard M-4A2 Sherman 76mm gun (35764)
by Frank De Sisto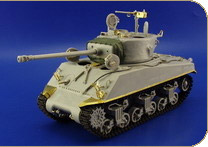 Photo-etched brass in 1/35th-scale for Dragon kit. Price: $24.95 USD.
Although most, if not all of the recent DML kits come with photo-etch detail parts (as does their M4A2 76) it seems that like Jell-O, there is alway room for more. This latest set provides just about anything the modeler would wish for, within reason (and within Eduard's design philosophy).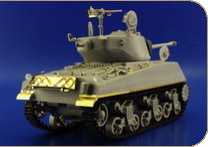 To begin with, there are the usual tool clamps, straps and clips, as well as clamps for the tow cables. There are also the obligatory brush guards for the head- and tail-lamps, as well as the horn. The latter comes with parts that are nicely designed in order to ease the assembly of the cross-piece. There is also a new storage tray for the hull rear plate, complete with separate tie-downs and straps to hold stowage items in place. The lower rear plate also gets an exhaust deflecter, but I can't say if it's accurate or not.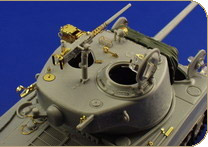 All of the hatches get new rotating plates for the periscope heads (inside and out), as well as brush guards, where appropriate. There are additional details such as latches and hasps, as well as interior levers and grab-handles (these last are best replicated with fine brass or styrene rod). There are new front fenders that require the modeler to burnish the channel on the rear face to replicate the reinforcing rib. The small rear mud flaps are included as are the mounting strips for the sand shields. There is a completely new vent plate and screen to replace the item seen between the drivers' hatches. Other parts are provided to detail the gun crutch, infantry telephone and transmission cover.
The turret also gets some nice details in the form of hatch hold-open catches, antenna plates and .50 cal. storage brackets and clips. The M2 machine gun itself gets new sights, grip handles, cooling jacket and carry handle, while the ammo box is replaced with a new etch version that comes with a tray, separate lid, belted ammo and feed guides. The only thing missing here is the commander's blade sight often seen next to the gunner's periscope sight.
Altogether, this set will allow the patient modeler to produce a wonderfully detailed model from a kit that is quite nice to begin with.
Highly recommended.
Eduard products are available at retail and mail order shops and directly from the manufacturer at: www.eduard.cz. Visit their web site for additional images of reviewed items.