Eduard M4A2 Sherman US Marines (35765)
by Frank De Sisto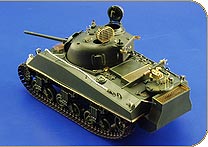 Photo-etched brass in 1/35th-scale for Academy kit. Contains two frets and five pages of instructions. Price: $22.95 USD.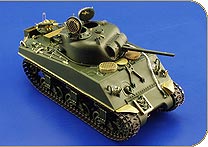 Recently Academy released a decent kit of a late M4A2 in USMC trim. That kit corrected a major flaw in the hull rear and also included fairly well-done deep wading trunks; see both Cookie Sewell's and my review of that kit on this site for more info. This new set is tailored for that kit and includes several items unique to USMC M4A2s.
To begin with, two styles of protective stand-off screens are provided to re-produce the field-applied items used to thwart Japanese close-in anti-tank tactics. There are also racks for spare track links, as well as screens, mounting strips and latches for the deep wading trunks. The more conventional items that are usually in these sets are also included. They include: tool clamps, straps and brackets, head- and tail-lamp brush guards, new front fenders and hull mounting strips for the track skirts. Specific to the M4A2, there are screens for the radiators that are seen under the hull rear overhang.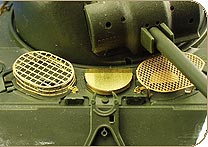 The turret and hull are also detailed with periscope brush guards, two styles of blade sights, various storage clamps and brackets for the .50 cal. M2 HMG, as well as internal and external details for all hatches and both styles of commander's cupola. The M2 also receives new details such as cradles for the gun and ammo box, pintle mount, ammo box and belted ammo, grips, sights, chains, cooling jacket and carry-handle.
Altogether, this set will enhance a kit which is decent to begin with, and which, with a bit of research, will produce a fine finished model. And, since this is for an M4 variant, it could also provide many useful bits that are universally seen on these tanks.
Recommended.
Product images are used by permission of Eduard. Eduard products are available at retail and mail order shops and directly from the manufacturer at: www.eduard.cz. Visit their web site for additional images of reviewed items.