Eduard US Infantry Weapons WWII (TP500)
by Frank De Sisto
Photo-etched brass in 1/35th-scale for Tamiya kit. Price: $24.95 USD.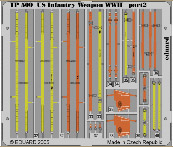 I have long been asking Eduard to release photo-etched weapons slings and other types of straps as a generic set for the various plastic figure kits available in 1/16 scale, since I have always felt the medium would be perfect for this application. Beginning a trend that I hope extends to the larger scale mentioned above, Eduard has come up with a set to completely detail the old Tamiya US Infantry Weapons set. Although catering for the specific items in that accessory kit, the parts given in this set can be used on any other US weapons of the era from Tamiya, DML, Italeri or any other resin items that are included in a figure kit.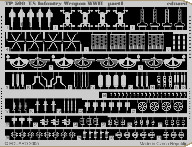 The unique thing about this set is the use of fully finished and painted items on two identical frets. These frets contain slings for the following US weapons: M1 and M2 carbine, M1 rifle, M1903 rifle, BAR, M1 and M3 sub-machine-guns and Bazooka. There are also shoulder holsters and straps for morter and machine gun tripods. Another nice touch is new triggers and guards for the various individual weapons.
The crew-served weapons are also catered for with un-colored parts. For instance, the .50 cal. M2 gets new grips, sights, carry handle and cooling jacket. The Bazooka gets various details including the wire guards seen the rear of the tube, as well as sights, a trigger and fins for the rocket. The 60mm morter gets details for its bipod, while the .30 cal water-cooled machine-gun gets tripod details, including a new cradle. It is odd, however, that no sights are provided for this or the .30 cal. light machine gun, nor is a perforated cooling jacket given for the latter. These items are a common inclusion in an Eduard set. There are also no details for the flamethrower which I believe is in the Tamiya kit.
So, there are some surprising omissions in this set, but it will still prove to be very useful for modelers.
Recommended.
Note: the images in this review show zimmerit on the model, which is not part of the set reviewed here. Eduard products are available at retail and mail order shops and directly from the manufacturer at: www.eduard.cz. Visit their web site for additional images of reviewed items.