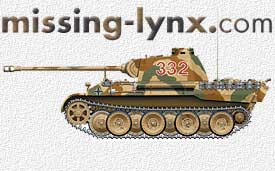 Italeri #379 LVT-4
Peter Brown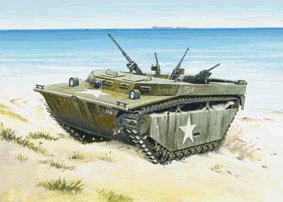 America's WW2 Landing Vehicles Tracked series were developed from a amphibious vehicle designed for rescue work in Florida swamps. Their ability to cross water and land made them invaluable in the island hopping campaign in the Pacific. They were also used in Europe in the Rhine crossings and in Northern Italy. Various types were produced, Italeri have chosen the LVT-4 with rear ramp which allowed easy loading of troops, cargo, small vehicles and artillery. This mark was built in greater numbers than other wartime LVTs, of over 8000 produced 6000 went to the US Army, 500 to America's allies - mostly Britain - and the remainder went to the US Marine Corps.
Introduced in September 1944, they saw service for the remainder of the war. Post-war the USMC standardised on the LVT-3 because of its larger cargo capacity, but LVT-4 still continued in use over many years elsewhere. They were used by Britain and France certainly into the 1950, as well as by Spain, in Italy into the 1970s and even into the 1980s by the Philipines and Taiwan.
The kit comes cleanly moulded in green plastic, a length of thin cord is provided for the ramp support ropes and the tracks are in two lengths per side in black flexible plastic. LVT tracks were a very complex design, these are about as good as you could expect from a plastic kit. At the time of writing mine has not been built so I cannot comment on fit of parts and overall scale. Comparing the parts in the box with reference book photos and my own snapshots of the vehicle at the Tank Museum, there are good points in the kit like cooling intake grills under the sponsons which show a real vehicle has been examined for the kit, but also others not so good such as the lack of the large track tensioning bolt arrangement in the recess in front of the sprocket.
Some details on the kit differ from those on the Tank Museum vehicle while others like the slats at rear of the track units agree
with period reference photos. Variations in the original vehicle existed and this will account for some of these detail differences. Italeri have depicted the later style armoured cab with small vision ports and a co-drivers bow machine gun. The earlier armoured type had lift-up type vision flaps but no machine gun, while the unarmoured vehicle had large windows. The hull front armour was a large curved plate and this comes as a separate part. Armament is typical and consists of two .5" machines guns complete with small shields and two .3" which do not have shields or ammunition boxes. Two large folding slatted
wooden duckboards are supplied for the interior, I have not seen these in photos however.
The small decal sheet covers markings for three vehicles, US Marines 1944 (as shown on the box top), one in French Army service 1956 (this looks by the serial number to be a vehicle used in Indo China although the 1956 date is too late for that) and for an Italian Army vehicle 1957 (basic vehicle number plate, call signs and Italian national markings). Summing up, this looks to be a good value kit as is usual from Italeri. With reference to original photos and vehicles and some detailing work it should
become a very good model. With extra work or out of the box, modellers will end up with something out of the ordinary as a model in its own right or as part of a diorama. Readily available references are Amtracs by Steve Zaloga in the Osprey New Vanguard series or the original Vanguard edition and Amtracs - Armour in Action no 31 by Jim Mesko. A new book by Steve Zaloga is due out any time from Concord.