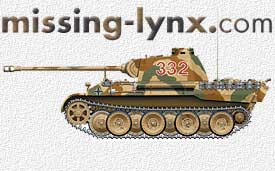 Militaria #115 M10/M36
Peter Brown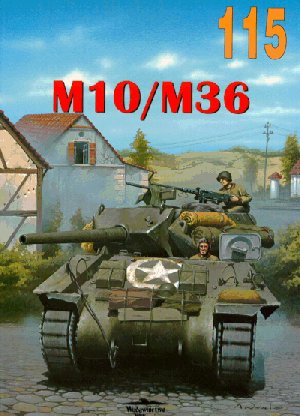 M10/M36 by Wojciech J Gawrych Wydawnictwo "Militaria" Series No 115 ISBN 83-7219-080-1 UK price around
£7.99 (from Pol Models) Soft covers, 60 pages A4 size with separate plans sheet. Published by Wydawnictwo "Militaria", 00-961 Warsawa 42 skr. pocz. 106 email militaria@supermedia.pl. In North America: AirConnection

Following the same format as recent books on M3 and M4 series medium tanks in this series, this latest is if nothing else well-timed with various kits of these two closely-related Sherman-based Tank Destroyers currently out or promised for release soon. Covering the whole story, the main text is in Polish with captions to the photos and colour plates repeated in English,
those who like me cannot read Polish appear to be missing good coverage with such things as a listing of American TD units which used these vehicles, though this is easy enough to follow. The large number of photos, line drawings and colour plates does make up for the language problem. Coverage is more on M10 than M36, which gets a smaller share of photos and plans and just two colour side views. The loose folded sheet gives four-view 1/35th plans for the early M10 and M10A1, British 17pdr conversion and the M36B1 based on the standard Sherman M4A3 hull. Within the book are eight side-view drawings showing all the basic marks including the various M10 series turret variations and sectioned views of M10 and M36. The black and white photos show record and close-up shots along with those of vehicles in action.
Colour plates are a four-view plan of a Polish M10 in NW Europe and twelve side views, some with markings details shown separately, of American, British, French and Polish examples. Details of post-war use is not attempted, this does leave more room for wartime vehicles though the later story would make for interesting reading. Polish use is also fairly prominent, this is not a bad thing as while these vehicles have been covered elsewhere it is often very much from an American viewpoint with some on British use. The original British stowage diagrams are reproduced, while some effort has been taken to include an original user stamp the original details of these plates have been changed and new, not quite historically correct names have been added. Thus, T.D.26421 of 17 May 1944 for "3-in. G.M.C. M.10" - the GMC being the American Gun Motor Carriage
designation - has become "Wolverine" and T.D. 26450 dated the following day for "17-pdr M.10 S.P." is renamed "Achilles", these names are also used throughout on the photo captions. These names are commonly used but they do not appear in wartime literature and many people will be confused yet again as to the correct designations for these vehicles.
With the Polish text and other books available on these TDs, many will see this as an addition to them and not a major work in its own right. As such and with the low price, this is a book well worth adding to your reference shelves.