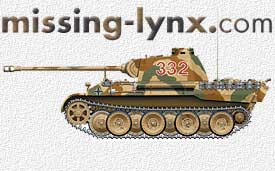 New Vanguard #35 M26/M46 Pershing
John Prigent
NEW VANGUARD 35, M26/M46 PERSHING TANK 1943-1953, by Steve Zaloga, Osprey Publishing, ISBN 1-84176-202-4. 48 pages, colour plates, monochrome photographs.
Steve Zaloga's latest is one that all Pershing fans will want. He covers the development of the Pershing of course, but also includes descriptions and photographs of the preceding US heavy tank designs which throw light on a neglected aspect of US tank development. The opposition by McNair and others to the deployment of a heavy tank is dealt with, and so is the failure of tank destroyers to meet their advocates' dreams. The Zebra Mission deployment of Pershings is well-covered, and two photographs of its T26E3s are accompanied by one of the T26E4 "Super Pershing". Deployment to Okinawa is also covered, with one photograph, though the fighting there ended before the Pershings arrived.
Post-war use and development into the M46 comes next, plus the Korean War deployment. More good photographs here including some of the self-propelled gun variants which never went into service. This section includes the M45, which was based on the M26 not the M46 as so often thought. Finally, foreign use is briefly covered - briefly because there wasn't much use of these tanks by non-US armies.
Now, those colour plates - what's in them? Plate A gives two views of a T26E3 of the Zebra Mission at Remagen, plate B is the "Super Pershing" in its final form with the "wing" armour on its gun mantlet, and plate C shows a Marine M26 in Korea and an Italian M26 in 1953. The usual cutaway forms plate D, and this time it isn't spread across two pages - a welcome change which lets you see it without losing details in the centre fold. Instead the plate is on one page and its key on the other. Plates E and F show three M46s of 6th, 64th and 73rd Tank Battalions in Korea with their colourful "tiger" markings and plate G gives two views of a Marine M46 in Korea with searchlight fitted.
Verdict? Excellent! This is a really useful book, concentrating on its subject in a way that modellers will appreciate. Maybe not as comprehensive as the big Hunnicut book, but what's here is what you need to build a model. Highly recommended.