Hot on the heels of Tamiya's 1/16 Pershing comes this brand new kit of the famous US medium tank. Some will question why Tamiya decided to release this kit, but one look inside the box will cast these doubts aside. Molded in Tamiya's olive green plastic, this kit is state of the art, as has been the norm with Tamiya's releases of the past several years.
The lower hull is molded as a one piece unit with hull bottom details. One of the most innovative aspects of this kit concerns the workable suspension. The front idler and last roadwheel station are sprung with a piece of metal (held on by a screw) which acts like a torsion bar as the swingarms are inserted into the hull (into polycaps, like all the swingarms on the kit). The remainder of the swingarms can be either locked into place with the usual tabs or if these are cut off, the inner swingarms are left floating in their polycap mounts. Therefore, the first and last wheels on each side are "sprung" with the remainder swinging loose. This is enough tension to keep everything nice and flat on level ground, but over diorama bases with uneven ground, the suspension will adjust and conform to the groundwork. Pretty innovative stuff and a good solution for both the diorama fan and standalone modellers.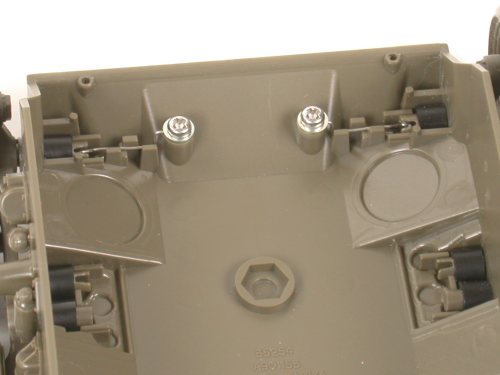 The cast textures on this kit are probably the best I've seen yet from Tamiya. The hull front and turret are fabulous. The mantlet is particularly excellent. Superdetailers will want to add casting numbers to the mantlet as well as either a putty or foil mantlet cover or if this is left off, the mantlet cover mounts.
Roadwheel and suspension detail is excellent and very detailed. Wheels are also held onto the swingarms using polycaps, which will aid those who like to add their roadwheels after the suspension has been painted. Tracks are the T81 single link "WWII" type (although these were seen in Korea also) and one piece vinyl. These are about as good as you can get with vinyl, if you decide to model the Pershing with sideskirts on, you may not notice that they are single piece. Since Pershings didn't have track sag, even if you leave the sideskirts off, these won't be a huge cosmetic difference between these and individual workables. Aftermarket manufacturers will no doubt come to the rescue with T81 style workables, AFV Club already makes both rubber and steel chevron end connector types for those in the market to model a specific vehicle which carried these ones.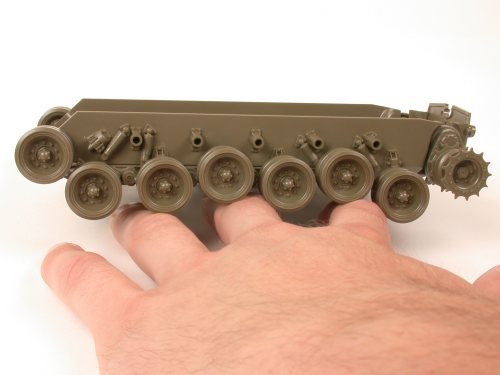 Full sideskirts are included in the kit, these are one piece so assembly should be a breeze. A nice touch is that the engine grilles are separate, so no doubt some intrepid aftermarket manufacturer will release an engine set, which should open up some great diorama possibilities. Nice commander and loader figures are included as are a very nice .50 cal, ammo boxes, crates and stowed MG tripod. The commander's vision cupolla is very nicely done and can be positioned open as can the loaders, driver and co-driver's hatches, A nice touch is that Tamiya has included periscope guards which are more in scale than etched ones could be (ie: rounded like the real thing). Headlight guards are well done and perhaps slightly too thick, but most PE ones will be a bit thin…you chose which way you want to go. A downside is that fender stowage bins have their handles molded on, I wish Tamiya would have gone the extra mile and molded them separately – Eduard will most certainly include this in their PE set when it comes out (I'm looking in your direction Mr. Adair…)
Markings are waterslide decals for 4 vehicles: Company B 1st tank battalion US Marines, Inchon Korea 1950; No 9, Company A, 18th tank batallion, 8th armoured division, 1945 Czechoslovakia; No 10, Company E, 67th armoured regiment, 2nd armoured division, 1945 Germany and the famous "FIREBALL" No 5, 2nd platoon, tank company F, 33rd armoured regiment, 3rd armoured division, Feb 1945 Germany. Double check your references as some Pershings had the early style 400 scfm blower on the front hull like this kit depicts while later ones had a larger casting on the front hull for the 1000 scfm blower and deleted periscopes for the driver and co-driver. Also, if you're modelling FIREBALL, don't forget to add a lifting lug next to the commander's cupolla mounted sideways as some of the early M26 tanks had this feature, again – check your references for specific features of the tank you're modeling as some also didn't have the field radio box on the rear hull either.
Overall, highly recommended for all allied armour fans.