Trakz Armor Products 1/35 Scale Kit No. TX 0115; Sherman Late Production High Bustle Turret
by Cookie Sewell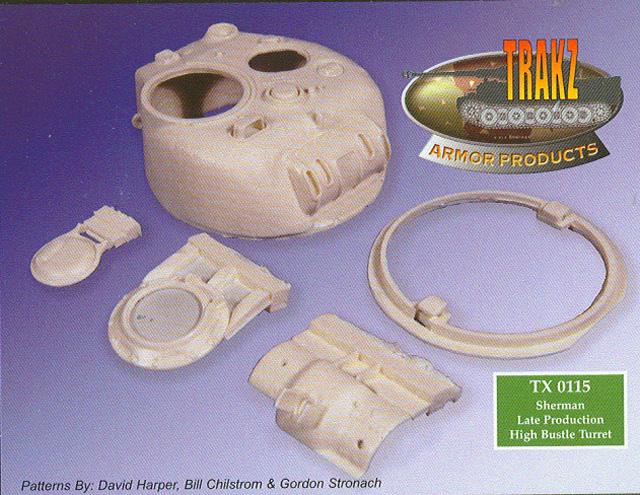 Five parts in light creme resin; price US $19.98.
Advantages: turret shell nicely done late production 75mm turret with integrated thicker armor.
Disadvantages: kit does not provide a loader's hatch; detailing oddly done or applied.
Rating: Recommended.
Recommendation: for all "Shermaholics"
Shermans are not just a modeling subject, they can be a career! Or so it would seem as there are dozens of variants and options for these popular models, and this kit provides a resin shell and detail parts for the last ones produced with integrated applique armor on the front right side of the turret.
The kit provides five parts - locking ring/base to fit on what appears to be a Tamiya M4A3 hull, the shell with many parts cast integrally with it, a separate commander's cupola and hatch, and an M34A1 full width mantelet. As far as these parts go, they are very nicely done and have many of the "bugaboo" parts cast with them such as lifting eyes, the left-hand pistol port, and casting numbers for the cast items. Casting plugs are present but are designed such that removing them is easier than most and cleanup should not damage the castings.
While some reviews complain that the kit should have included a barrel, and other manufacturers do in this price range, that is not as problematic as the fact that this kit provides an open loader's hatch – but no hatch cover. I have tried several hatch covers (as all Sherman fans do I have tried to fit one to it from the spares box, but so far have had no luck from DML, Academy, CMD, Tank Workshop, or MP kit parts.) Also, the commander's hatch is smooth inside and only mimics the Tamiya suggestion of a mount for the commander's viewer.
This is awkward, for one thing most modelers buy "upgrade" or "modification" kits for is a "turn-key" drop fit replacement of the parts in the original kit. When you buy one like this, you expect it to be a replacement for all things which were either poor in the original kit, not provided, or necessary to make the version which the after-market parts purport to change the original kit to the designated model. Trakz provides no directions nor hints as to what to use, nor how to fix the problem. For someone like me with a long history of scratchbuilt or converted projects, this is a minor annoyance, but for many others it makes the conversion kit not worthwhile.
Overall this kit is a nice idea but one that deserves to be a more complete project – and one which should come with some hints or directions to assist less experienced modelers in using it (such as what kit it was designed for, printed right on the box.)
Cookie Sewell