Steyr 1500A/01

Tamiya, 1/48 scale

by Dr Hilton de Mello e Oliveira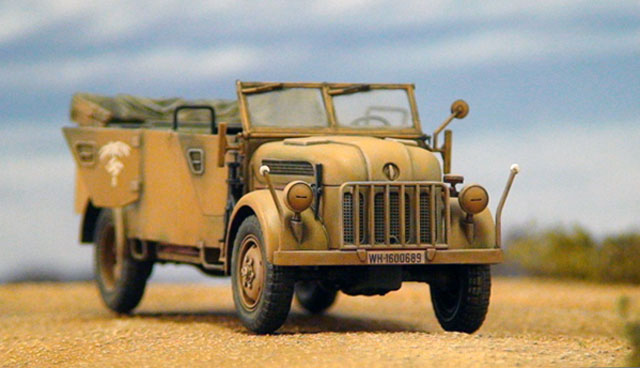 Description
After a long period of time out of the hobby I returned a few weeks ago, and finally finished a kit! Here it is...

Tamiya 1/48 scale MM series was all that I was looking for, as a diorama builder. I was out, but still visiting the modelling websites and buying all new stuff I've found in the internet. I choose to re-start with this particular kit just because it was the last I received by mail.

This is Tamiya's 1/48 scale Steyr 1500A/01 truck

This kit went together in just a saturday afternoon, thanks to the excelent Tamiya's engeneering. I built it straight out of the box, with no problens at all.


Painting :

I chose a generic DAK model, for a future diorama.
The interior was painted dark grey, the exterior with lightened sand yellow, all usin Tamiya acrilics. The rear horizontal surface, behind the back seat, over the trunk, I choose paint in dark grey (interior color). My guess is that the exterior color was field applied with the canvas top in the upper position, "masking" all the interior. Seats are painted kaki, and tires are finished with Gunze-Sangyo tire-black.

DAK palm trees from the spare box, all other decals from the box.

Weathering was a dark brown wash with Liguitex acrilc, Dry brushed with Humbrol light sand ennamel and sealed with Gunze-Sangyo matt clear. After this matt varnish coat dries overnight, a light brushing with sand colors pastel chalks.

Photography :

Sony DCR-DVD 505 camera, natural light, over my wife's kitchen table, using an art landscape as background.

The diorama is not yet finished, I'm waiting for the figures I ordererd from France, and the figures to come with the Storch. The Bf 108 will be the pair for this Steyr, and the subject of another article that will be seen here soon.
---
Model, Images and Text byDr Hilton de Mello e Oliveira
Page Created 15 December, 2007
Page Last Updated 15 December, 2007