Churchill Mk I Dual 3" Howitzers - Tunisia 1943

Tamiya + IMA, 1/35 scale

by Michael Rinaldi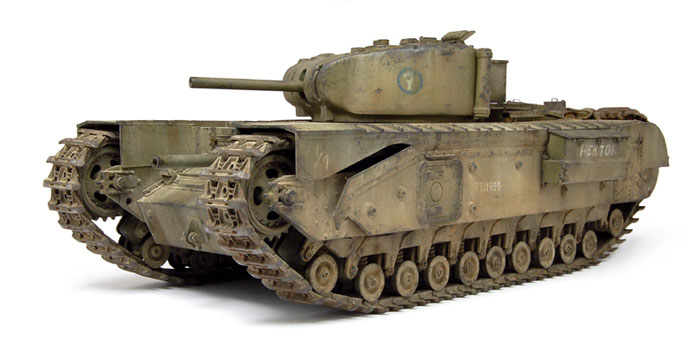 Introduction


During a lull in the fighting as the North African campaign wound down, there was a great deal of experimentation on the Churchill. Developed in the field by Captain Olgin (REME), a reworked Mk I had its turret 2 pounder removed and replaced by another 3" howitzer. This acted as a ranging weapon for the hull gun and allowed a greater deal of indirect firing accuracy. A single photo of such a conversion is found in David Fletcher's "Mr. Churchill's Tank".
The model depicted here is a veteran tank relegated to training duty in Tunisia just prior to the landings in Sicily.
---

Construction
IMA (available from Mission Models) makes a fantastic resin conversion allowing one to recreate this unique variant of the Churchill. It is used on the venerable Tamiya offering and is very easy to perform. Making straight cuts in the base kit is where care must be taken to insure an accurate fit.
Other than that, everything is just a simple replacement of the plastic pieces. Friulmodel tracks were also assembled and set aside to be added in the end.
---


Painting and Chips
Once primed, the model was first sprayed in Lifecolor's Brown acrylic and then post-shaded with lightened shades of the same color. I few drops of white and yellow are added in progressively lighter shades. I also wanted to show some heavy wear so I proceeded to apply chips and scratches over the entire model with a kitchen scouring pad and some Tamya XF-69 NATO Black. Dabbing the pad on a paper towel first, I then carefully applied it to the model.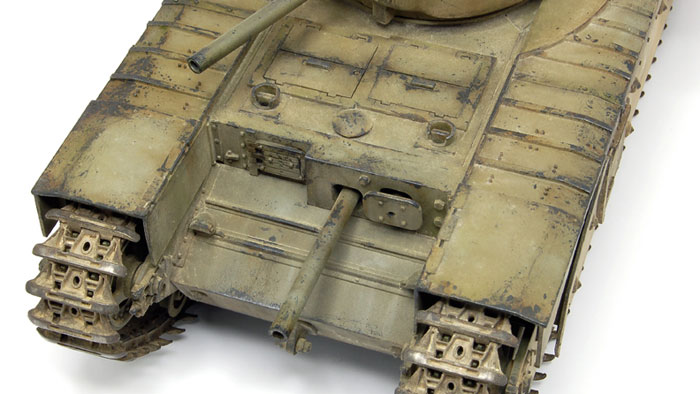 Concentrating the chips in areas of crew patterns, sharp changes in metal, etc. which look a bit intense under the studio lights and Macro lens, but are quite pleasing to the eye from normal viewing distances. The generic markings were recreated using a simple White Prismacolor pencil.
---


Weathering
I like to layer my weathering applications to generate unique looks. This model was first given a very light dusting of pigments around the lower hull.
Next I oversprayed the entire model with a filter made from Humbrol's 84 Midstone as a base for the next step. Winsor&Newton oil paint filters followed this, including some spot washes to highlight detail and create stains. More Mig pigments were applied on top on these layers, blending the colors together somewhat and then some graphite over this as a final touch.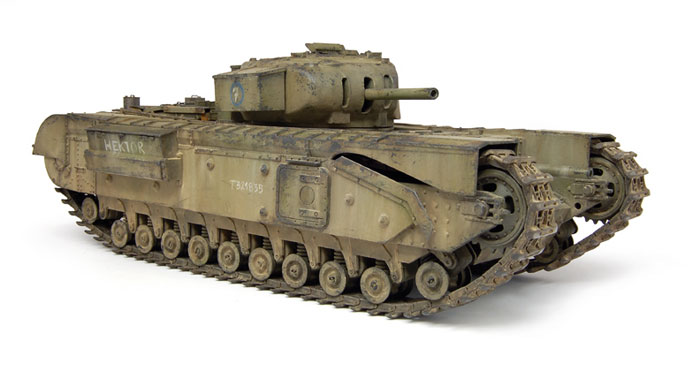 Neglected stowage was placed on the rear and the previously Friulmodel tracks were treated to a couple of soakings in Blacken-it and then mounted to the model. My idea was to show a well worn tank in the final stages of neglect before retirement from action.
---

Photography

All the photos were taken with my Nikon D50 and 18-55mm AF lens in auto-focus mode with the main dial set to "A" and the f-stop at the maximum of 32 (camera controls shutter speed). I use a tripod and the delay timer button so the camera is extra steady at the slower speeds it requires. A single, large fluorescent drafting desk lamp is used for lighting against a white background with white cardboard cutouts used to help bounce light into the shadows. I shoot only at night to avoid any color alterations that can occur in daylight from shoot to shoot, and use Photoshop on my Mac to cleanup and create the pure white background.

This model will also be featured in the new Model Military International, Issue #2 May 2006.
---
Click the thumbnails below to view additional images:
---
Model, Images and Text by Michael Rinaldi
Page Created 05 May, 2006
Page Last Updated 04 May, 2006