Home > Gallery > Britain > Meng "World War Toons" Kit No. WWT-008 - Sherman Firefly British Medium Tank, WWII
Sherman Firefly

Meng "World War Toons"

by James McCowen
Summary
Stock Number and Description

Meng "World War Toons" Kit No. WWT-008 - Sherman Firefly British Medium Tank, WWII

Scale:

Cute!

Introduction
"World War Toons" is a cartoon-like video game featuring short, stubby versions of well known armored vehicles from WWII. Meng produces a line of kits that captures the toon-like nature of these vehicles while providing the builder with a lot of very nice details in an easy-to assemble model.
---
The Build
The kit (#WWT-008) was fun and easy to assemble as I have come to expect from Meng. The parts fit perfectly and securely to the point that glue really wasn't necessary.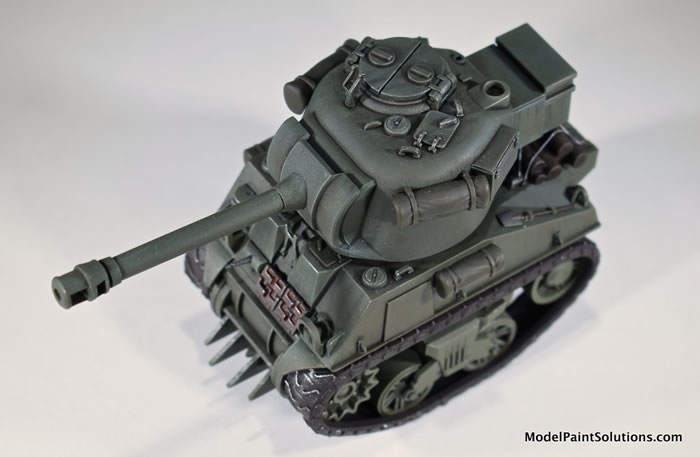 However Tamiya thin cement was used in a few spots to make things close up and make the seams disappear.
---
Color and Weathering
I applied a base coat of Tamiya TS-28 Olive Drab 2 straight out of the can. No need for a primer as the kit was molded in green and the Tamiya lacquers bite into the plastic quite nicely.
With a nice uniform coat of green to work with I started the weathering process using enamel washes blended with a soft brush and white spirits to make vertical streaks. This was followed with a pin wash (AK Dark Brown for Green Vehicles: AK 045). After the wash, raised details were accentuated by dry brushing with light buff (Abteilung: Abt 135).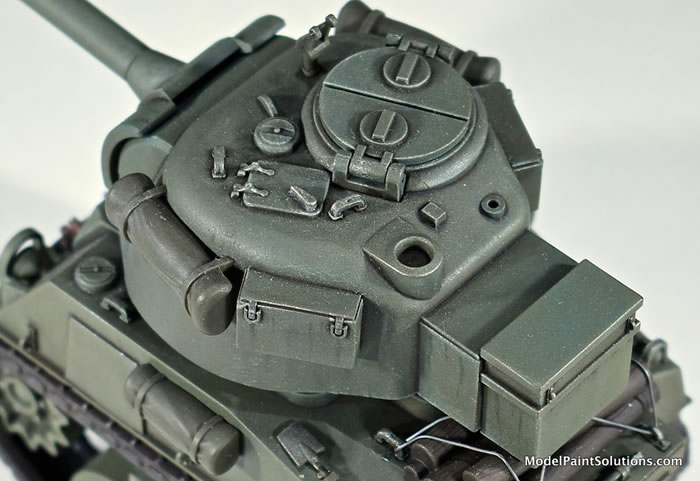 The streaks applied to the open areas, the wash concentrated at edges and recesses, and the dry brushing accentuating ridges and raised details gives the model a sense of depth. The model was then sealed with Humbrol Matt Varnish (AD6049) applied straight from the spray can.
---
Details and Final Finish
With most the weathering done, I started in on painting the little tools and gear on the exterior. Bare metal tools got a coat of Vallejo Gunmetal Grey (70.863) while wooden handles and such were painted with Vallejo Chocolate Brown (70.872). A quick dry brushing with silver (oil) was applied over the gunmetal and the wood parts got a quick wash of Dark Brown for Green Vehicles as used previously. The logs on the back were highlighted by dry brushing with light gray (Abteilung: ABT100).
I thought the color that the canvas rolls they were molded in was perfect so I just flat coated them and blended oils in at the edges of the straps. Starship Filth color (Abteilung: ABT510) works well for this.
Lastly, the tracks were washed AK Interactive Track Wash (AK083). Of note, it was a bit of a struggle to get the tracks on so putting them on before weathering would have been a better way to go.
---
Conclusion
I work at Skyway Models and get a lot of people in the shop that are scared of jumping into weathering. One way of decreasing the stress level when learning this technique is to start with one of these Meng "Toon" tank kits. They're cheap, build up quickly, and serve as a great subject for first-time weathering work. Most importantly, they're just FUN and that's all that matters.
Cheers!
James McCowan
For more on this build visit Modelpaintsolutions.com.

---
Model and Text by Micky Modeler for Model Paint Solutions Copyright © 2018
Images and Text by © 2018 by John Miller/Model Paint Solutions
Page Created 7 January, 2019
Page Last Updated 7 January, 2019