Building a Full Resin Resicast Sherman ARV Mk.I
Part One - Construction

Resicast, 1/35 scale

by Paul Chatfield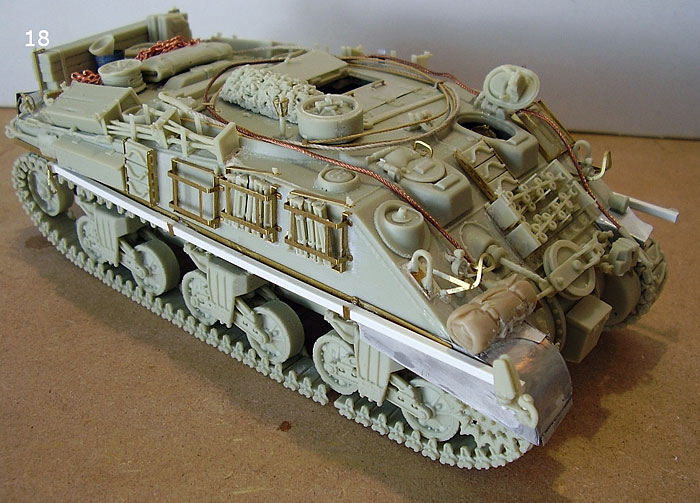 Resicast's 1/35 scale Sherman ARV Mk.I is available online from Mission Models
Introduction


With the ever-increasing amount of resin conversion kits and some really nice full resin kits becoming available, I thought I would offer some suggestions, based on my own experiences, on building a resin kit.

Manufacturers such as Resicast, Accurate Armour, Plusmodel and Cromwell models all now offer full resin kits of a nice range of AFV subjects. Very often these subjects are unavailable in traditional injection moulded plastic kits.

For this article I'm going to be using Resicast's Sherman ARV MkI full resin and photo etched Brass (PE) kit. Resicast also offer this vehicle as a conversion kit, for the Dragon Sherman, which is considerably cheaper than this full kit, but does require the purchase of the Dragon base kit too.
---

Pros and Cons of Resin Kits
Resin kits are not for everyone and have their advantages and disadvantages. I'll now try and give an honest list of the pros and cons of resin kits.

To begin with the advantages of resin; Surface detail is usually much finer than an injection kit. For example on the Resicast Sherman; weld seams are correctly shown raised, foundry casting numbers are visible all over the model, the surface has a definite cast texture and detail is cast on both sides of parts. Resin can be used to cast much finer parts than injection moulding and some of the detail is stunning. Due to the different technology used resin parts carry no ejector pin marks so there are none to fill or sand off. Being limited run, most kits offer a significant advantage in accuracy over mass produced kits. This also means the purchase of aftermarket correction or detail kits is rarely necessary. (I have never bought after market tracks for a resin tank) Resin manufacturers tend to do kits of less mainstream subjects, so you get some really different and interesting subjects.

Now the disadvantages of resin kits; Firstly for most people cost. On the whole, resin kits cost more than injection kits, sometimes a lot more. This can be balanced somewhat by the fact that you don't need to buy aftermarket parts. Resin requires different tools. You will need Razor saws for separating parts from pour stubs and super (crazy) glues for attaching parts. You may also require 2 part epoxy glues in some cases. You will need dust masks and extractors when sanding or sawing resin. (But you should already have an extractor in your paint booth). Some parts can suffer from air bubbles that need filling and sanding. Fine flash may require clean up on smaller parts. Some parts can warp or distort, although dipping in warm water and straightening will easily remedy this. The instruction sheets from some manufactures leave a lot to be desired and the modeller often needs to use references to find the correct location of parts.
---

Building the Sherman ARV
Building Shermans can be a bit confusing, due to the large range of variations and modifications built throughout its operational life. Resicast do an excellent range of resin Shermans of different types such as M4A4, M4A1, Direct vision hull, Duplex drive as well as the ARV. Luckily Resicast have done their Sherman research thoroughly and you can be pretty certain that all parts are where they should be for the particular type of Sherman you are building.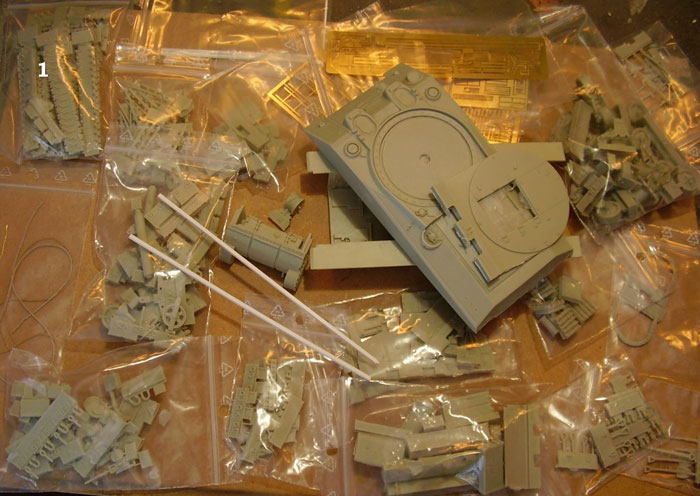 On opening the box you are faced with a mass of parts; large resin mouldings for the hull, bags and bags of smaller detail resin parts, Resin tracks, PE frets, plastic rod, string, copper wire and little lenses, along with an "instruction" booklet.
---

Lower Hull and Tracks

As with most armour kits construction starts with the lower hull and suspension. The detail on the Resicast parts is superb. Most of the lower hull is one large casting. It carries not only the external details but also details on the interior surfaces. (Resicast offer another separate kit to fit out the inside of the M4A4) The lower front hull containing the transmission is cast as a block, again with all interior details shown.
The road wheels and suspension need separating from their casting blocks with a razor saw and some "webbing" cleaned out of hollow areas. I used a sharp Swann Morton No 11 blade to clean out these areas, and then sanded them smooth. Each set of wheels and suspension requires only three parts; wheels mounted in swing arms, main suspension body and the top track guide. . Once tidied up and assembled detail is superb, the wheels click into place without the need for gluing.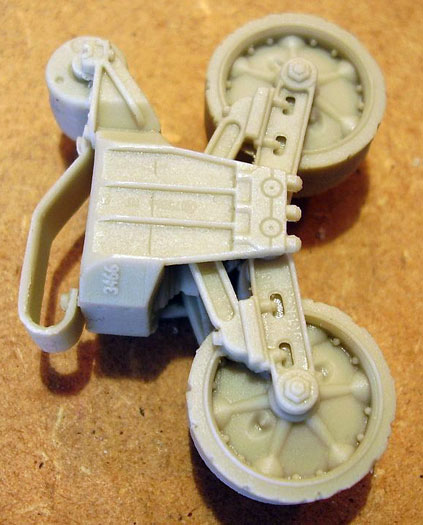 Click the thumbnails below to view additional images:
---
With all the road wheels made up I attached them to the hull sides, taking note, which sets fitted to which side. This being a limited run resin kit, instructions aren't laid out in a step-by-step system, as you would expect with Dragon, Tamiya, Italeri Etc. The instructions consist of a (long) list of parts and numbers and a series of photocopied photographs of a model during construction. This means the modeller has to study the photos carefully for parts positioning. A good photo reference of an actual vehicle is also very helpful. To add complication, on this particular kit, some part numbers/letters are duplicated due to the fact that this kit is a combination of Resicast's complete M4A4 kit and a conversion kit (to ARV spec) that also fits Dragon's Sherman.

With the wheels on the Hull it became obvious that the lower hull was a little warped. The left rear road wheels didn't touch the ground at all! With resin, this is not that hard to remedy. I took a bowl of hot (not boiling) water and submerged the whole model in it for 3-4 minutes. Then placing model on a firm flat surface I placed a heavy object (in this case a piece of Granite slab I had hanging around) on the wheels to push them into line. I left this for around 30-40 minutes to cool and set back in place. Once the Granite was removed the model was stood back on it's wheels and every thing now touched down as it should. (Still dripping!).
Click the thumbnails below to view additional images:
---
Next to be attached were the rear engine plates and doors. Attached to these are the rear idlers, which complete the build of the running gear. The entire top hull is one casting. To make this fit a little bit of "tweaking" was required. The left hand sponson bottom just refused to sit in its channel, under the sponson. I marked the area, which was a problem and sanded it back until a good fit was achieved. Constant checking is needed here to make sure you don't take too much away. With this done the upper hull slipped into place easily and the fit around the front, to the transmission block is virtually perfect and something even the very best mass-produced kits would struggle to equal.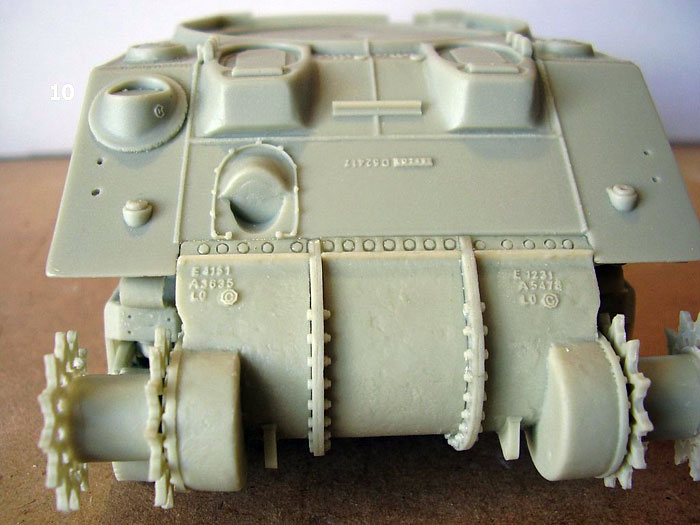 The final part of the lower hull construction was the tracks. On most injection kits I would buy aftermarket tracks, usually individual metal links that take an age to build. With this kit I didn't have to bother, because Resicast provide very nice resin tracks. The tracks are provided in several different lengths of links. The night before I needed them I made up two lengths of track, one for each side. Each length was enough to cover the top run and tuck underneath the road wheels at the front and the back.
With the tracks totally set they were placed over the upper part of the running gear, with a good over hang at the front and the back. Now for a very unusual modelling tool, a hair dryer! With the tracks in position a hair dryer, set to hot, was aimed at the over hanging portions. Within a few seconds they started to droop. When they were fully "sagged" the tracks were fitted around the front sprocket and the rear idler wheel, then the model placed flat on the workbench. After a couple of minutes the tracks had cooled and set into their new shape. Care should be taken with the hair dryer as it softens all resin that it comes into contact with and delicate parts can easily warp. With everything cooled and set, adding more links between the ends of the fitted track finished off the tracks. They were not completely joined, as the tracks will be taken off of the model for painting, the final join can be done when all painting is finished.
This method of track building is so much quicker than individual links and is well suited to the tight "live" tracks fitted to Shermans. I've never used a resin replacement set on tracks with droop, like Panzers or T-34s, and I'm not sure how well it would work with them.
Click the thumbnails below to view additional images:
---

Upper Hull and Fittings

The upper Hull, as mentioned previously, is one solid casting. This means the holes for the engine deck covers, the turret plug and the driver hatches need cutting out. Before I started cutting I marked out the areas I needed to remove. To cut out the main parts of the bigger holes I used a Dremmel motor tool fitted with a cutting disc. This is a VERY dusty process and an extractor and dust mask are a must, as is eye protection. I cut the holes slightly smaller than I required and finished them with files and sanding sticks. For the smaller crew hatches I used a different much less dusty technique. I drilled out a series of holes inside the line of what I needed to remove then cut through them with a sharp blade.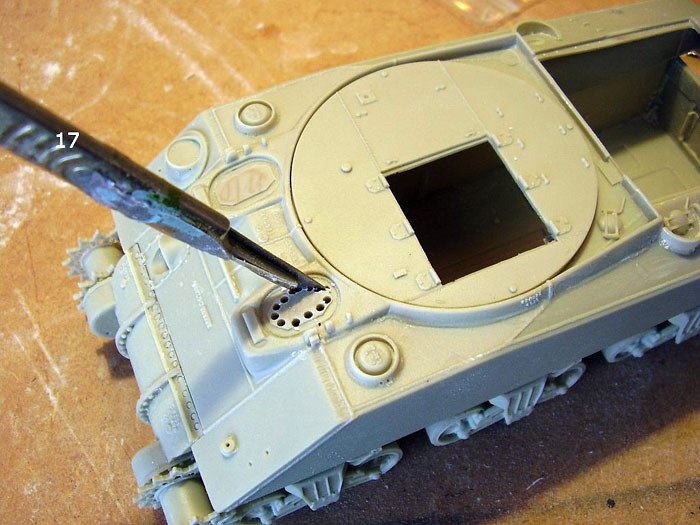 Click the thumbnails below to view additional images:
---
The hole was then trimmed almost to size with the blade, and then the last little bit was done with a small file.

Now it was time to start fitting the multitude of hull fittings that the ARV featured. I started with the "standard" fittings, lights, lifting hooks, intakes and the like. After this came the specialised fittings of the ARV. There are literally dozens of parts to be fitted and the instructions are not that clear as to the exact placement and positions of some parts. This is where good reference photographs really help. I have a photo of an actual ARV in the field that I want to base this model on, so some parts were placed with reference to what I could see in the picture and not what's in the instruction booklet anyway. As with most resin kits there are no tabs or holes for fitment of the parts they are simply glued to the hull.

The majority of fittings are in resin with just a few brackets and support frames in PE. I won't bore you with a long list of parts fitted or the order in which I fitted them. All I will say is, on this model, it takes a long time (I estimate over 15 hours of work). Personally I enjoy this part of the build, although towards the end it did start to drag and I just wanted to get it done so I could start the paintwork. I had no particular difficulties, although getting some parts in position was fiddly. Resicast supply the parts for a full lifting jib and (for a change) a nice diagram complete with dimensions, to show the positioning of parts. As I'm building an ARV in the process of towing a Panzer I didn't build the jib up, but rather, fitted the parts in their stowed positions. Plastic rod and resin parts are supplied for this. One part of the kit I replaced was the cord supplied to represent the tow cables. The real thing would have been heavy-duty wire, woven to make a cable. The vehicle in my photo had one cable draped over the front end. I always feel that cord is to soft and floppy to use for this and hangs all wrong on the vehicle, so I replaced one of them with copper cable from Karaya. This gave a much more authentic looking stiffness to the cable. Other cables are wrapped around hooks on the hull in a large loop and the supplied cord was fine to represent this. The kit's resin end pieces were used, as they were slightly sharper detailed than the Karaya items.

Due to the fact that I am following a photo of an actual ARV in this build I had to make a couple of parts not supplied in the kit. The kit does not have any track guards supplied with it, (The vast majority of Shermans in the field had their track guards or "sand shields" removed) but the ARV in the Photo has a full front guard fitted on the right hand side. I considered leaving it off, but then decided it could be easily built from Scratch. I didn't have any Scratch to hand so I used an empty Cider can instead. I find the metal used on drinks cans is ideal for building little bits and pieces of sheet metal, such as track guards, turret bins and the like. It cuts easily and bends to shape with no problem. Try as I might I couldn't find a plan drawing of a Sherman with it's Guards fitted, so I studied what photos I could find and made a best guess at the dimensions. Once made up and placed on the Model it looked just about right and I was happy with it. I placed a piece of Verlinden stowage on top of the fender, blended to the shape with Squadron putty along the bottom.
At the back of the ARV is a box with a telephone, to allow a crewmember at the rear of the Vehicle to communicate directions to the driver. The kit supplied one of these in the closed position. I wanted mine open, with a crewmember talking to the driver, so I quickly made one up using more metal from the can and a little plastic card. Finally with all PE fixings attached a little Squadron putty diluted in Liquid Polly was used to blend them to the hull. (This gives off strong fumes and good ventilation is essential) You could also use Mr Surfacer for this task, but I had none to hand.

The last part of the build process was to check over the model for glue smears and any other areas that needed clean up before priming.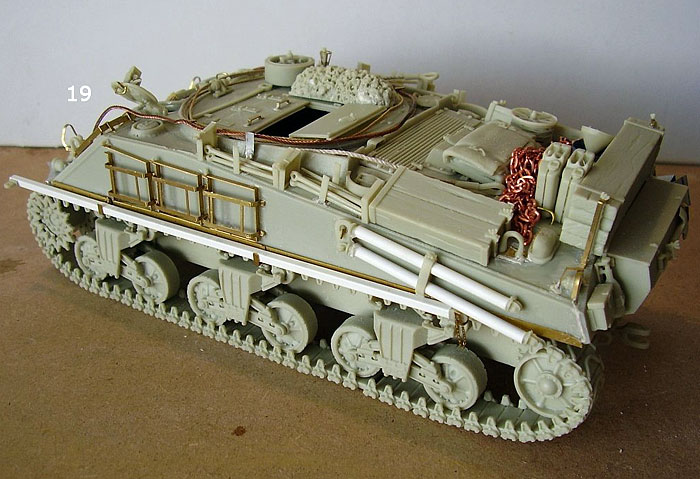 With every thing fitted the model was literally bristling with surface features and looked pretty good to me. Just wait until I get some painting and weathering done! That will come in the second part of the article, which will concentrate on painting, weathering and all the finishing touches and details applied to this model.

This kit is quite a complicated affair and may seem intimidating if you have never built in resin and PE before. I certainly wouldn't recommend it as a first resin project, but chose it for this article, as it enables me to show most of the techniques and tools required for a resin kit. Most companies do smaller, easier subjects, such as armoured cars, which make ideal first tries at resin. My first resin kit was a Humber scout car, from Accurate Armour; it's a nice little kit with fairly good detail and has resin and PE parts. I would recommend that type of kit as a starting point. Then once you have the feel of resin models pick something more challenging.

I bought this kit from Panther models in the UK, through their e-bay shop. I have been buying from them for about a year now and find them totally reliable. The model cost £76.99, which is a lot of money, but this is a lot of model with fabulous detail and no need for any after market parts. You pay your money and make your choice. That's what I did and I'm satisfied with what I got!

Part 2, on finishing, will follow on in the near future.




---
Click the thumbnails below to view additional images:
---
Model, Text and Images by Paul Chatfield
Page Created 15 September, 2006
Page Last Updated 15 September, 2006