Home > Gallery > Britain >
Tasca / Asuka 1:35 Sherman III Mid Production (w/Cast Driver's Hood). Kit No 35018
Sherman III Mid Production (w/Cast Driver's Hood)

Resicast Item No. 35.2363 – Sherman Mk.III Deep Wading for Tasca Sherman III (M4A2)

Tasca / Asuka, 1/35 scale

by Brett Green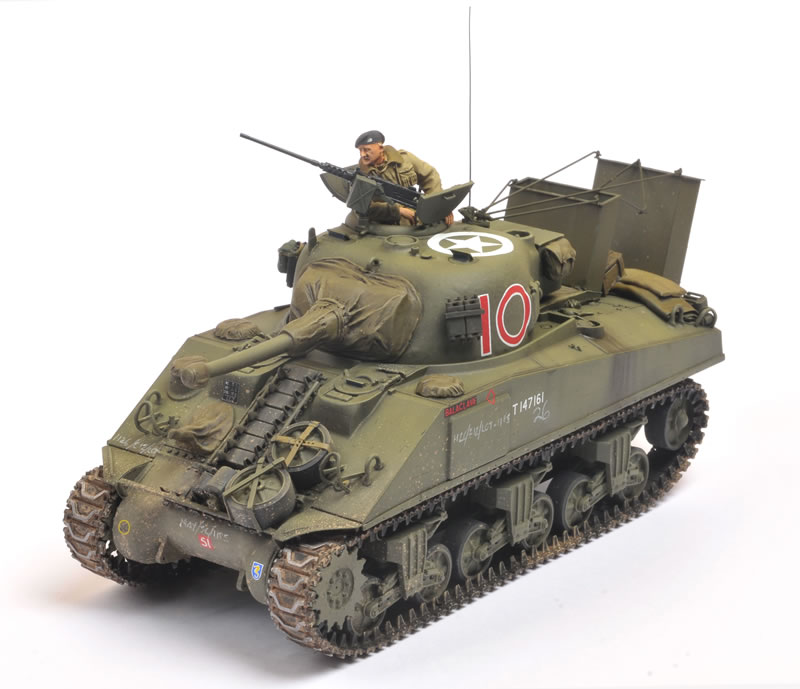 Description
Here's my latest completed project - the Tasca / Asuka 1:35 scale Sherman III with Resicast's multimedia Deep Wading conversion set.
I actually started this project in 2013 but it stalled once I finished the main conversion work.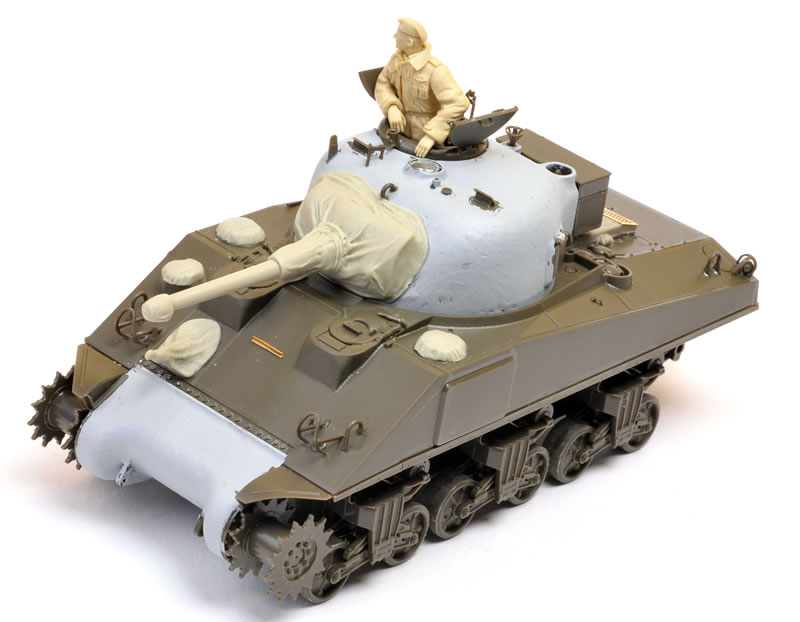 I decided that it had sat on top of the bookshelf for long enough, and finally recommenced work on this one a couple of weeks ago.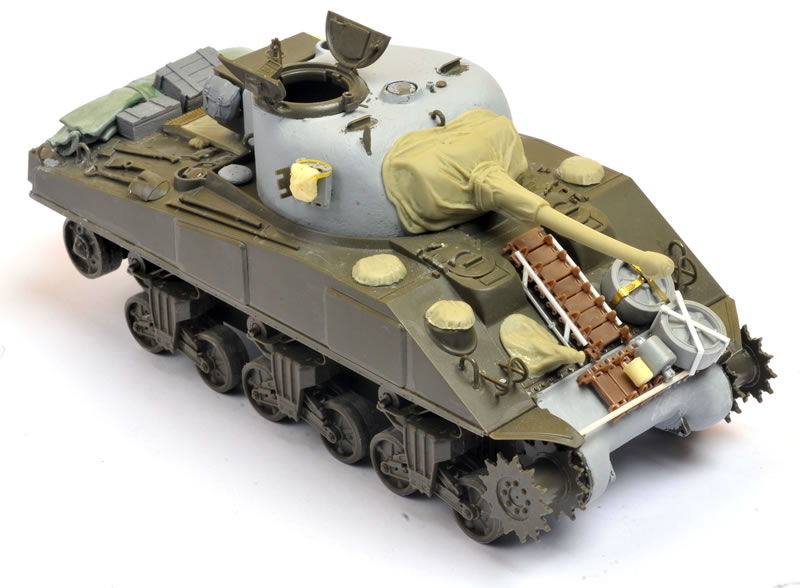 I finally added stowage from various sources as well as some scratch built tarps and mounts.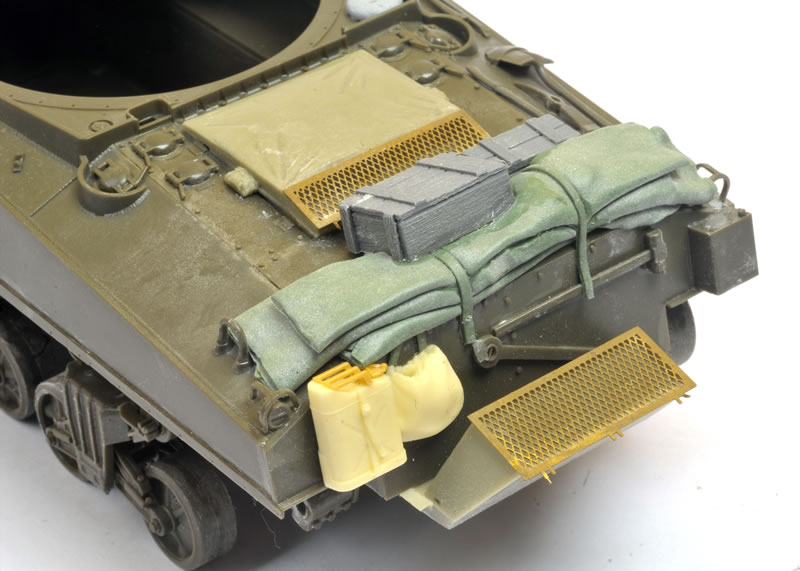 In addition to the Resicast conversion, I replaced the tracks with cyber-hobby's flexible DS T54E1 Steel Chevron tracks and the markings are sourced from Bison Decals set no. BD35014 – WW2 British Shermans Pt. 3. Swimming and Wading Shermans.
The figure is the Commander from Ultracast Item No. 35008 - WWII Canadian / Commonwealth Tank Crew Late 1944-45. I've been looking for an excuse to use this guy for more than 20 years!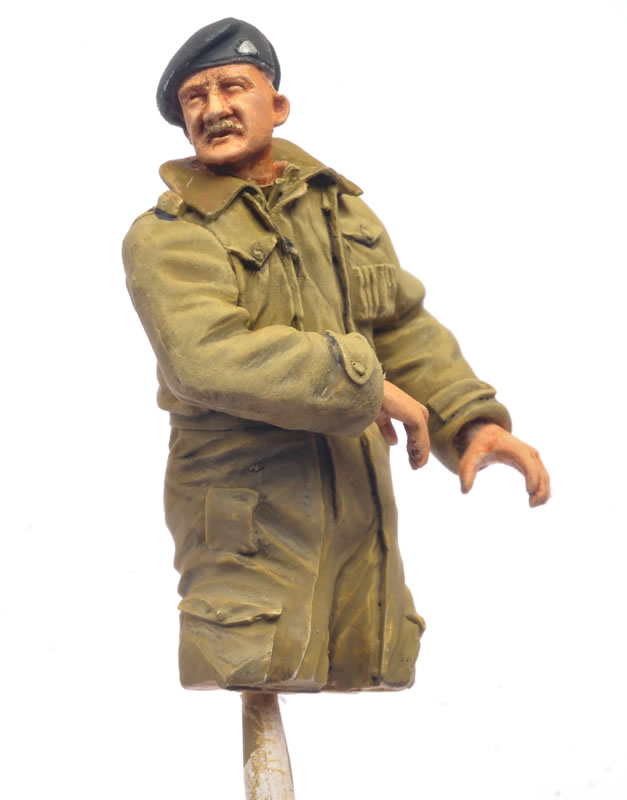 Paint is Mission Models' acrylic MMP-024 US Army Olive Drab FS 319 followed by a more selective application of MMP-021 US Army Olive Drab Faded 2, all over a dark base coat of White Ensign Models WEMCC ARB 07 Middle Bronze Green BS381C 23 enamel paint.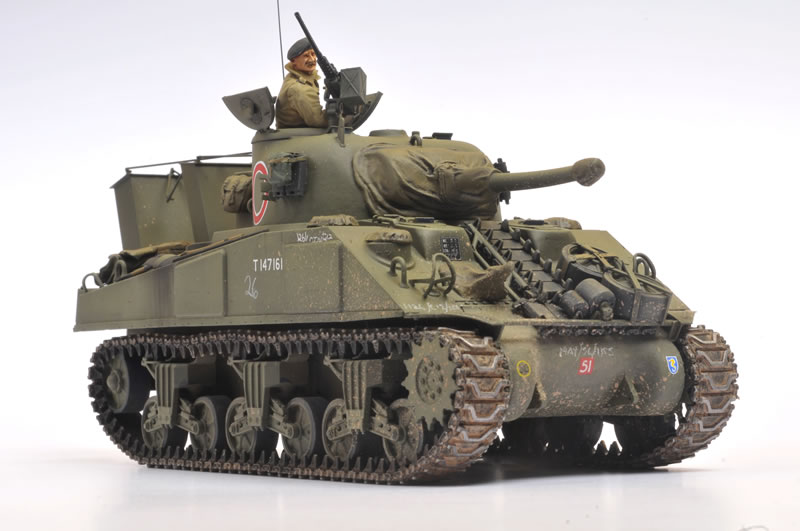 I added the chalk landing craft markings with hand-written letters and numbers using a white Prismacolor pencil on the flat painted surfaces.
The bracing rods for the wading stacks are brass rod.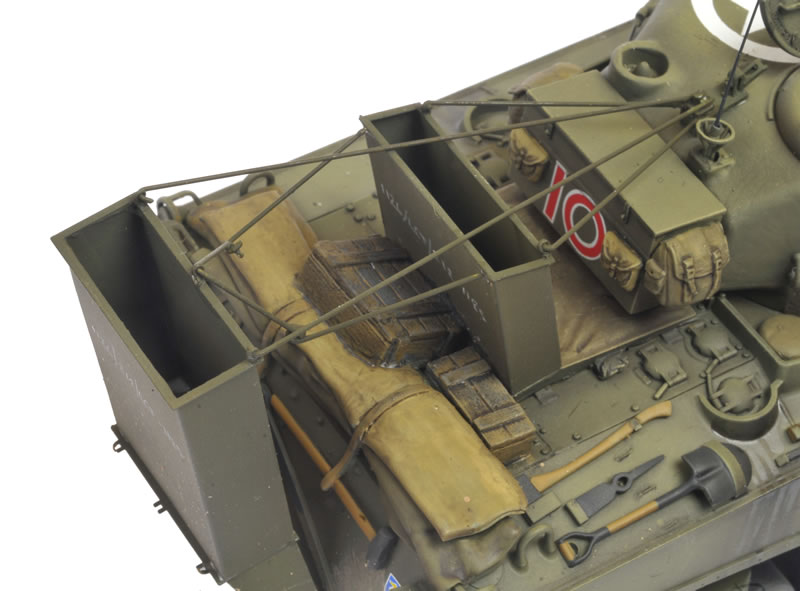 My Deep Wading Sherman is far from perfect with a few accuracy problems, including a .50 cal cupola weapon that should be a .30 cal (I couldn't find one in time), absence of sealant and other errors and omissions, but I am pleased that I have finally finished it!
Tasca / Asuka's 1:35 scale Shermans remain beautifully detailed, cleverly engineered and accurate with excellent fit.
I have written up my Deep Wading Sherman in detail for MMI Issue 161.
Thanks to Creative Models Australia
for the Tasca Sherman, Bison Decals, Accessories & White Ensign paints
---
Model, Images and Text by Brett Green
Page Created 29 June, 2019
Page Last Updated 29 June, 2019