Marder I "Lorraine Schlepper"

AlBy, 1/35 scale

by Ray Blythe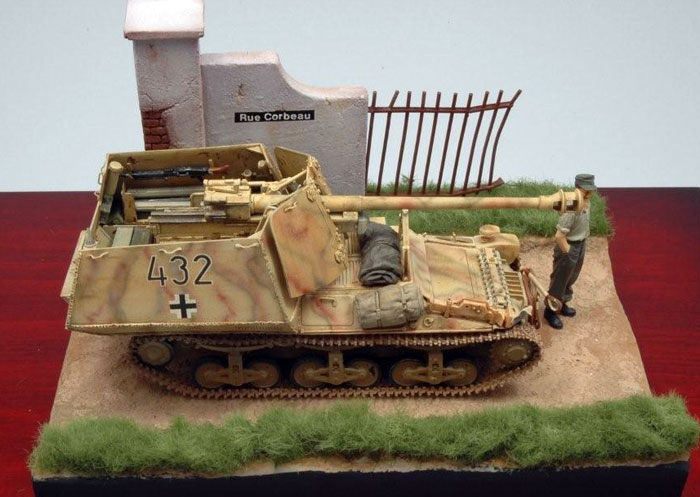 MIG Pastels are available online from Mission Models
Description
The Marder I "Lorraine Schlepper" in German service differs greatly from its origins with the French army, where it was known as "Tracteur Blinde 37L (Lorraine)".

Captured in large numbers after the fall of France, the Wehrmacht converted some 170 vehicles of this type, mounting the PaK40 75mm anti-tank gun produced in large numbers by Rheinmetall-Borsig.

Under the auspices of Captain Alfred Becker, commanding officer of Stug.Abt.200, the conversion was carried out utilising his pre war business contacts in France and Krefeld, Germany.

Originally intended for service on the Eastern Front, all Marder 1's were returned to France in 1943 to equip the units comprising the occupation forces.

Due to their scant armour protection, capable of deflecting only small arms and shrapnel, the Marder 1 was best suited to ambush/ defensive operations, commonly carried out in the Bocage country of Normandy.

This model depicts a vehicle from 719th Infantry Division, which were issued this type of self-propelled gun during the desperate struggle for the Normandy hedgerows.

The basis for the model is AlBy of France's all resin offering, which was produced in limited numbers during the 1980's. This kit has been unavailable for some time but is regarded as the most accurate model available in 1/35 scale.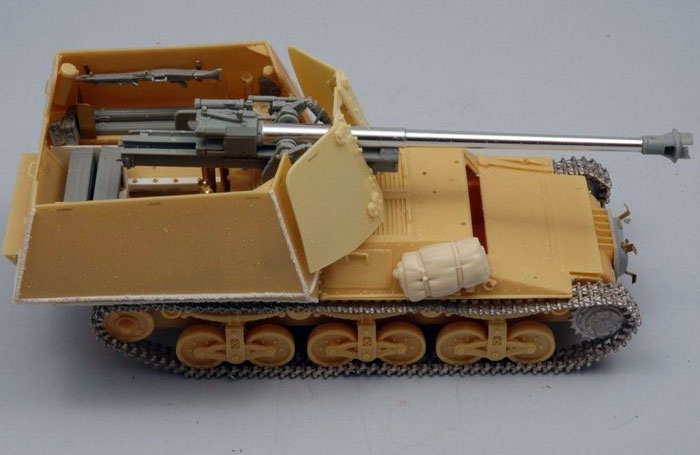 The kit consisted of approximately 75 resin parts, which were cleanly cast but did suffer from the usual warping and broken sections.

Generally the fit of the kit could best be described as average but overall no major problems were encountered.

Tamiya's ancient PaK40 kit was included, though I chose to substitute this with Dragon's superior 1/35 offering, sourced from a Marder III H, which was in my parts bin.

All resin, link and length kit tracks were provided along with drive sprockets with integral track detail. These were, however, next to useless as in addition to lacking detail, they failed to fit the wheels/ bogie assemblies as provided. I substituted the kit offerings with the vastly superior, workable Fruil modelissimo tracks, which also provided replacement white metal drive sprockets. When fully assembled these provide the kit with totally articulated tracks, which are a quantum leap ahead of the resin offerings as the accompanying photographs will show.

A small, but very useable photo-etched metal fret was also included. This yielded the ammunition racks and fighting compartment floor/ side wall supports.

The kit contained no decals and was built Out Of Box with the exception of the following additions.
Verlinden bolts (various) to detail the rear of the kit bogies.

.20 Evergreen styrene rod added to fighting compartment walls (interior/ exterior) used to replicate prominent weld beads found on this vehicle type.

Evergreen styrene right angle (various) fashioned into fighting compartment sub-floor supports etc.

Tichy- Trains NBW (various) used to replicate fighting compartment sub-floor attachment points.

New vehicle radio sourced from Dragon Marder III H- additional radio parts/ transformer sourced from Blast Models Marder update set.

Stock brass strip used to replicate MG42 stowage brackets on left hand fighting compartment wall.

Dragon MG42/ and ammo cans fitted to fighting compartment.

Lead foil used to replicate tarpaulin in fighting compartment.

Dragon PaK40 substituted for kit offering.

Tamiya turned brass PaK40 ammunition used in ready rack.

Dragon PaK40 ammunition canisters/ boxes fitted to fighting compartment.

Plus Models resin oil can fitted to floor/ Map fitted to same.

New wire tie down clips (x 12) fashioned to replace poorly moulded kit offerings.

Fruil model track fitted (spare track also).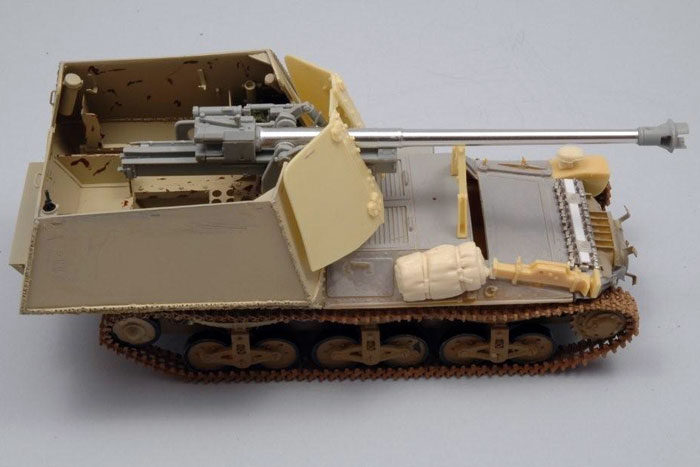 Evergreen channel/ Grant-line bolts used for spare track retention bracket.


Blast models resin NOTEK light fitted to left hand front fender.

Blast models resin tarpaulins (x 2) modified and fitted to vehicle.

Resin kit jack reworked/ modified and fitted to right hand front fender.

Resin right hand front fender removed and replaced with lead foil to replicate operational damage.

Brass stock strip fashioned into towing cable brackets and attached to final drive housing - Eureka Panzer III tow cables attached to same.

Blast resin wire cutters fitted to rear stowage bin.

Brass stock strip used to fashion crew entry ladder on left hand rear of vehicle.

Microscale chain added to towing pintle.

The model is depicted in the common, late war tricolour scheme of sand/ red brown/ green applied in a random overspray to assist in breaking up the vehicle's outline.

Tamiya primer was applied to all surfaces and allowed to dry overnight. This followed an application of Gunze Radome tan followed by Gunze red brown and Gunze medium green applied with an Iwata Custom Micron airbrush. Gunze flat clear was then applied over the model's acrylic paint finish and allowed to dry.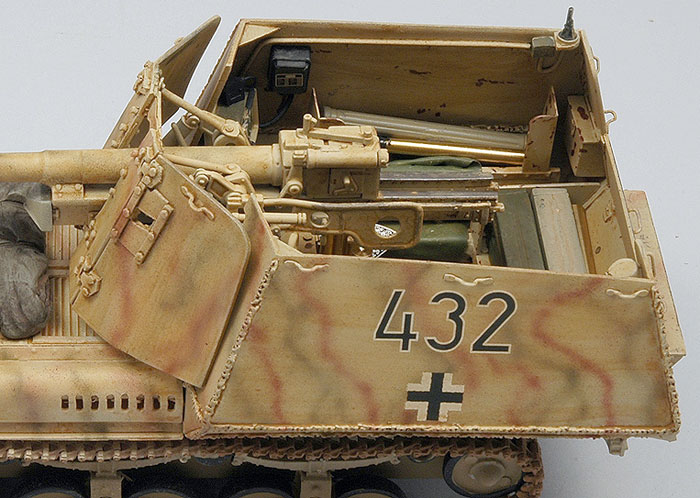 Future floor polish was oversprayed on all areas where decals were to be applied to assist in settling the decals down evenly.

Outlined in black and white, the prominent numerals "432" were applied to the fighting compartment sides, along with the regulation Balkankruz national markings. These were sourced from a suitable Echelon decals sheet, in addition the units SPG tactical symbol was applied to the right hand rear superstructure. This was sourced from an old Verlinden decal sheet and burnished on accordingly.

Gunz flatbase clear was then applied to the entire model in preparation for the weathering process. This consisted of various application of Mig pigments and filters (washers). Various scrapes and scratches were applied to replicate worn and damaged areas of the vehicle. This was accomplished by using Berol prismacolour metallic artist pencils and HB lead pencils.

The model's base is intended to depict a typical Normandy laneway, in this case the "Rue Corbeau" (Raven Lane in French).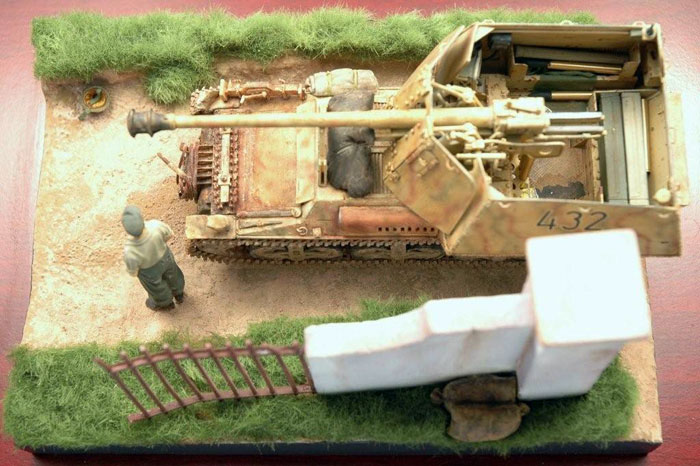 The base work was provided by Monroe Perdu's "The Sunken Road". This versatile offering can be used in almost any setting from the Middle East, Russia and beyond. It was customised with the addition of a wrought iron fence section typically found in a rural French setting.

The base was coated with Tamiya primer follower by an application of Mig Productions pigments of various earth shades.

Silfor of Sweden provided the excellent "Pasture grass". This is considerably taller than standard "Static grass" and is designed to depict summer pasture. The product comes in the form of a large woven mat onto which the grass is affixed. Simply by trimming the desired shape from the mat various shapes or "Clumps" of grass can be attached using PVA glue. This was done on either side of the roadway and left to cure overnight.

The wall section was painted and weathered separately to the base and attached at a later stage. Street name and number were sourced from a Scale Art rubdown French Street marking set and applied in the usual fashion. The base was attached to a hard wood plinth to aid in handling, following the mounting of the vehicle to the base as the small footprint of the scene made handling the model a difficult undertaking.

A mixture of pigments and pastel chalks was applied to tie the vehicle in with the groundwork. The figure is an old resin Wolf Miniatures casting and was included at the last minute to give some idea of the small overall scale of this potent Self Propelled Gun.
---
Model and Text by Ray Blythe
Page Created 6 April, 2008
Page Last Updated 6 April, 2008