Panzerkampfwagen 38(t) Ausf. E/F

by Brett Green


Description
Here is my Tamiya 1/35 German Panzerkampfwagen 38(t) Ausf. E/F.
The basic model has been built straight from the box with the only changes to the kit parts being the hollowed-out machine gun muzzles.
I think the sagged top run on the excellent and easy to assemble link and length tracks look particularly good.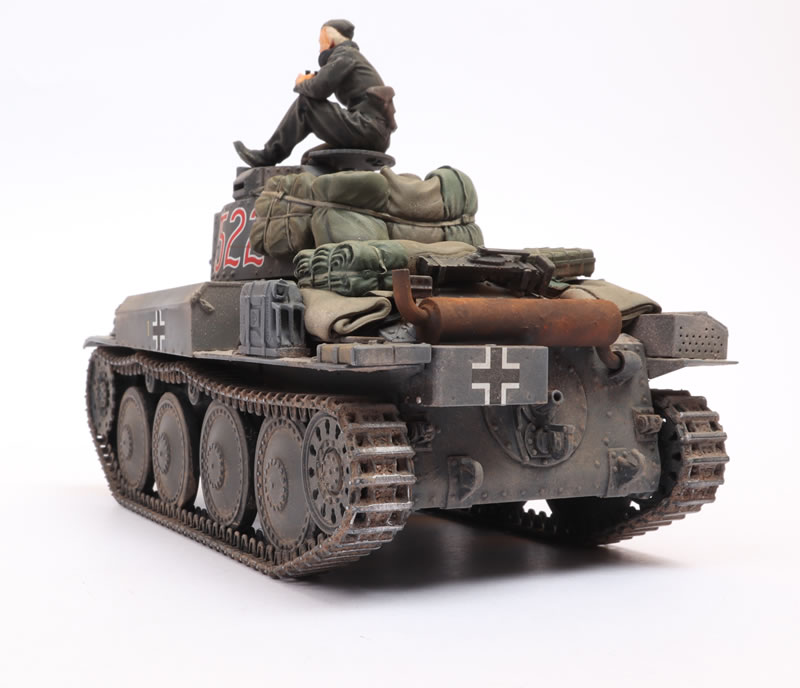 German vehicles on the Russian Front were often photographed with stowage piled onto the rear decks and turrets so I decided to replicate that feature.
Panzer Art offer a resin stowage set for the Panzer 38(t) but it does not specify which kit it is designed for. The one I can be sure it was not designed for is the brand new Tamiya kit, but I decided to take a punt and bought it anyway.
Checking the fit against the rear of the turret, the big stowage bundle was too narrow. I used my Dremel motor tool fitted with a round dental burr to remove resin from the inside of the large resin part until it fitted snugly against the sides and rear of the turret. I glued the resin part to the turret.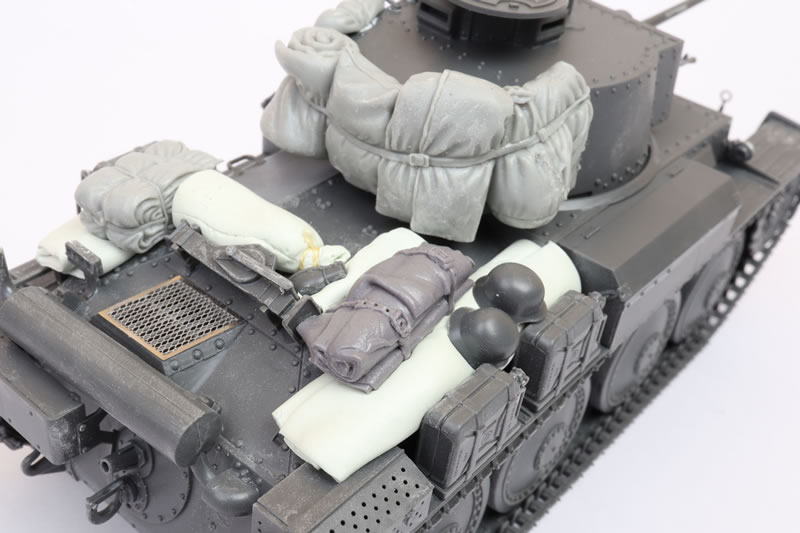 The deck stowage really did not fit at all. It appeared to be designed for a completely different configuration to the Tamiya kit. I could have adapted the Tamiya engine deck to come close to fitting the Panzer Art resin but I would have had to remove the spare jerry cans and the jack. I quite liked these so I decided to take a different path.
I made several tarpaulins and rolls and a duffle bag from Tamiya Two-Part Epoxy Putty. After the custom stowage was rolled and cut into shape but while the putty was still malleable, several resin and plastic items were pressed into them. The additional items were one set of rolled blankets from the Panzer Art set, a rolled pack from Value Gear plus two plastic helmets and a water canteen included on the kit sprues.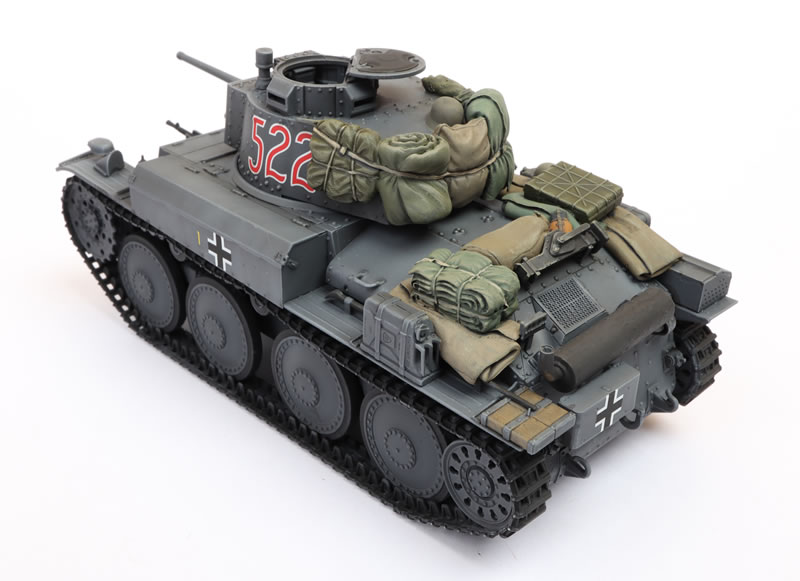 When the kit was finished, there were several five-link track lengths left over. I glued these to the front of the hull and cut racks from plastic strip.
This is another classic example of Tamiya's ability to produce a well-detailed kit that is also fast and easy to build.
The flat-pack hull, mutli-part stowage boxes and 14 part cupola all fit together perfectly and are really no chore whatsoever.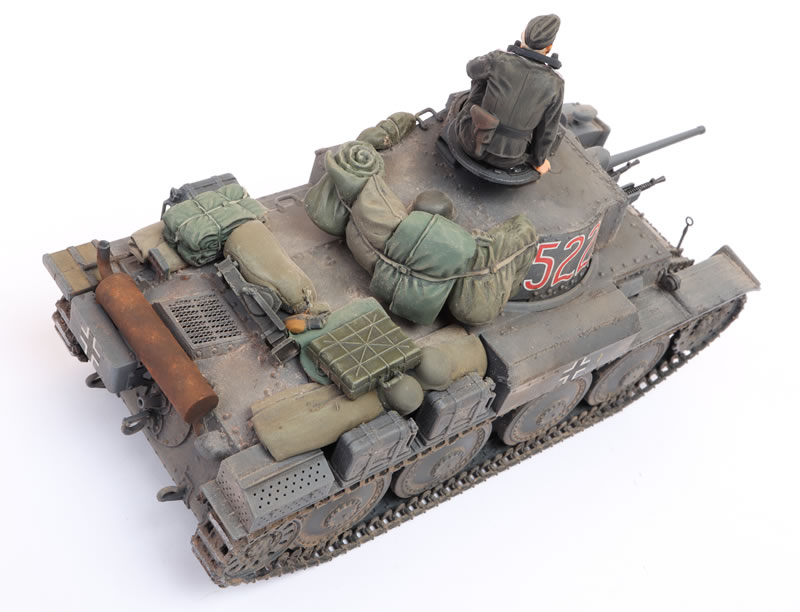 The inclusion of the link and length tracks (which, surprise suprise, also fit together perfectly) and the relaxed Commander figure just round out this great little package.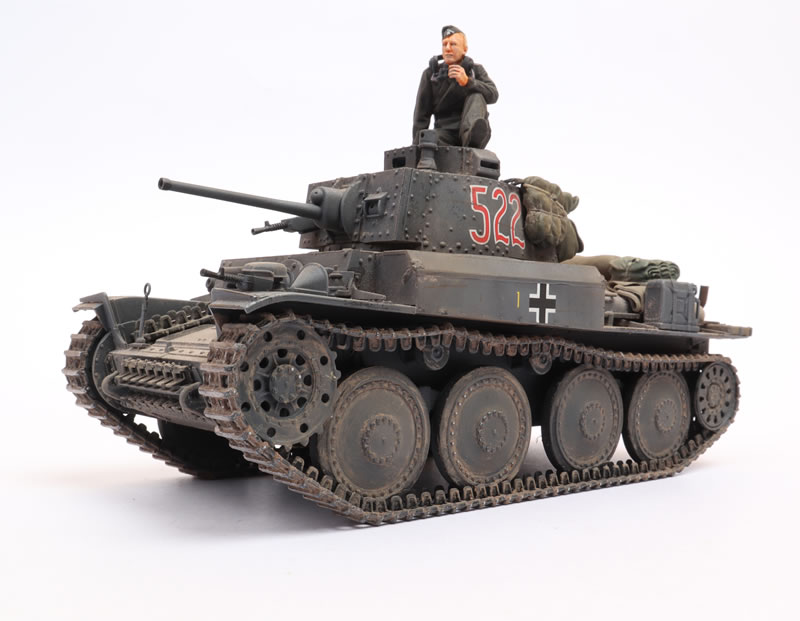 Construction, stowage, painting and weathering of this model will be described in a detailed Feature Article in Issue 164 of Model Military International magazine.
Thanks to Tamiya Japan for the sample
Tamiya kits are distributed in the UK by The Hobby Company Limited for the sample.
---
Model, Images and Text by Brett Green
Page Created 5 October, 2019
Page Last Updated 6 October, 2019