Pupchen Vignette

Dragon and YS Masterpieces, 1/35 scale

by Andrew Judson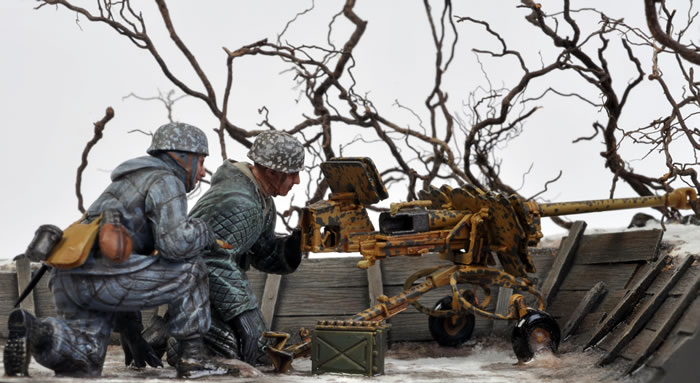 Description
Here is my vignette on YS Masterpieces' great base (as reviewed earlier on Missing-Lynx) showing a pair of Fallschirmjager, manning a Pupchen squeeze gun in not so perfect weather conditions.
The figures and gun are from Dragon's set No.6056 German 2.8cm sPzB41 AT Gun and crew (Eastern Front), built straight from the box.
This were a straightforward set to assemble, and the gun is a great little kit. All the elements were painted using Tamiya acrylics, washed with Citadel washes and then lightly dusted with Mig Powders.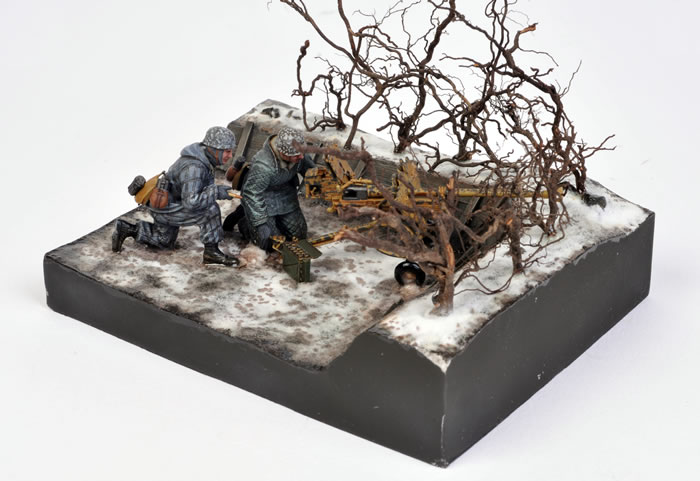 The YS Masterpieces base was base coated in a dirty dark brown mix and then with a diluted mix of water and Mig Earth powder applied over the top. This messy mix was allowed to dry and then excess brushed off.
Next, l then made up a mix of snow using the previously reviewed product by Signifer. This was randomly placed over the entire base except for the timber work and allowed to dry.
Dark patches over the snow were applied using a mud wash from Citadel, mainly where the soldiers have been moving around. This was then sealed with a heavy gloss coat.
The figures were now added and a little touching up was done to blend everything together.
Finally, I placed on the dead trees around the emplacement as a little camouflage from the enemy out there and also to create a border around the piece to bring attention to the figures and gun. Hopefully this was achieved.
I had a lot of fun with this, as winter scenes are always a challenge.
---
Model & Text by Andrew Judson
Images by Brett Green
Page Created 1 March, 2009
Page Last Updated 1 March, 2009