4.7cm(t) Panzerjager auf 35R(f)

Heller, Ironside and Scratch Built, 1/35 scale

by Steve Zaloga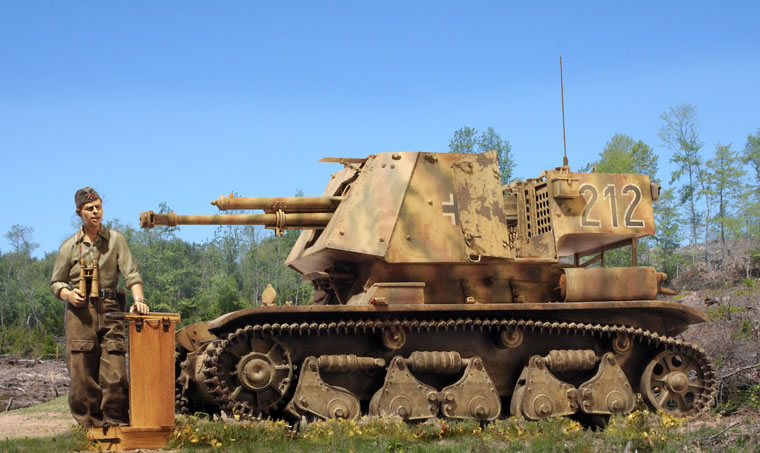 Description

Being a long-time Normandy buff, the little Renault R-35 with the Czech 47mm gun has always fascinated me. I was able to photograph the example at Thun in Switzerland about 30 years ago, but it is missing the rear ammunition bustle. I picked up the resin Ironside conversion many years ago from Azimut in Paris, but the interior is a bit sparse. At first, I planned to replace the upper armor panels which are a bit thick, but I eventually got carried away and only used bits of the Ironside hull interior. Interior references on this vehicle are pretty sparse, so some of my reconstruction is a bit of a conjecture.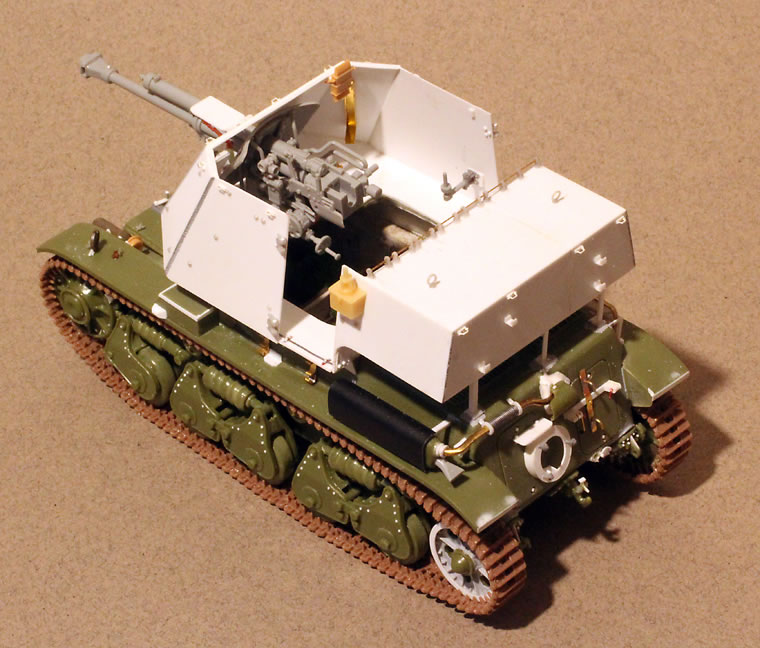 Beginning with the hull, the old Heller kit needs a lot of detail work. I added a lot to the suspension, rebuilt the idler wheel, and used the excellent Model Kasten tracks. The interior of the hull was built mainly from the Ironside conversion with a lot of little changes. The Heller kit needs re-shaping on the front of the superstructure. It is also badly in need of a lot of small detail work. Once I had the hull complete, I turned to the conversion effort.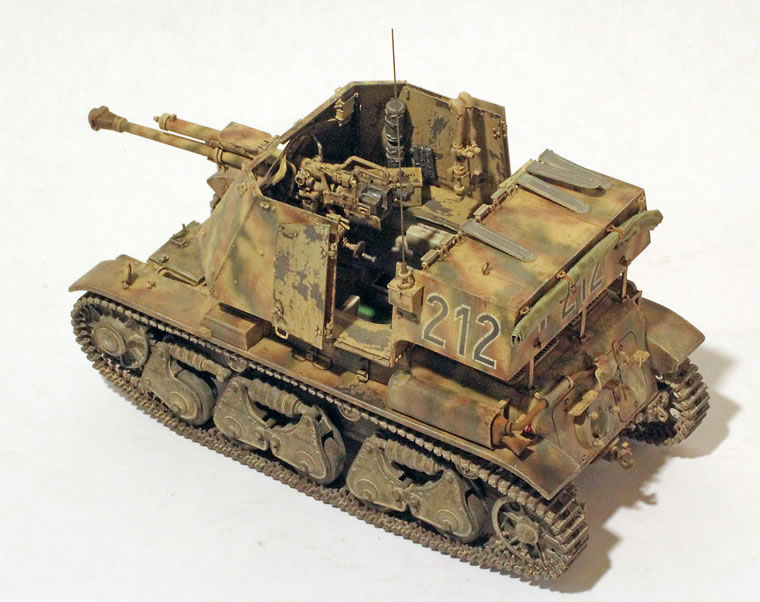 I built the new superstructure from .015 thou sheet plastic. I have several sets of scale plans including the Trojca Panzerjager (Vol. 2), Hubert Cance drawings from TnT magazine, some Russian plans, etc. All are a bit suspect, so I adapted them to fit the chassis. The precise configuration of the rear ammunition bustle is not clear from remaining photos, especially the configuration of the strange flaps. The Thun vehicle has most of the major elements present, but the stowage is largely missing. The location of the radio is fairly evident, and I used the excellent K59 resin example for this as well as the scissors binoculars. The gun assembly is from the excellent Dragon PzKpw I Panzerjager.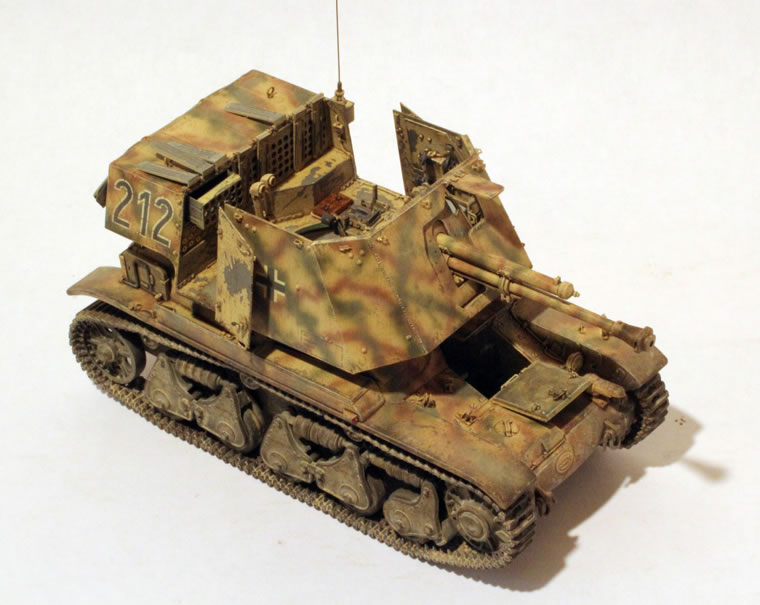 Various issues of Panzerwrecks have some excellent photos of knocked out examples which provide a good sense of the camouflage schemes in use in Normandy in the summer of 1944. I finished mine in the usual 3-color scheme, and used the "hair-spray" method to do the extensive paint chipping on the hull interior. I wanted to add a figure next to the model to give a sense of scale, and I used the excellent Alpine figure. I scratch-built a 6-round and 12-round ammunition box based on drawings I found at NARA, and positioned these next to the figure for a little interest.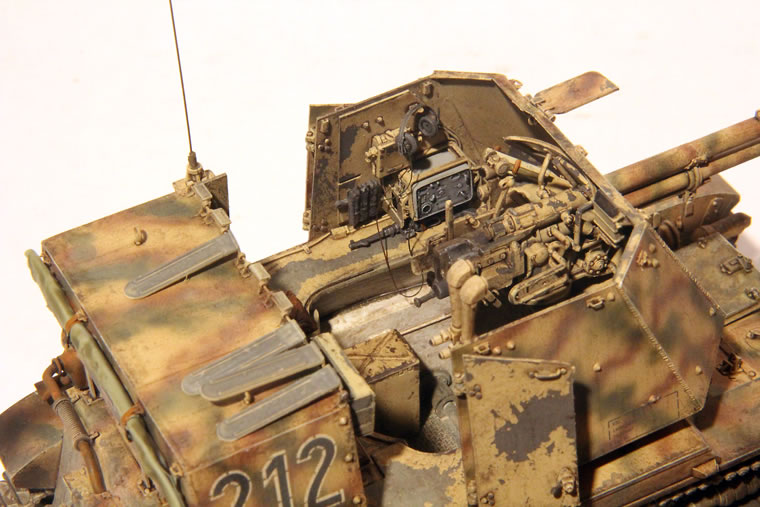 Overall, a very involved project for such a small tank. It was yet another reminder that we are long overdue for a good new kit of the Renault R-35.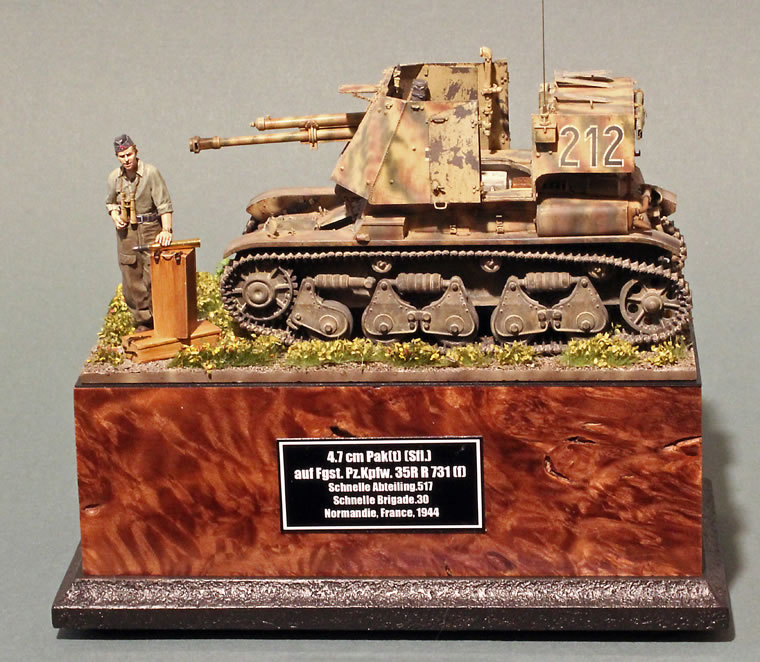 ---
Model, Images and Text by Steven J. Zaloga
Page Created 15 October, 2011
Page Last Updated 15 October, 2011