Wespe

Tamiya / Resination, 1/35 scale

by Andrew Judson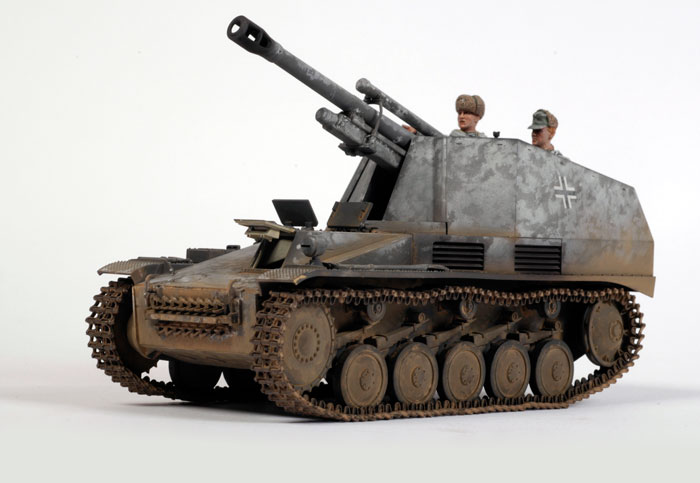 Description
Here is Tamiya's 1/35 scale Wespe.
This is the latest armour kit that l have built and l decided to add a little extra detail in the form of a basic interior set by Verlinden and a set of Modelkasten tracks.
The kit went together like a drea - nothing unusual for Tamiya - and the interior slotted straight in with out any major hassles. The only area that sent me a little looney was the tracks, which are meant to be snap together but also seem to be snap apart when putting them on the kit. I was a little disappointed considering they are meant to be workable. Again l persisted and beat them into submission.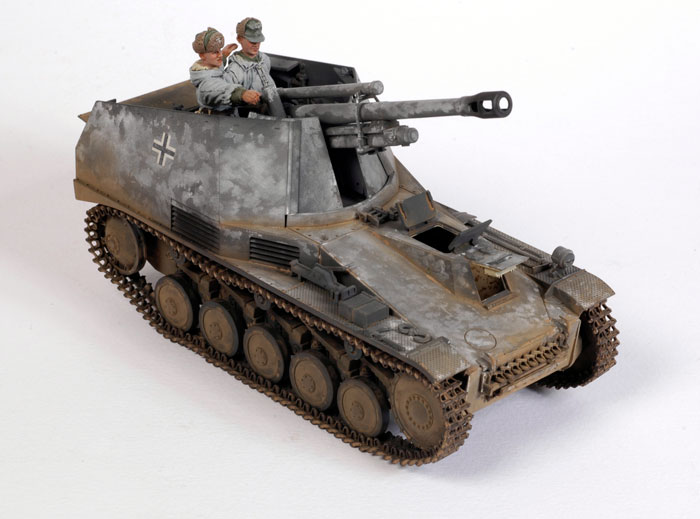 Painting and weathering the kit was a lot of fun. l gave the vehicle a base coat of Panzer Grey and then went crazy with several of the Mig Pigments mixed with distilled water, l find that the water helps etch into the paint. Once dry l then tone it down by gently brushing off the excess powder.
To get the finish with the white wash, l used the same technique as with the weathering, and then dirtied it all up with some earthy tones.
The figures are from Resination and there is no prize for guessing what they're made of... resin. They are excellent quality and were both painted completely with Citadel acrylic Paints. l find they are great for coverage and have an excellent color range with good blending qualities.
This was a lot of fun to build, and I hope that you enjoy the photos.
---
Model & Text by Andrew Judson
Images by Brett Green
Page Created 22 June, 2008
Page Last Updated 22 June, 2008