LAV Command Vehicle

Trumpeter, 1/35 scale

by Andrew Judson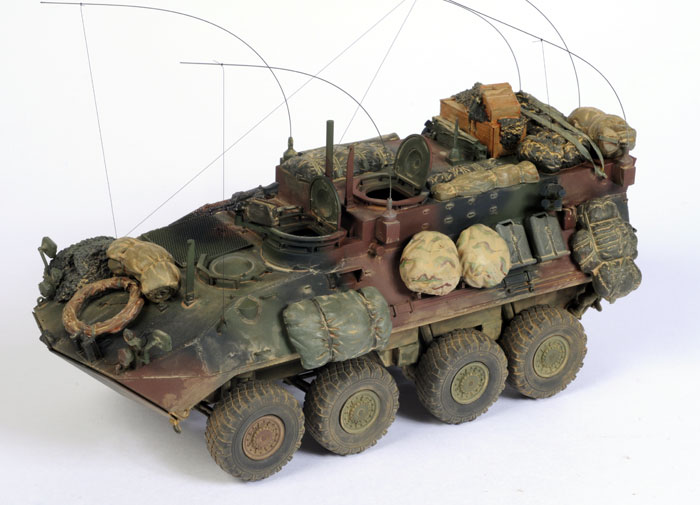 Missing-Lynx is proudly supported by Mission Models
Description
Here is my 1/35 scale Trumpeter LAV Command Vehicle.
When I first received this kit, I must admit that I was not even aware of this variant of the LAV had been released.
Upon openng the box I was greeted ith just a few sprues in light grey plastic, a small sheet of photo-etched parts, instructions and a nice decal sheet with accompanying colour drawings. This kit also includes the new larger tyre and wheel combination which may also be purchased as a separate set.
Construction of the kit was straigtforward, presenting no major problems and requiring only minimal cleaning up of parts.
I built the kit up completely, only leaving off the tyres for ease of painting.
I chose to paint this vehicle in the tri-colour NATO scheme. Acrylic paints ere sprayed using my Testor Aztek A470 airbrush, fitted with the General Purpose nozzle.
Once the model was painted, I began the weathering process starting with some Mig filters until I was satisfied with the general effect. The filters help to tone don the colours and blend them together more convincingly.
The next stage was to make up a mix of Mig Pigment Iraqi Sand and distiled water. This was applied to the lower surfaces of the vehicle and the wheel well area. Once brushed into place, it was left to dry. Once it has dried, it looks like heavily built up dust and grime. If areas look overdone, you can easily tone it down by brushing off the excess with a larg, soft, flat brush.
All the equipment was then placed in the vehicle, using a combination of Trumpeter and Legend Productions parts. Tie down straos were formed from Tamiya masking tape cut to size.
The original mix of pigments was now diluted and applied to the vehicle and equipment, plus areas that I felt that dust and rime would build up.
The five whip antennas from Accurate Armour were glued in place. Tehse are made from carbon fibre. They were tied down using black mending thread.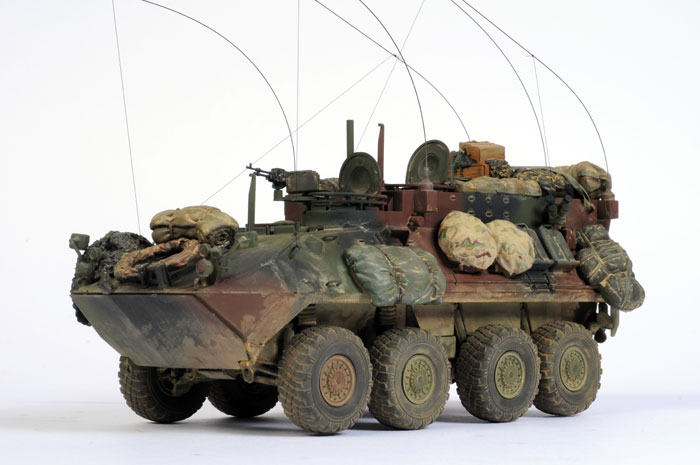 The finishing touch was to add two figures, which came from Hornet, to lend a sense of scale to the model. These were both painted with acrylic paints from Citadel.
The end result is a vehicle operating somewhere in Iraq, and I am happy with the result.
If you are into modern armour or looking for a differemt type of subject, I can highly recommend this model to you.
Thanks to J.B Wholesalers for the sample
Home

Discussion Groups

Gallery

Articles

Reviews
Copyright

Vendors Room

Links

Contact us
Copyright www.missing-lynx.com 2008
---
Text by Andrew Judson
Images by Brett Green
Page Created 1 June, 2008
Page Last Updated 1 June, 2008