M1A1 Abrams with Mine Plow

Trumpeter, 1/35 scale

by Andrew Judson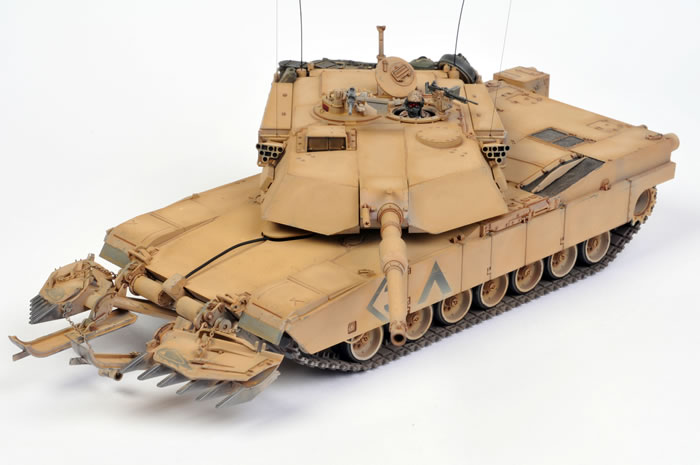 Description
Some time ago, l built this Trumpeter 1/35 scale M1A1 out of the box, but never got around to putting paint on it.
After sitting in a dusty box for quite some time, l got the urge to finish it off and ended up with what you see now.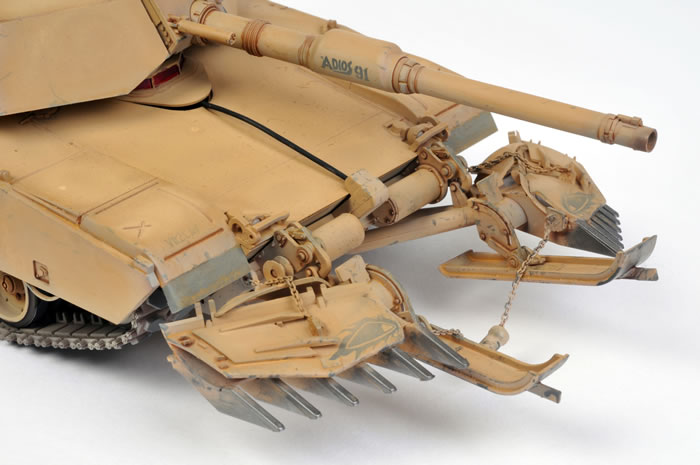 I started off the paint job with a base coat of Tamiya Desert Sand followed by a pin wash of Mig Red Brown. Once dry, l made up a lighter mix of Desert Sand by adding some Buff, and then sprayed this on in a patchy pattern with in the different panels which pretty much finished of the colour and effect l wanted before picking out the finer details and weathering.
The finer details were items like the air filter grilles, machine guns on the turret, plus minor scratching and pin washes of sepia between panels and recessed areas.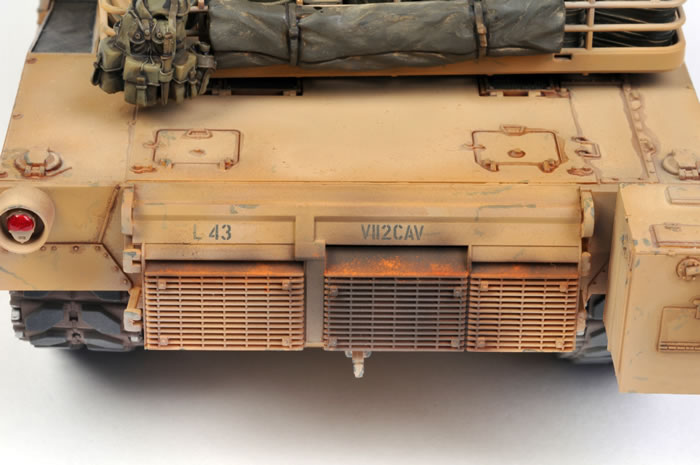 The same was done for the mine plow, except at the end l applied graphite powder with a cotton bud to give a worn look. The tracks were painted Flat Black and then various earth tones were sprayed over this to give a weatherbeaten appearance, then finally dusted over with Mig pigment's Iraq Sand and a dry brush of black and buff over the track pads to make them look worn.
Finally, I applied Mig Pigments in a paste form over the entire kit and once dry, brushed it down in ares to give it a dusty look of an Abrams that has travelled in a desert area without going to extreme. This really worked well on the plow in particular.
I have built this kit to represent an Abrams that served in Desert Storm in 1990.
All spray work was done with my Aztek A470 Airbrush.
Home

Discussion Groups

Gallery

Articles

Reviews
Copyright

Vendors Room

Links

Contact us
Copyright www.missing-lynx.com 2009
---
Text by Andrew Judson
Images by Brett Green
Page Created 19 April, 2009
Page Last Updated 19 April, 2009