M551 Sheriden "Gulf War"

Academy, 1/35 scale

by Andrew Judson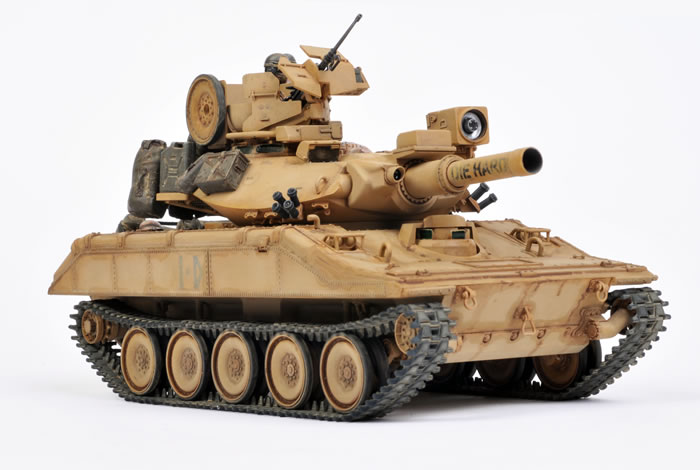 Description
The M551 Sheridan first rolled of the production line in 1965, saw service towards the end of the Vietnam war, then in Operation Just Cause in Panama in1989 and was also deployed in the Gulf war during Operation Desert Shield. Today they are used as mock enemy vehicles at the US National Training centre.
This 1/35 scale kit by Academy is far superior to Tamiya's offering from years ago, though from reading kit reviews it still has some errors. To me, it is still a nice model and this is what l came up with.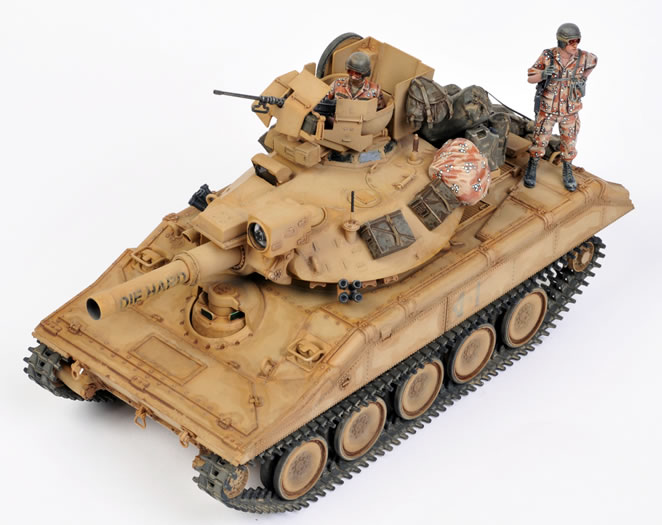 I built the kit from the box, and the only add ons are, Fruilmodel tracks, luggage from Legends and Verlinden, and a pair of figures also from Verlinden.
This was an easy kit to build and a lot of fun. The tracks were pretty much the trickiest part, but worth it over the kit's rubber band type that appeared to be too short.
Painting this kit was done using my trusty Aztek A470 airbrush and Tamiya Acrylic paints. The base color was Tamiya acrylic Desert Sand done in several coats, slightly lightening it with Buff with each coat.
Once the base coat was dry, l began the weathering, starting with a coat of Mig Filter for Tri Tonal camouflage, but it works well with the Desert Sand.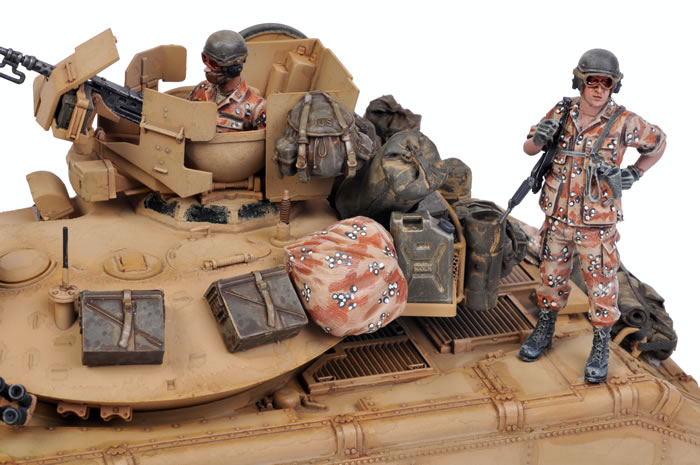 Next l then did a spot wash over all the panel lines and rivets with Mig's Brown wash and then finally a light patchy coat of the last base color that luckily was still in the paint cup and only needed a little thinner to revive it. Phew!
Now the fun part begins - painting in all the finer details and putting on all that luggage. First l added the unpainted, until l had the lay out l was happy with and you see now. This was then attached to tooth picks and painted in several tones of Olive Drab, Khaki and Khaki Drab, and finally perminantly fixed to the kit.
Once all this was done, l then made up a wet mix of Mig Iraq Sand Pigment and randomly applied this over the entire model, allowed to dry and then both heavily and lightly brushed of to give an appearance of a vehicle that has been through the dust and sand in the Gulf.
Lastly was adding spot washes using Mig Brown wash and Dark Brown wash, and putting on the tracks, which had been through the same weathering process.
Now that the vehicle was finished l just had to add a couple of figures, which were the Desert Shield tankers by Verlinden. This is one of their earlier sets, but still excellent.
The figures were painted with Citadel Acrylics, which l find excellent to use and have a stunning finish. I chose the the chocolate chip pattern uniform, very challenging, but was happy with the end result.
This was a very enjoyable project for me, and will be doing more modern subjects in the future - an Abrams or LAV perhaps.
Home

Discussion Groups

Gallery

Articles

Reviews
Copyright

Vendors Room

Links

Contact us
Copyright www.missing-lynx.com 2009
---
Text by Andrew Judson
Images by Brett Green
Page Created 25 January, 2009
Page Last Updated 25 January, 2009