Su-76i

Tamiya + Aires Conversion, 1/35 scale

by Jason Woollett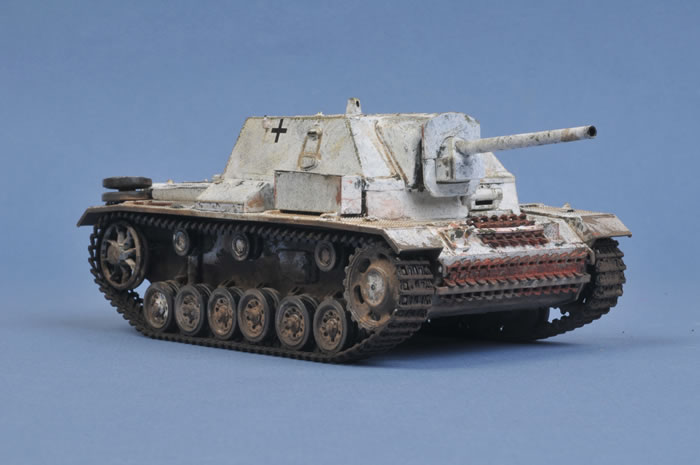 Description
This model was built for my local club comp titled "Under New Management" for captured military vehicles.
I decided to build a model of the Russian SU-76I, which was based on the German Panzer III with a new superstructure and main gun. Approximately 200 tanks were converted by the Soviet's used the same gun as the T34/76. I came across an image of a SU-76I that had been recaptured by the Germans and painted in a whitewash. I thought this would be something different for the local comp of a captured tank, that had been recaptured
The base kit is Tamiya's Panzer III with an Aires conversion that included a resin superstructure as well as photoetch and a nice metal barrel.
After some minor cutting of the Tamiya hull, the new resin superstructure was glued into place, along with the various photoetch pieces.
Tamiya NATO Green was used as a base coat and then Games Work Shop Skull White paint was applied by brush. Various areas were drybrushed in the base green colour and there was plenty of mig pigments splashed around to match my reference photo.
It was a quick, fun build of an unusual vehicle.
---
Model, Images and Text by Jason Woollett
Page Created 9 January, 2010
Page Last Updated 9 January, 2010