Scratchbuilding a 1/144 TIGER I
s.Pz.Abt. 501, Tunisia,
December 1942 - January 1943

scratchbuilt, 1/114 scale

by Benjamin Guenther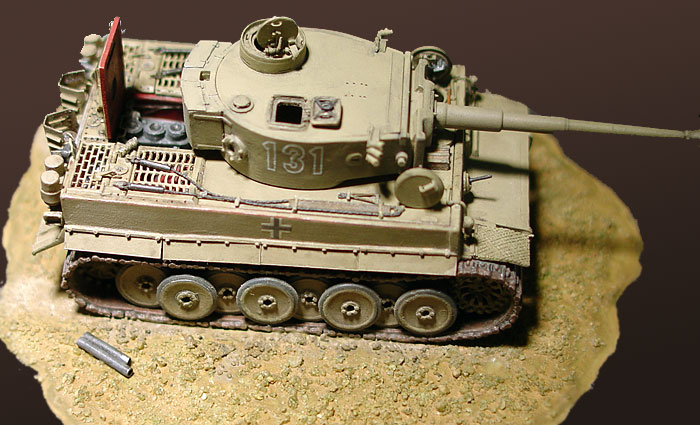 Introduction
This model was a hit at last years IPMS Nationals and I am pleased to finally have the chance to display Ben's fantastic build article here on Missing Lynx.
The patience, exceptional detail and masterful dedication are just awe inspiring!
Enjoy!
Nick Cortese
---
Planning
Normally, references are quoted at the end, but if you build conversions or scratch-build anything you know the value of information. I used Germany's Tiger Tank-D.W. to Tiger I by Jentz and Doyle, Tiger I and Sturmtiger in Detail by Bruce Culver and the AJ press four volume series on the Tiger. I also found that David Bryden's website http://www.TigerI,Info/ was indispensable with drawings, pictures and dimensions for anyone wanting to detail a Tiger. Several other works were used, but these four were the main ones.
---
Construction
Germans made it easy to build their armor with flat surfaces, using Jentz & Doyle's book I found the armor thicknesses, converted these to 1/144 scale, then found plastic sheet that matched and glued up the basic hull. I then decided to make the torsion system working, which really wasn't that hard to do. Brass rod of the correct diameter became the bars, arms were cut out of brass sheet and the two were silver soldered together. Stainless steel tubing was fitted to the hull and the torsion bars went thru them to the other hull side where they were inserted into holes and glued in place. With that you had a working torsion system, until later when you added the road wheels and tracks, and then you couldn't move them much at all.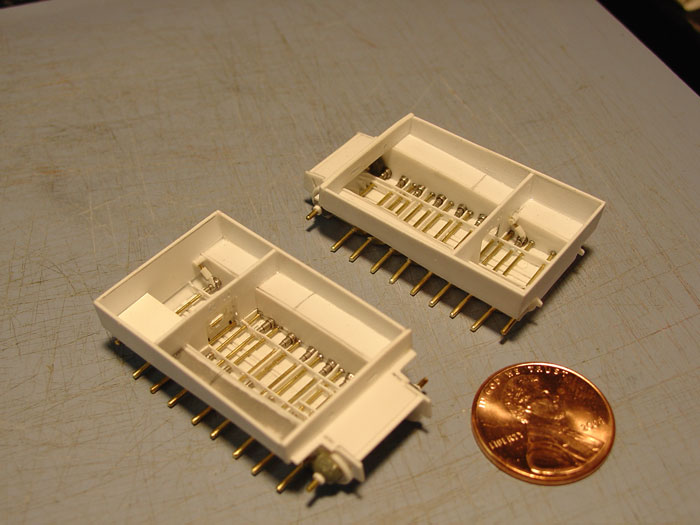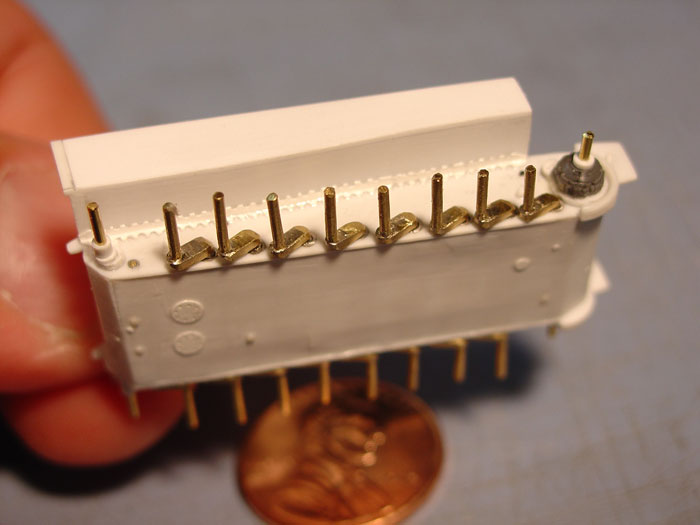 I had decided to make an early Tiger in Tunisia and that dictated everything afterwards. If you notice in the pictures I built two tigers. Working in this small scale two models allowed me to practice on one and get the other right. I had to make 2 or 3 parts and choose the best one for the finish model. The engine compartment came next; I converted the dimensions into 1/144 scale and made the parts.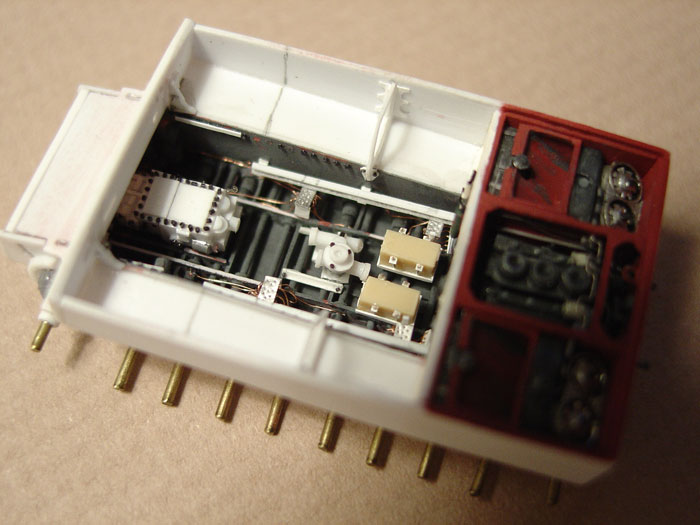 Click the thumbnails below to view additional images:
---
It was at this juncture that I picked one model to be painted and the other unpainted, this one would be left open and used for display. After that it was a matter of duplicating everything that was in a Tiger from the hull bottom up. With the interior done I then made the hull top, turned a brass turret ring and made the crew hatches. Using some soft .oo5" Aluminum sheet I made the double hinge for the hatches, that way they would open and close. Detailed the hatch interiors and I was ready to move onto more trouble, the turret.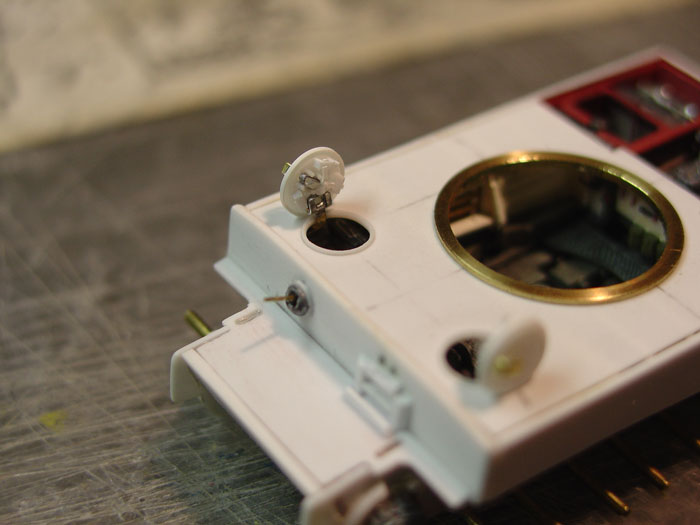 Bryden's website has turret dimensions that I converted into 1/144 scale. I cut plastic into the turret bottom and then bent plastic around it to make the turret sides. Brass barrels were turned on my Sherline lathe as was a brass pattern for the muzzle brake.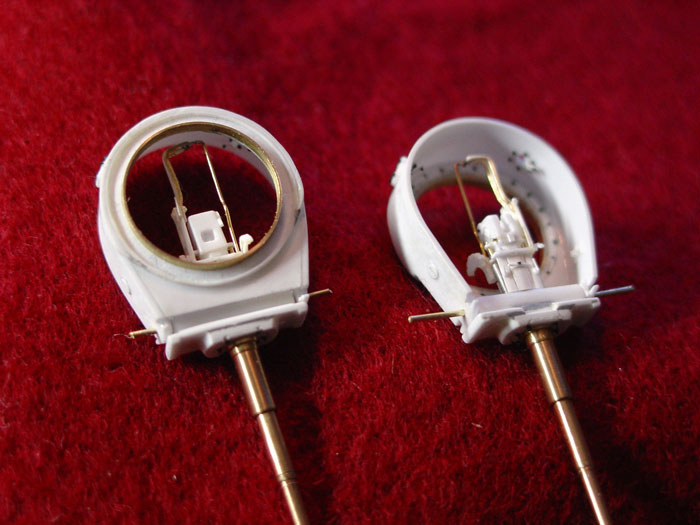 Click the thumbnails below to view additional images:
---
A rubber mold was made and half a dozen muzzle brake parts were cast, as lower and upper halves. I had to cut, file and swear at them to make the openings that are on the lower/upper halves. These were small, thin pieces and I only managed to make three out of the lot. Next, the rear portion of the 88 gun was made and mated to the barrel. Mantlets were made and the guns inserted, which were then attached to the turrets. Finally, the turret interior was completed and one painted. The turret roof was cut from sheet plastic, the underside detailed and holes for the loader's hatch and commander's cupola were cut. The cupola was turned on my lathe from Aluminum round stock. Hatches for both were made and hinges were made that allowed them to open and close. The turret ventilator was made without the cover as any tank firing its gun would soon fill with smoke if the cover was over the ventilator fan.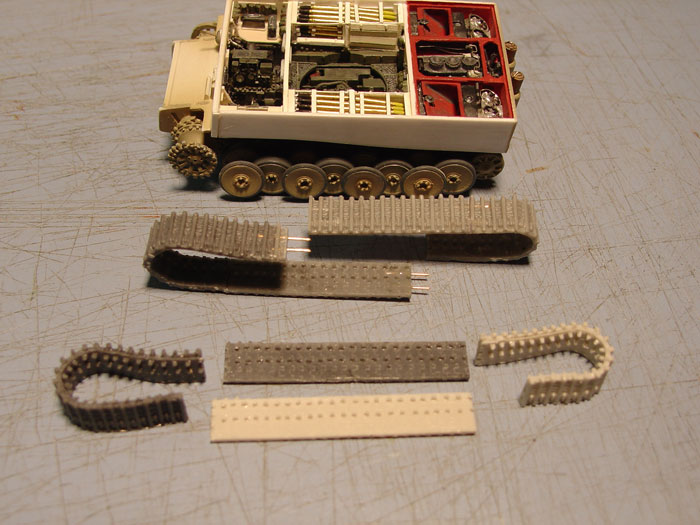 Click the thumbnails below to view additional images:
---
I sprayed painted the model with Testor's Model Master RAL 7008 Afrika Khaki Braun that was lighten with 30% of FS36492, light gray (a very light gray). After drying the tank's OVE were made and attached, which after everything else was fun to do. Tow cables were made by twisting strands of .003" copper wires together. I used a water base black for my wash and mixed up MIG powders to lighten the top surfaces and to dust up the road wheels and tracks. This project took 14 months to do although at times it did seem never-ending.
---
Model, Images and Text by Benjamin Guenther
Page Created 18 May, 2006
Page Last Updated 17 May, 2006