Chevrolet 2-ton Truck
Revell, 1/48 scale
Reviewed by Cookie Sewell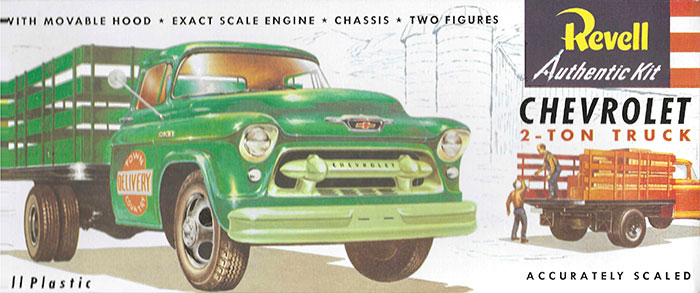 Summary
| | |
| --- | --- |
| Catalogue Number and Description: | Revell Kit No. H-140 - Chevrolet 2-ton Truck |
| Contents and Media: | 53 parts in Kelly green plastic |
| Scale: | 1/48 |
| Price: | US$24.95 (OOP – see text) |
| Review Type: | FirstLook |
| Advantages: | Only kit of its type in this scale; still relatively accurate after 65 years! |
| Disadvantages: | No clear plastic parts (see text). |
| Recommendation: | Recommended for all "Quarter Scalers" and Chevy truck fans. |
FirstLook
The 1950s was a great time for modelers – now called the "First Golden Age" – as companies tried to kit just about everything they could think of and that someone in marketing thought would sell. While a fight was on in automotive kits for domination by 1/32, 1/25 and 1/24 scale kits, they also turned to smaller scales as well in order to market larger vehicles.
Aurora came out with a line of commercial trucks based on Ford and White tractors, but these were in the smaller 1/64 scale. At that time that equated to S Gauge train sets but unless you were an American Flyer fan or into "rolling your own" they were an oddity. They did try to market them in olive drab plastic as military haulers but again no compatible vehicles by anyone else at the time.
Revell chose 1/48 for their line, and released a total of five vehicles in this scale: a Ford pickup with a police Harley Davidson motorcycle; this kit, a Chevy Two Ton rated 4x2 commercial truck; a Kenworth tractor with a 40 food Freuhauf van; a White cab over tractor with a 5000 gallon gasoline trailer; and the Kenworth with a 40 foot Freuhauf flatbed and a disassembled Honest John rocket in crates.
While the scale did match with both O Gauge trains and many model aircraft kits, the vehicles were commercial vehicles and the appeal was not was wide as hoped. Still, they were nicely done kits for their day and the mold did hold up over the years.
This kit was a 1994 re-release by Revell-Monogram in their selective subjects program, but the molds are now in the possession of Atlantis who now offer the kit for only $19.95. They also corrected the model's one glaring fault, namely no window glass. This now comes in their version of the kit as well is on offer for $4.95 for those of us with the older kit on hand.
What you get is a nice basic model of the vehicle with a opening hood and basic engine. The stake panels on the flatbed body are removable and it also comes with cargo in the form of crates and two barrels as well as two figures unloading the truck. The latter are typical of Revell figures of the day, well proportioned with facial details.
Bringing it up to modern standards is not too hard thanks to the Atlantis window set and the fact the flat headlights can be drilled out and replaced with aftermarket lenses like MV Lenses.
Checking my references it can also be used as the basis for a military support vehicle. I rode on one similar to this in basic training which was used to run rations out to the training areas for meals. All it needs to be is painted in the desired service color – gloss olive drab for the Army, gloss grey for the Navy, and gloss blue for the Air Force. It can also be cross-kitted with the Tamiya CCKW fuel tanker to create a mid-50s USAF fuel tanker by the stern of purpose.
Overall this is a nice little kit with a lot of potential for dioramas.
---
Sprue Layout:
- 12 Chassis, stake body, stake assemblies
- 15 Figures, cargo, axles, details
- 9 Cab, seat
- 17 Wheels, barrels, engine
Text and Images Copyright 2021 by Steven Sewell
Page Created 23 October, 2021
Page Last Updated 23 October, 2021