Panther Ausf.A
& 16 tonne Strabokran Crane
with Maintenance Diorama and Display Base
Suyata 1/48 scale
Reviewed by Luke Pitt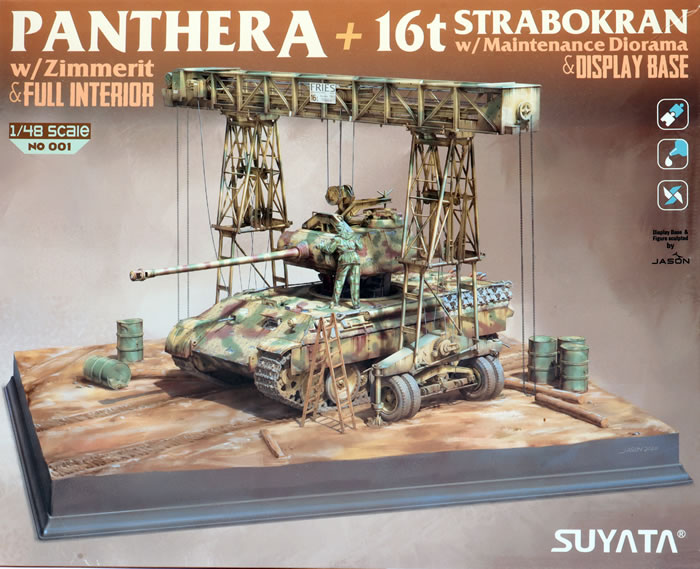 Summary
Stock Number and Description

Suyata Kit No. 001 - Panther Ausf.A and 16 tonne Strabokran Crane

Scale:
1/48
Media and Contents:

402 parts in dark yellow plastic; 253 parts in dark grey plastic; 15 part photo-etched fret; plastic diorama base; nylon string; metal cable; a 50 piece Zimmerit decal sheet

Price:
TBA
Review Type:
First Look
Advantages:

Beautiful moulding; high level of detail; comprehensive diorama in a box.

Disadvantages:
Some simplified detail.
Recommendation:
In a word, brilliant!

F i r s t L o o k

This kit has been floating around the rumour mill on various online Forums for a few months now with some saying even saying "I'll believe it when I see it".
Well people, by the time you read this it indeed has been released and in a word it's brilliant. Yes, I know what you're thinking - is it really that good? Well for the price you pay - and bear in mind, you get two kit's here - it's a bargain.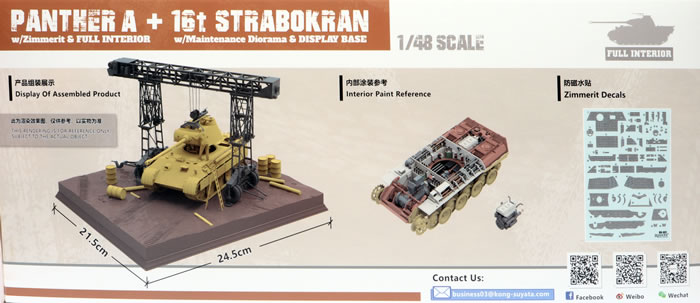 The silky smooth box that defies the model's scale is well designed and beautifully printed . Within the box itself, the same silky smooth printing is used for the instruction booklet. Covering 21 double sided pages, it has a parts breakdown followed by some very well done interior colour call outs for the interior that are three dimensional in nature. The Panther requires 65 construction steps and consists of a whopping 402 plastic parts.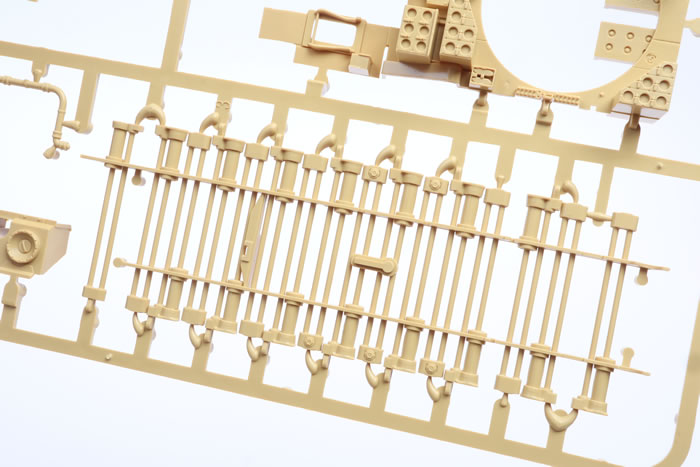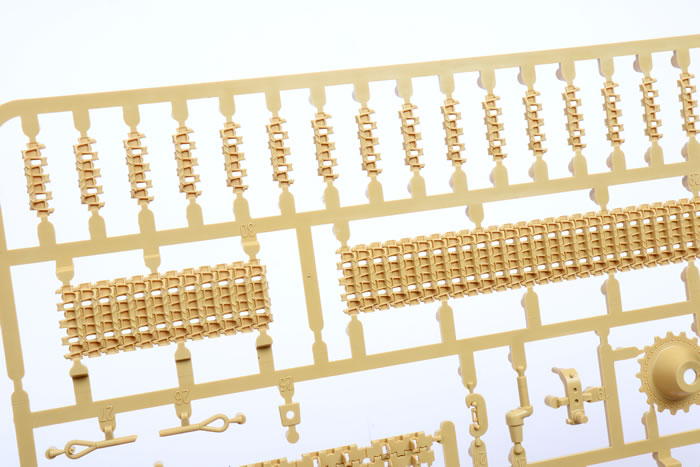 The crane is next and covers 48 construction sequences with 253 parts.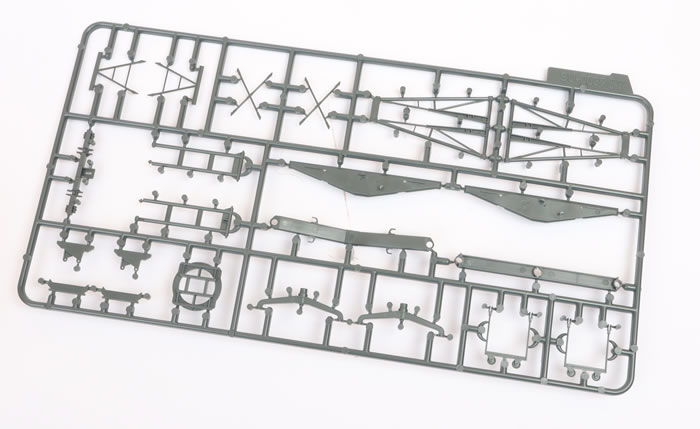 The parts are moulded in different colours, with the Panther in dark yellow and the crane in dark grey. A 15 part photo-etched fret is provided for both the Panther and the crane.

Four marking choices are provided for the Panther and two for the crane.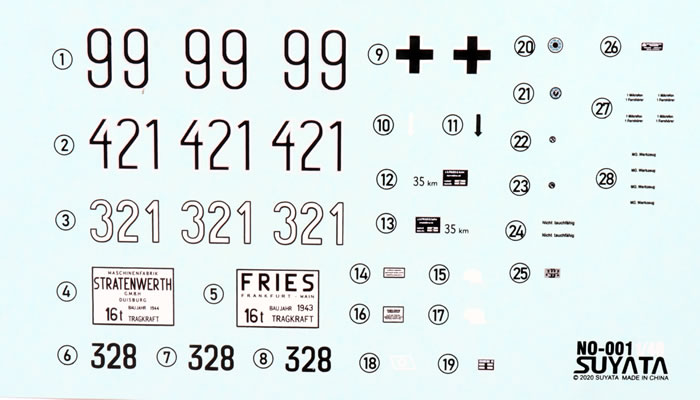 The box contents are rounded out by a plastic diorama base, some nylon string and metal cable together with a 50 piece Zimmerit decal sheet consisting of 40 separate pieces.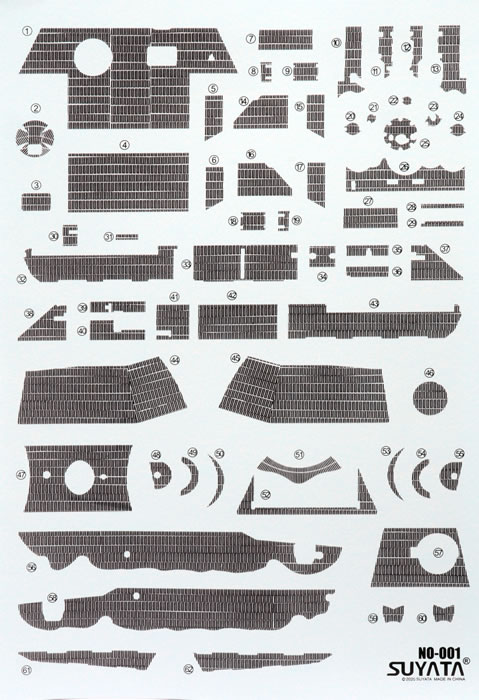 The moulding of the plastic parts is masterfully done with the weld marks in particular being reproduced to such a degree that they are almost impossible to fault. Comparisons between this and the Tamiya kit are inevitable and justifiable and this kit is finer and offers far more detail. The upper and lower hull details for instance are to a much higher standard compared to the Tamiya offering. The same could also be said for all the parts really. It's simply better. The crane has never been kitted before in plastic and is on a par with the Panther in terms of detail and finesse.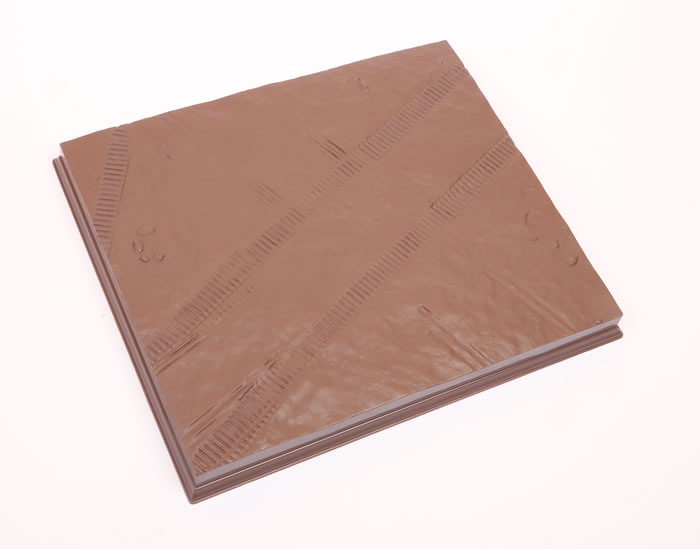 The kit has a few niggles, with the lightening holes on the track's guide horns not present and the crane having no option to have it in the folded or travelling position. But these are minor glitches in an otherwise outstanding package. I would have liked the hull side plates provided in photo-etch and the Zimmerit decal sheet seems to be an afterthought as the pattern does not seem right to my eye.
---
C o n c l u s i o n
I'm not a huge fan of interior details in tanks but in this instance it works, as it is after, all a complete diorama in a box at also includes a well moulded plastic base. No doubt at some point a stripper kit of the Panther will be released.
Give the retail price of this kit and the complete nature of the package, this is without a doubt an absolute bargain. I suggest that even if you are a 1:35 scale modeller you will be pleasantly surprised by this kit.
If this is the standard set by this new company then I'm champing at the bit for their next release which will be a Russian T-90. If you don't buy this kit, you're not in to 1:48 - it's just that good.

Highly Recommended!
Thanks to Suyata for the sample

Text by Luke Pitt
Images by Brett Green
Page Created 6 March, 2021
Page Last Updated 6 March, 2021