Home > Reviews > 1/48 Scale >

Tamiya 1/48 Scale Military Miniatures Series No. 32523; U.S. Medium Tank M4A1 Sherman
U.S. Medium Tank M4A1 Sherman
Tamiya, 1/48 scale
Reviewed by Cookie Sewell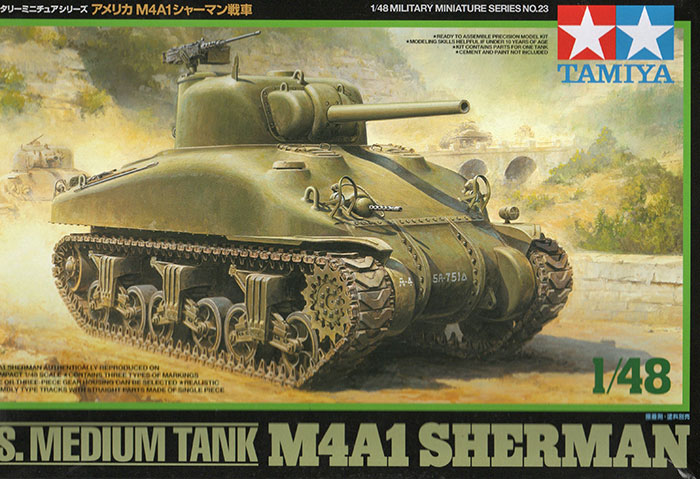 Summary
Catalogue Number and Description:

Tamiya 1/48 Scale Military Miniatures Series No. 32523; U.S. Medium Tank M4A1 Sherman

Contents and Media:

169 parts (161 in olive drab styrene, 4 vinyl keepers, 3 steel screws, cast metal hull pan).

Scale:

1/48

Price:

price estimated at US$34.00

Review Type:

FirstLook

Advantages:
Perennial favorite in this scale; wide variety of options usually not found in 1/35 scale kits; Well thought out kit

.

Disadvantages:
Missing cables and some tool attachment straps.
Recommendation:

Highly Recommended for all 1/48 US armor fans and "Shermaholics"
FirstLook
For many years, the only model of a Sherman tank in any scale was the Revell "1/40th Scale" one from 1956 (it was really 1/35th scale). There were others that came out later in different scales such as the 1/76 Airfix M4 and the later 1/33rd Scale Tamiya motorized one.
But it was not until 1964 that a Sherman appeared in 1/48 scale when one of the last new mold armor kits from Aurora appeared as an M4A3E8 model. This was one of their better efforts and came with a commander and three infantrymen in support. It consisted of 105 parts in olive drab styrene and two black vinyl track runs. It had some flaws such as little surface detailing and an oversized mantlet cover to permit the gun to elevate, as well as only partially hinged "working" hatches. But at the time of its introduction it was the best M4 kit on the market.
Nine years later Bandai released its "pin point" accuracy kits in 1/48 and among the first kits out was an M4A1 75mm gun tank. This kit consisted of 187 parts in olive drab, metallic black and silver vinyl and actually also provided a partial interior to include a complete Wright radial engine. Four figures complimented the kit and it came with a very large and generous (for 1973) decal sheet. However, it also came with no optional parts.
In 2005 Tamiya released a new mold kit of the M4A1 cast hull 75mm Sherman and it was quite a surprise. Unlike many of the 1/35 scale kits of the M4 series, this one included a wide variety of optional parts and details to give the modeler a lot of flexibility in selecting a specific vehicle.
These options included:
- Choice of early round or later square air cleaners;
- Choice of spoked or pressed steel road wheels;
- Choice of spoked or pressed steel idlers;
- Choice of three different styles of drivers;
- Either three piece cast or "sharp nose" cast transmission covers;
- Two different styles of hull hatches (periscopes or no periscopes);
- Either the early narrow mantlet cover or the later M34A1 wide cover;
- Option appliqué armor panels.
There are three different finishing options in the kit, and the directions are keyed to them to assist in getting the right details on the right tank. They are: A – Tank A-4, 751st Tank Battalion, 5th Army, Italy October 1944; B – B-13, 13th Tank Battalion, 1st Armored Division, Italy Summer 1944; C – B-10, 31st Tank Battalion, 7th Armored Division, France Summer 1944. The decal sheet provides markings for each vehicle and the directions indicate which one gets parts options where they are identified.
One oddity of Shermans is that when they used spoked road wheels they often had pressed steel idlers; if they had pressed steel road wheels the reverse was true and they got spoked ones. Just an observation…
All of the hatches – hull access, engine bay and turret – may be posed open or closed, but as this model is held together by screws (two needed, one spare is provided) the engine bay doors only show the nice screw tower inside the hull!
You will need another kit like the US Infantry Set (32513) to get the driver and commander figures for this kit if you wish to use them.
Overall this is a better kit than many others to include the evergreen Tamiya 1/35 one from 1981 . If you are interested it is a nice –and comparatively inexpensive – place to start on 1/48 models.
NOTE: I have the other two mentioned (Aurora and Bandai) and will be doing a build comparison of all three for the AMPS Boresight.
---
Sprue Layout:
A 40x2 Suspension, drivers, pressed steel idlers, link-and-length tracks, lights
C 5 Cast transmission cover
D 20 Early turret with M2 machine gun and M34A1 gun mount, 75mm gun
E 9 Sharp cast transmission cover, early model gun mount
F 23 Upper hull, hatches, appliqué armor, square air cleaners hull details
P 7x2 Pressed steel road wheels, idlers
R 5x2 Two styles of drivers, round air cleaners
T 10 M2 machine gun, outer vehicle material tools
- 3 Steel screws
- 4 Vinyl keepers
- 1 Cast metal hull pan
Text by Steven Sewell
Images by Brett Green
Page Created 12 May, 2023
Page Last Updated 19 May, 2023