U.S. Medium Tank M4A3E8 Sherman "Easy Eight"
Tamiya 1/48 scale
Reviewed by Brett Green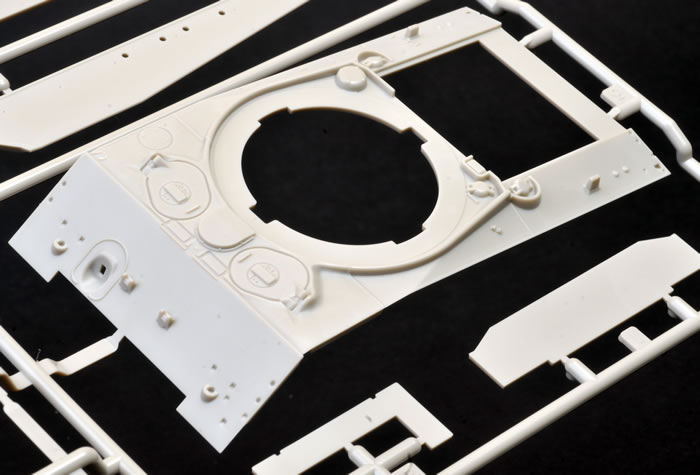 Summary
Stock Number and Description

Tamiya Kit No. 32595 - U.S. Medium Tank M4A3E8 Sherman "Easy Eight"

Scale:
1/48
Media and Contents:

220 parts in light grey coloured plastic (test shot colour only - commercial kit will likely be in olive coloured plastic); four steel ingots; four polythene caps; length of string; markings for two vehicles.

Price:
TBA
Review Type:
First Look
Advantages:

Straightforward build;link and length tracks; nice surface textures; high level of detail; includes Commander figure.

Disadvantages:

Would have been nice to have the other hatches separate.

Recommendation:
Another welcome addition to Tamiya's excellent 1/48 scale military vehicle range.

B a c k g r o u n d
The M4A3 was the first Sherman variant to feature HVSS (Horizontal Volute Spring Suspension) as factory fitted equipment. HVSS suspension was equipped with wider tracks to distribute weight more evenly. These wider tracks allowed more armour to be fitted and offered a more comfortable ride for the crew, but also required narrow track guards to be fitted to the sides of the hull.

With its experimental E8 designation, the smooth ride of the HVSS led to the nickname Easy Eight for this Sherman variant. The M4A3E8 first entered service in Northern Europe during December 1944, and the variant continued on the front lines post-war, including service in Korea.
---
F i r s t L o o k
Tamiya has expanded its WWII Allied catalogue with the announcement of a brand new 1/48 scale M4A3E8 Easy Eight Sherman.
This is not the first 1/48 scale Sherman that Tamiya has released, but it is the first with HVSS, opening up another range of possibilities.
I was fortunate to receive early test shot sprues of this forthcoming kit.
As a test shot, it is possible that there will be slight changes to the production version, but what you see here will be close to final.
Tamiya's 1/48 scale M4A3E8 Easy Eight Sherman comprises 220 parts in pale grey coloured plastic (the final kit will most likely be olive coloured plastic), foursteel ingots, four polythene caps, a length of black string and markings for two vehicles.
The kit is almost entirely new. The only legacy parts are on the small sprue containing tools and the .50 cal machine gun, which dates from 2005.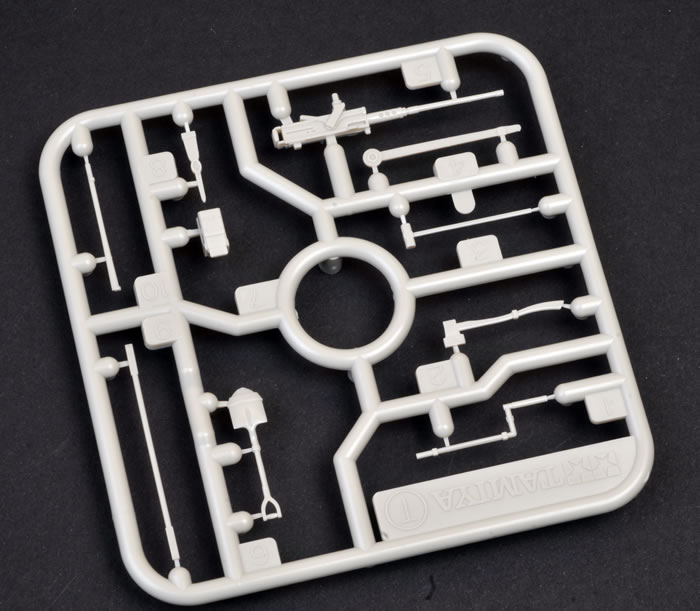 The kit boasts subtle caset texture and casting marks where appropriate.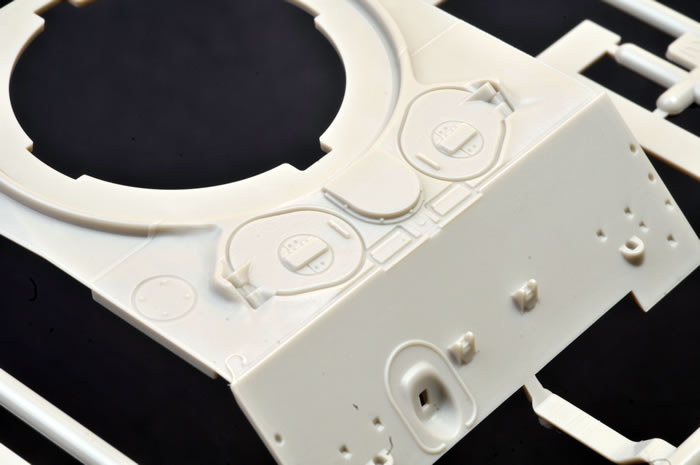 The model features the T23 turret with the oval loader's hatch and subtle cast texture wherever appropriate.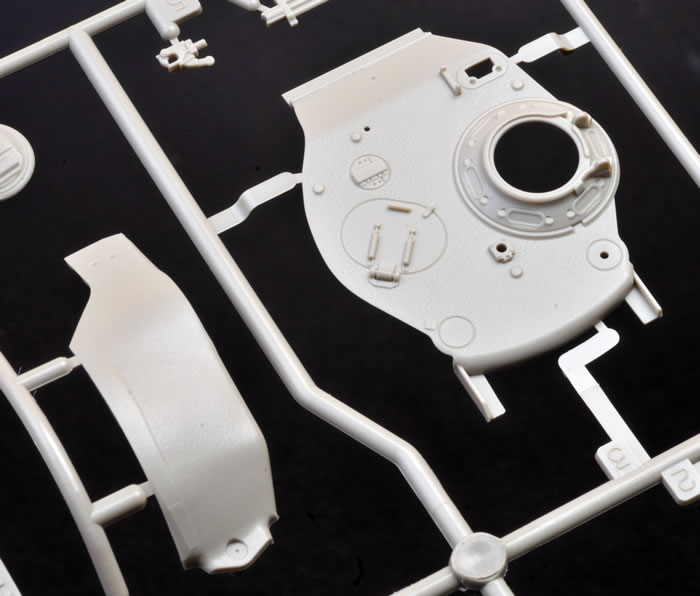 The running gear includes the later Horizontal Volute Spring Suspension (HVSS) suspension units, and link-and-length T66 tracks.
All of the other key features of the M4A3E8 are depicted too, including the 47° glacis hull with the enlarged hatches, the correct rear deck configuration and 76mm gun barrel with muzzle brake. Appliqué armour is not provided.
The lower hull is made up from a "flat pack" arrangement of separate floor, sides and engine firewall. Steel ingots are offered as an option to suply "scale weight" - typical for Tamiya's recent 1/48 scale kits.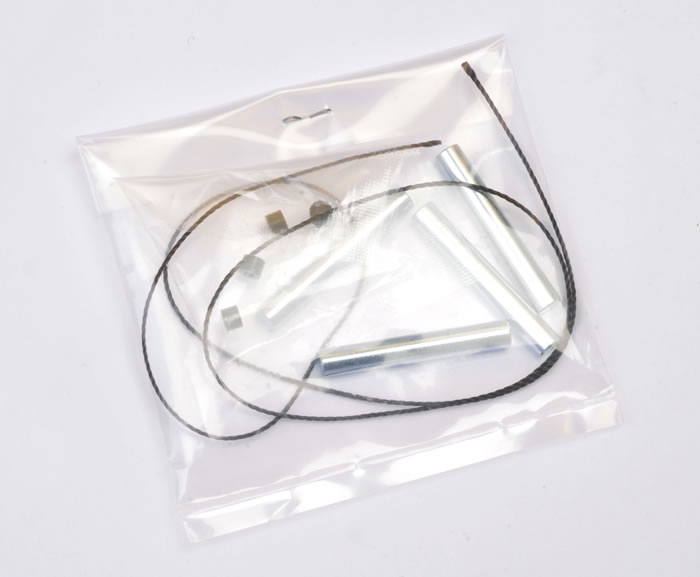 The track guards and sponsons are cleverly moulded as one piece per side. The diagonal supports are supplied as separate parts.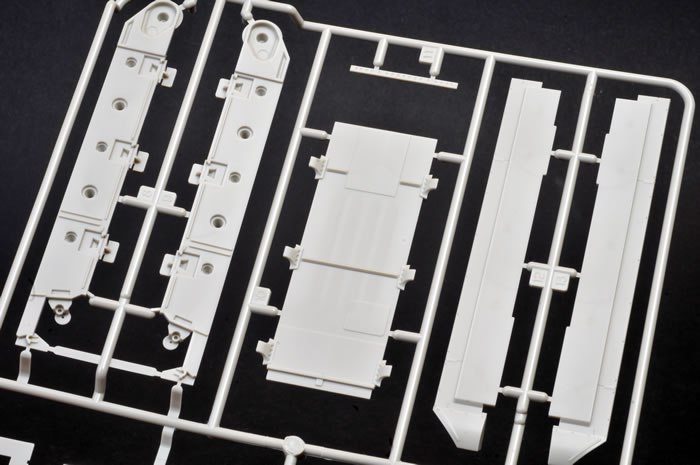 Detail on the tracks is very good. They are supplied in a combination of individual links, short lengths and full runs for the top and bottom. The guide horns are moulded onto the tracks with an indentation front and rear to suggest the hollow nature of the real thing.
The inside surfaces do have very feint but visible ejector pin circles. It will be up to you whether you fill or sand these, but considering how difficult it will be to see them on the finished model, I probably won't bother.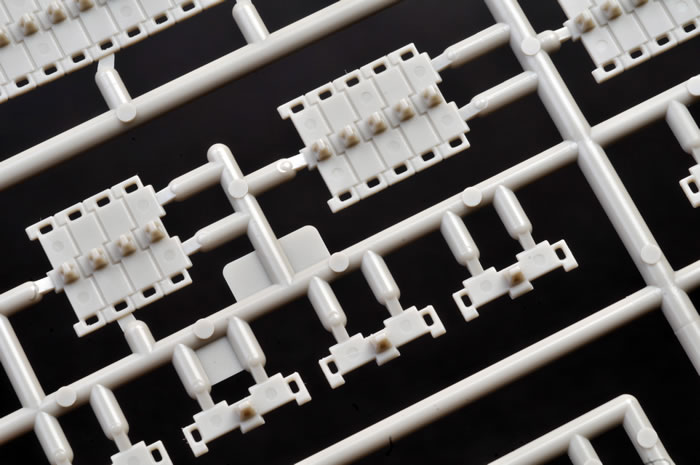 Clear parts are not included.
The Commander's turret hatch may be posed open or closed. All other hatches are moulded closed. A pillar-mounted .50 cal machine gun is also supplied.
The small decal sheet offers a selection of Allied stars for the two simple schemes.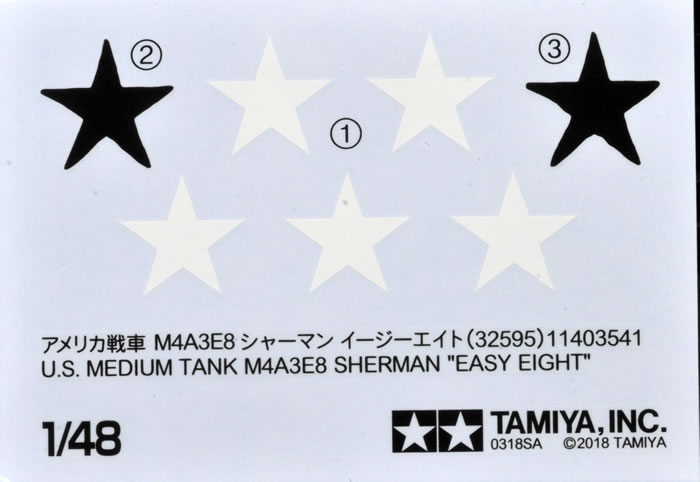 The package is rounded out with is a nicely moulded and animated Commander figure.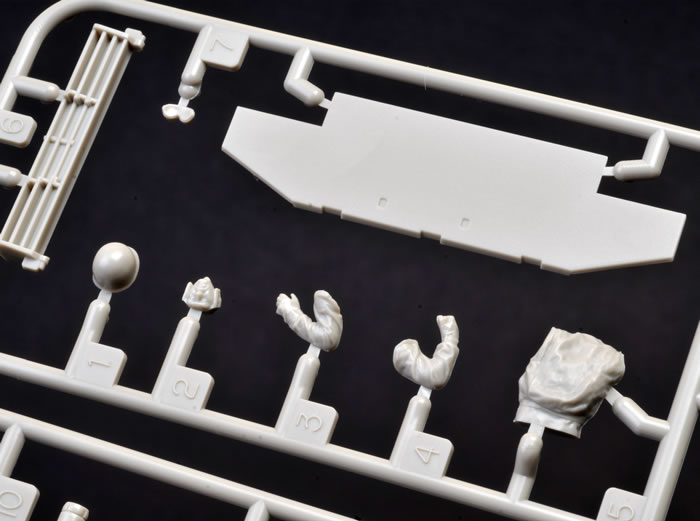 ---
C o n c l u s i o n
I am delighted that Tamiya has added the first HVSS Sherman to their M4 line. The new kit is well detailed, and should be a breeze to build.
I am looking forward to seeing what else Tamiya might release based on the running gear and hull of this version.
I can't wait to start mine!
Thanks to Tamiya Japan for the sample
Tamiya kits are distributed in the UK by The Hobby Company Limited for the sample.

Text and Images by Brett Green
Page Created 20 May, 2018
Page Last Updated 20 May, 2018