Char 2C French Super Heavy Tank
Meng, 1/35 scale
Reviewed by Brett Green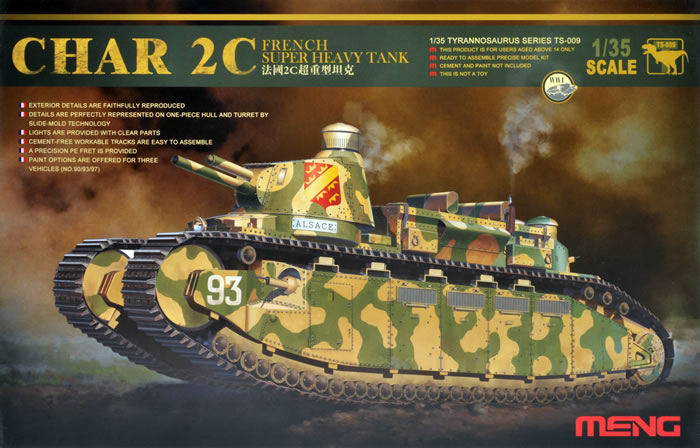 Summary
Stock Number and Description

Meng Kit No.TS-009 - Char 2C French Super Heavy Tank

Scale:

1/35

Media and Contents:
387 parts in dark yellow plastic; one in clear plastic; 150 black plastic individual track links and markings for three vehicles..
Price:
USD$43.99 plus shipping available online from Lucky Model and retailers worldwide
Review Type:

First Look

Advantages:

High level of detail; convincing surface textures; excellent moulding quality; individual track links; first time this type is available as a 1/35 scale mainstream model kit.

Disadvantages:
Recommendation:
The Char 2C is made up from a relatively modest number of parts, so construction should be quite easy. Highly Recommended.

Background
The Char 2C, also known as FCM 2C, is a French super-heavy tank developed, although never deployed, during World War I. It was, in physical dimensions, the largest operational tank ever made.
The Char 2C had a loaded weight of 69 tonnes, partly because of its armour - 45 mm at the front, 22 mm at the sides, but much of it just because of its huge size. The armour was among the thickest of World War I-era tanks, though by modern standards this would be considered thin. It is still easily the largest tank ever taken into production. With the tail fitted, the hull was over twelve metres long. Within its ample frame there was room for two fighting compartments. The forward compartment was crowned by a three-man turret (the first such in history) mounting a long 75 mm gun, and the second, at the rear of the tank, was topped by a machine gun turret. Both turrets had stroboscopic cupolas. The three independent 8 mm machine gun positions at the front gave protection against infantry assault.
The Char 2C is the only super-heavy tank ever to attain operational status — a super-heavy tank is not simply a tank that is very heavy but one that is much heavier than regular tanks of its period. The next operational tank to approach its weight would be the German Tiger II heavy tank of World War II.
The fighting compartments were connected by the engine room. Each track was powered by its own 200 or 250 hp engine, via an electrical transmission. Top speed was 15 km/h. Seven fuel tanks, containing 1,260 litres, gave it a range of 150 kilometres. The suspension contained 39 interleaving road wheels on each side, making for a total of 90 wheels on the tank.
To man the tank required a crew of twelve: driver, commander, gunner, loader, four machine gunners, mechanic, electrician, assistant-electrician/mechanic and a radio operator. Some sources report thirteen, probably due to pictures of the crews that included the company commander. *
---
F i r s t L o o k
Meng Model is the first company to produce a 1:35 scale Char 2C as a mainstream injection-moulded plastic kit, and they have done a very nice job.
Meng's 1:35 scale Char 2C comprises 387 parts in dark yellow plastic, one in clear plastic and 150 black plastic individual track links. In common with previous Meng releases, moulding quality is excellent and there are no apparent moulding imperfections on any areas that will be visible on the finished model.
Despite the size and complexity of the real vehicle, Meng has engineered their kit to be relatively straightforward to build. Although there are nearly fifty pairs of tiny road wheels each side, their clean moulding and simple parts breakdown should not make assembly a particular chore. The individual track links are very well detailed, and there are only 67 links per side. I have test fitted a couple of links and can confirm that they click together for a solid fit without the need of glue or cleanup, straight from the bag.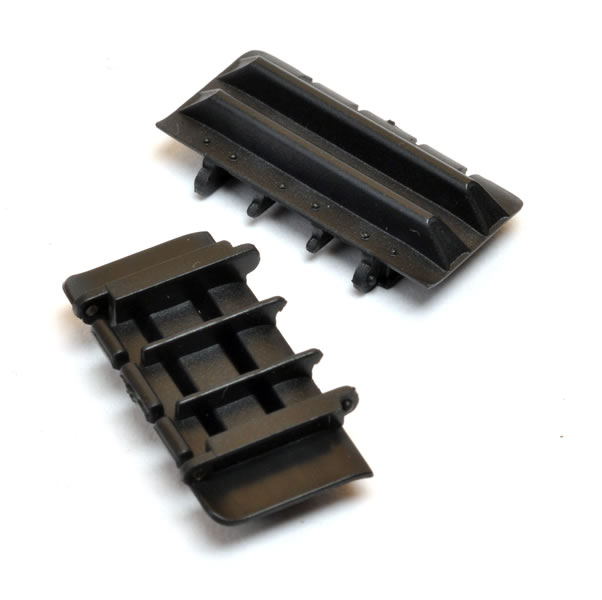 Surface textures and features such as vents are mainly moulded in place. They look great. Photo-etched mesh is supplied for a number of vents.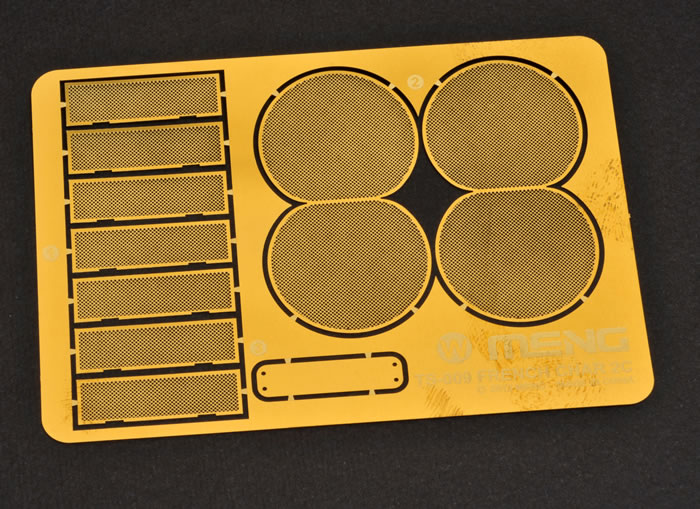 There is no interior supplied, but a number of the hatches are supplied separately in case you feel like scratch-building some detail in this cavernous area.
The raised engine compartment is supplied as a separate parts, with exterior detail built up in the form of exhausts, mufflers, boxes and plumbing.
The turrets feature crisp exterior detail. The main rear hatches are closed as part of the upper turret mouldings.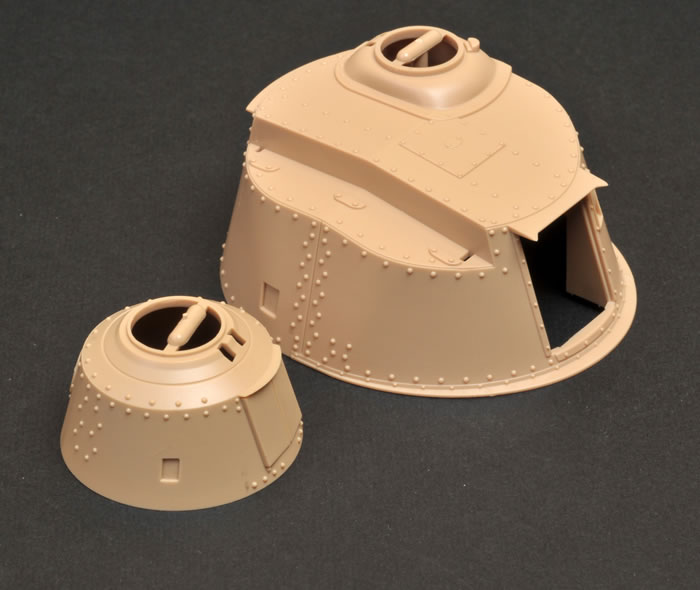 A single clear part is included for the headlight lens.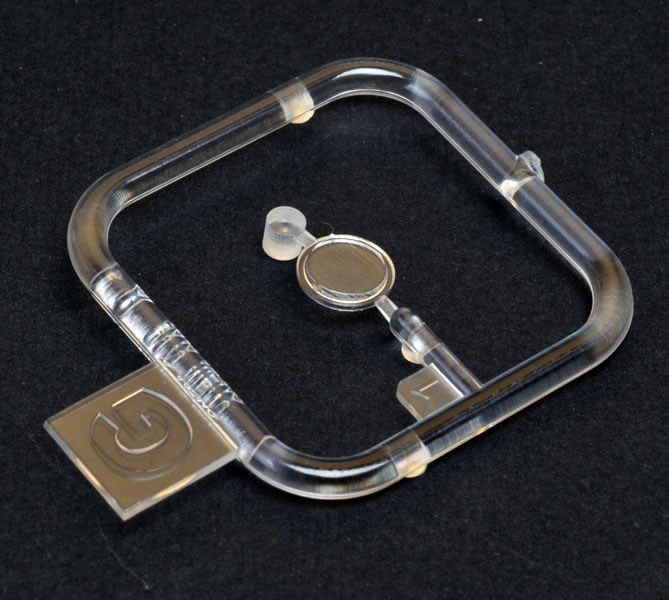 Markings are supplied for three vehicles – two in overall dark green and one with disruptive dark yellow camouflage.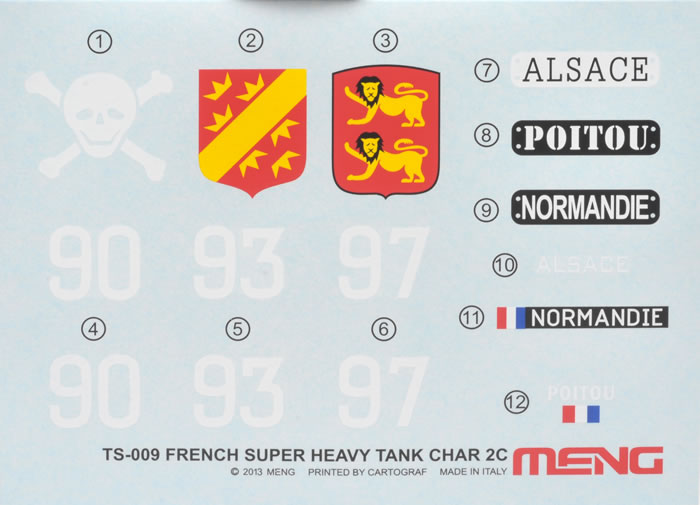 All three vehicles featured in the defence of France in 1939.
---
C o n c l u s i o n
It looks like Meng has another winner here.
They are defying the trend of some of the other new model companies with a straightforward parts breakdown and simple build while retaining a very high level of detail.
In common with their recent Israeli Achzarit, the Char 2C is made up from a relatively modest number of parts, so construction should be quite easy. Despite the large number of small road wheels, there is really nothing intimidating here – even a beginner modeller could tackle this kit and be confident of a good result.
Even so, detail is not compromised. Surface features are well represented and separate parts such as the turrets and engine deck parts look great. The model is enhanced by the individual track links too.
I do hope Meng continues this approach with its future releases.
Highly Recommended.
* Historical summary from Wikipedia http://en.wikipedia.org/wiki/Char_2C
Thanks to Meng Models for the sample www.meng-model.com
Text and Images by Brett Green
Page Created 12 January, 2014
Page Last Updated 13 January, 2014