Home > Reviews > Axis > Arms of the Spanish Republic. A Nationalist Overview, 1938 by Jose M Manrique Garcia & Lucas Molina Franco
Arms of the Spanish Republic. A Nationalist Overview, 1938
by Jose M Manrique Garcia
& Lucas Molina Franco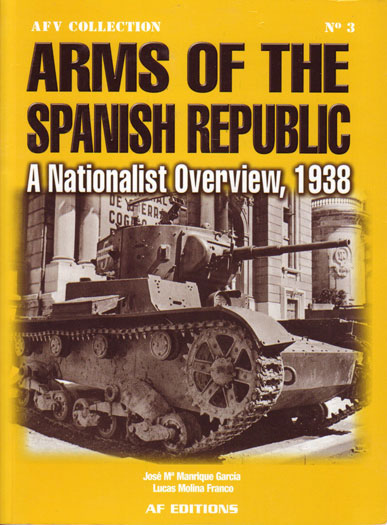 Reviewed by Alastair Bowie
Summary
| | |
| --- | --- |
| Title: | Arms of the Spanish Civil War – A Nationalist Overview, 1938 |
| ISBN: | 978-84-96016-90-3 |
| Media and Contents: | Soft Cover Historical guide well supported by B&W photos, Colour plates and tabular information in 96 pages. |
| Price: | TBA |
| Review Type: | First Read |
| Advantages: | A superb collection of photos and colour plates of the weaponry used by nationalist Forces during the Spanish Civil War. |
| Disadvantages: | Only a catalogue |
| Recommendation: | Highly Recommended |

FirstRead
The subject of Spanish Civil War is an interesting one and one which receives little coverage in mainstream English language publishing. This book is an interesting title and provides a fascinating catalogue of the vast array of weaponry used by Spanish nationalist forces during Spain's bitter Civil War.
The book is basically a catalogue of a vast exhibition of captured equipment which was held in 1938 and has been compiled from the original catalogues with added colour plates of some equipments.
The book is compact but crammed with information in the form of photos, tables and text. It is logically laid out and covers Tanks and Armoured Cars, Artillery, Machine Guns and Automatic Rifles, Rifles in various categories, Hand Grenades, Chemical Warfare and Aviation in its 96 pages
The chapters are adorned with excellent quality photos and are backed up by lovely colour plates of the most significant pieces. The text is basically a listing of the equipment in the exhibition, while the tables offer catalogue numbers and descriptions.
I found this to be an interesting book but I must warn prospective readers this is not a history or walk around book but a catalogue of a vast collection of equipment. If you have ever picked up a museum catalogue you should have good idea. The colour plates of some of the more unusual equipment such as the Catalonian Armoured Cars really set this apart from a simple catalogue, and the numerous photos add to the experience. If you are a modeller looking for an unusual subject, then this is a good starting point.
---
Text and Images by Alastair Bowie
Page Created 17 May, 2009
Page Last Updated 3 May 2009