Home > Reviews > Canada >
Bronco 1:35 Canadian Cruiser Tank Ram Mk.II Early Production. Kit No. CB35215
Canadian Cruiser Tank Ram Mk.II Early Production
Bronco, 1/35 scale
Reviewed by Brett Green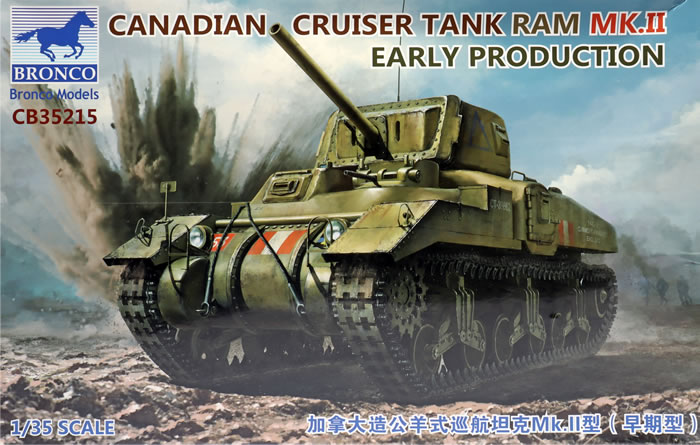 Stock Number and Description

Bronco Kit No. CB35215 - Canadian Cruiser Tank Ram Mk.II Early Production

Scale:

1/35

Media and Contents:

200 parts in dark green plastic; 960 parts in brown plastic; five parts in clear; photo-etched fret; decal sheet with markings for two vehicles.

Price:

TBA

Review Type:

First Look

Advantages:

Welcome subject; high quality moulding; well detailed; straightforward assembly (hull and turret).

Disadvantages:

Intricate tracks with greater than four times the number of parts in the rest of the kit seem out of character.

Recommendation:

Bronco has delivered a really nice kit with their Ram Mk.II. It is well detailed but the parts count for the bulk of the vehicle is quite modest. I am looking forward to building this one.

Background
The Tank, Cruiser, Ram was a cruiser tank designed and built by Canada in the Second World War, based on the U.S. M3 Medium tank chassis.
As built, the Ram was never used in combat as a tank, but was used for crew training in Great Britain up to mid 1944. The observation post vehicles and Armoured Personnel Carrier, gun tractor, and munitions carrier versions of the Ram saw considerable active service in North West Europe. These tanks were mainly rebuilt by Canadian Army workshops in the United Kingdom. Conversions of Ram tanks with the Wasp II flamethrower gear were used by the 5th Canadian Armoured Brigade in the Netherlands in 1945.
In 1945 the Royal Netherlands Army obtained permission from the Canadian government to take free possession of all Ram tanks in army dumps on Dutch territory. Those not already converted into Kangaroos were used to equip the 1st and 2nd Tank Battalion (1e en 2e Bataljon Vechtwagens), the very first Dutch tank units. These had a nominal organic strength of 53 each. However it proved to be impossible to ready enough tanks to attain this strength because the vehicles were in a very poor state of maintenance.

In 1947 the UK provided 44 Ram tanks from its stocks, that were in a better condition. Forty of these had been rebuilt with the British 75 mm gun; four were OP/Command vehicles with a dummy gun. This brought the operational total for that year to just 73, including two Mark Is. In 1950 only fifty of these were listed as present. The Ram tanks (together with the Sherman tanks of the three other tank battalions, in part simply taken without permission) were replaced by Centurion tanks leased by the U.S. Government in 1952.
Some Ram tanks were used in the 1950s as static pillboxes in the IJssel Line, their hulls dug in and embedded within two feet of concrete.*
---
FirstLook
Bronco has brought the first injection moulded mainstream 1:35 scale Canadian Ram II tank to market with this brand new release. The kit depicts an early production Mk.II fitted with the QF 6 pdr 57mm gun.
The kit comprises 200 parts in dark green plastic (for everything except the tracks), 960 parts in brown plastic (for the track links) and five parts in clear. A photo-etched fret plus a decal sheet with markings for two vehicles are also included.
Moulding quality is excellent as you would expect. The upper hull is a single piece, including the engine deck with the hatches moulded shut.
The lower hull is broken down into a flat pack with separate sides, bottom, rear panel and transmission cover. Separate sponson covers are also included, as is a forward bulkhead for the engine compartment.
The running gear is made up from six M3-style bogies with the centrally mounted return roller plus drive sprockets and idler wheels. Each bogie is made up from 14 plastic pieces. When complete, they appear to be fixed for flat ground configuration. The mounts for the drive sprockets and idler wheels are moulded to the lower hull sides, so there is no idler wheel adjustment possible.
Tracks are workable individual link WE210 "Double-I" style. These seem to have been commonly used but there are also photos showing the Ram wearing T41 rubber block or T54E1 steel chevron tracks. Each link is made up from five parts – inner and outer blocks, a connector sandwiched between the two block parts and two end connectors.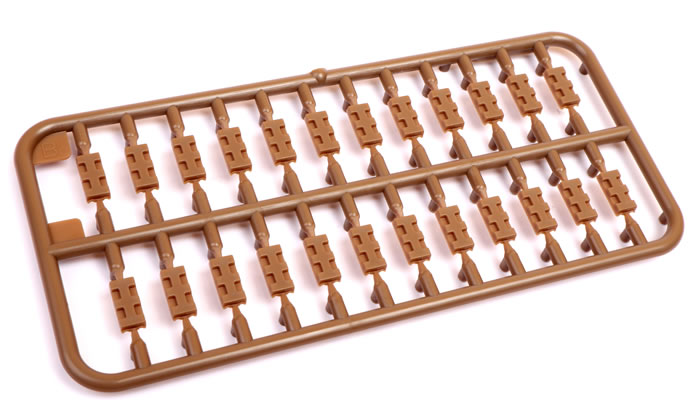 You'll need to be careful with the application of glue if you want the tracks to remain workable. 84 sets of links are required for each side, so 840 parts will be used for the tracks alone. Spares are supplied on the sprues.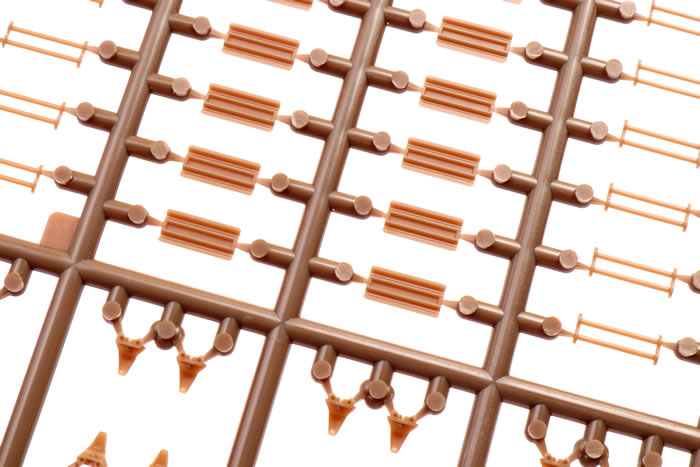 Photo-etched parts are included for engine deck mesh, headlight brush guards, tie-downs, wing nuts and more.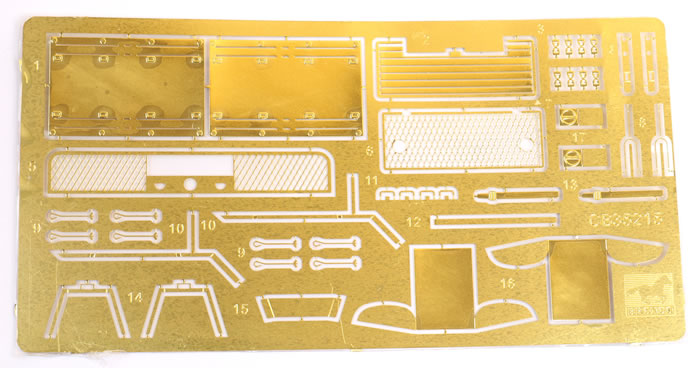 The main turret is supplied as a large upper shell and a lower piece along with a two-part rear stowage box, separate mantlet and a once-piece slide mounted 6 pdr gun barrel.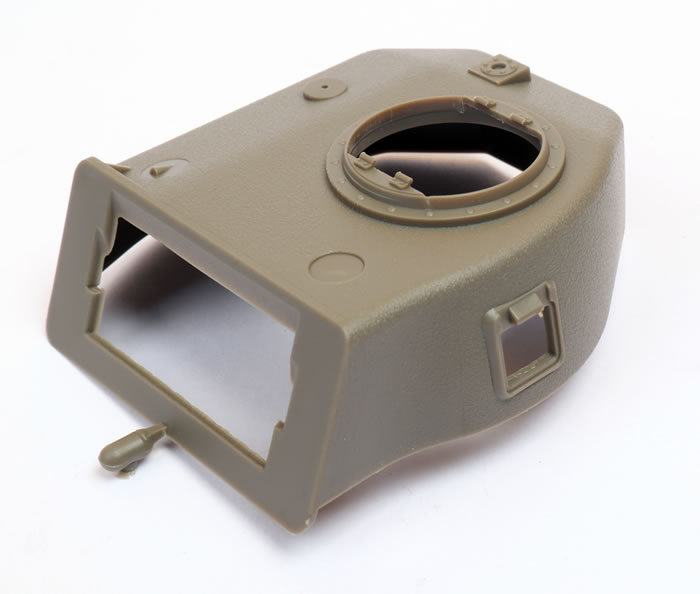 The turret, upper hull and transmission cover have been treated to a texture representing cast metal. I find it a little uniform so I will probably rough this up a bit with a putty and liquid cement mix.
Casting marks are moulded to the transmission cover - nice touch.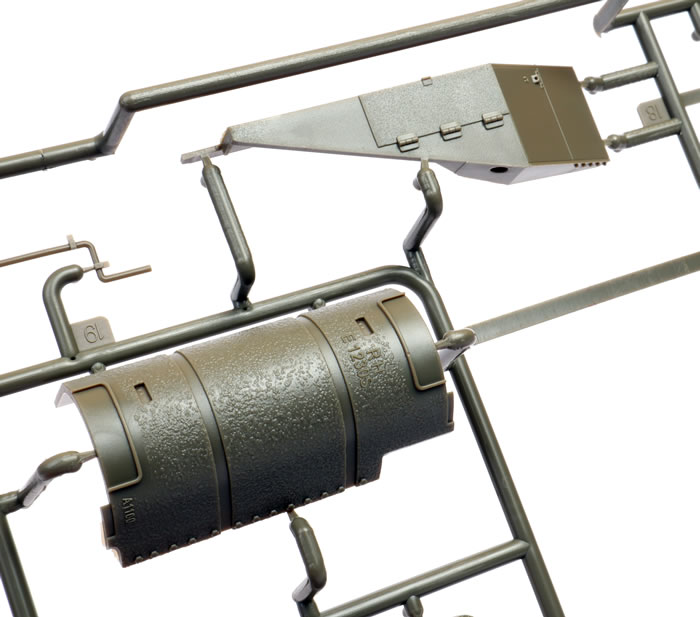 The small forward hull turret is made up from eight parts. In both turrets the gun may elevate and the turrets may rotate. Both hatches may be posed open or closed.
The side hull hatches are also separate and may be posed open is desired. Optional photo-etched covers and levers are offered for the hull side hull hatches. The driver's visor may also be left open if you wish.
Soft copper wire is included to represent the tow cable.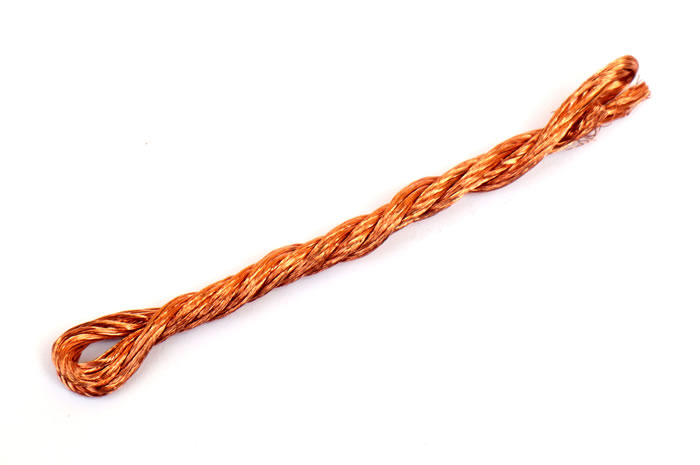 Clear parts are provided for the scopes and the headlight lenses.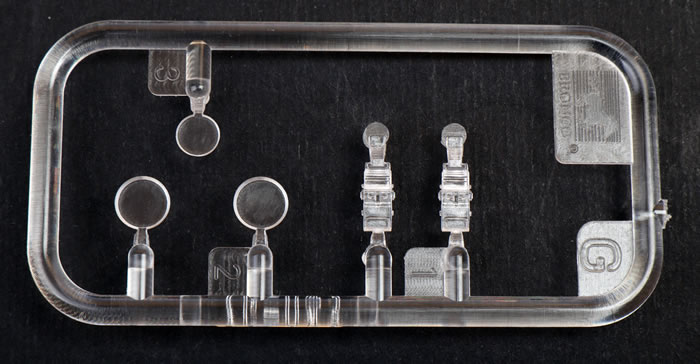 Markings for two UK based training vehicles are included.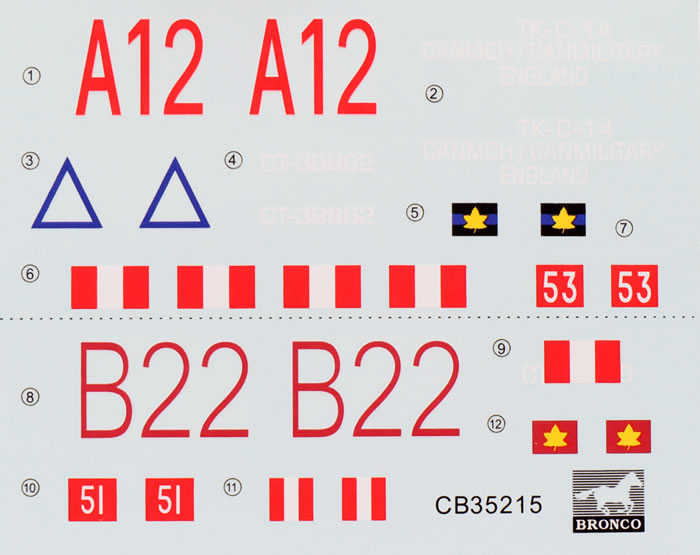 Quality of the decals looks good.
---
Accuracy
Paul Roberts has some observations about the accuracy of the model:
"There are some inaccuracies with this kit.
As shown elsewhere, the turret ring is a fair bit too small and includes a raised bullet splash lip that wasn't present on this very early Ram configuration. Similarly, the driver's side door should have an extractor fan and not a protectoscope. The external air cleaners, indicating an 82 octane Continental engine are not correct as these early Ram IIs had the 100 octane version and had external pepper pot exhausts and mufflers, like the early Lees.
The shape of the hull to the right of the driver is off by a fair amount, too.
The depiction of the screws attaching the gun mount plate to the face of the turret look weak, but I need to see one close up to know better.
All that said, it's at the very least, a far better place to start an accurate Ram than most of the resin kits that have been produced. Resicast and Formations being quite good and all the rest being flavours of awful."
---
Conclusion
Bronco's 1:35 scale Ram Mk.II is a really nice kit. It is well detailed but the parts count for the bulk of the vehicle is quite modest. I am looking forward to building this one.
However, I think the intricate workable tracks with greater than four times the number of parts in the rest of the kit are out of character with this otherwise straightforward model. The suspension is only configured for flat ground. Live tracks such as these do not sag so there really is no need to have them workable in this case.
Here's a quick recap of live and dead tracks courtesy of Wikipedia:
"Tracks may be broadly categorized as live or dead track. Dead track is a simple design in which each track plate is connected to the rest with hinge-type pins. These dead tracks will lie flat if placed on the ground; the drive sprocket pulls the track around the wheels with no assistance from the track itself. Live track is slightly more complex, with each link connected to the next by a bushing which causes the track to bend slightly inward. A length of live track left on the ground will curl upward slightly at each end. Although the drive sprocket must still pull the track around the wheels, the track itself tends to bend inward, slightly assisting the sprocket and somewhat conforming to the wheels."
So, to recap, dead tracks (for example, those fitted to German tanks) will sag whereas live tracks (such as fitted to Sherman and their variants) cannot.
I wish all model companies would adopt Tamiya's recent track policy. They now offer link-and-length plastic tracks for dead tracks such as in their Hummel and reissued Marder kits. These tracks are fast and easy to assemble and they represent the sag along the top run perfectly. On the other hand, for their recent Sherman variants Tamiya has provided full-length flexible vinyl tracks. These are nicely detailed and may be completed in minutes.
And after all this, even if model companies still feel it is essential to include multi-part individual link tracks, then how about throwing in a set of full-length vinyl tracks as an option. Pretty please?
But I digress. I will build this kit but I will finish it using an old set of Tasca full-length flexible vinyl Double-I tracks that I have in the spares box.
* Historical text adapted from Wikipedia
Thanks to Bronco for the sample http://www.cn-bronco.com/en/index.php