Kangaroo Armoured Personnel Carrier
Italeri, 1/35 scale
Reviewed by Andy King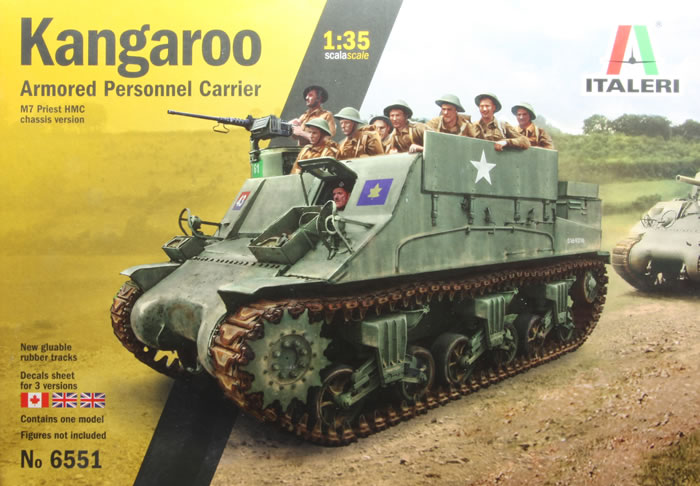 Stock Number and Description

Italeri Kit No. 6551 - Kangaroo Armoured Personnel Carrier

Scale:

1/35

Media and Contents:

See text.

Price:

TBA

Review Type:

First Look

Advantages:

The basics are there; decent interior supplied.

Disadvantages:

Showing its age in places.

Recommendation:

With the addition of aftermarket such as tracks, suspension and etch, stowage from Value Gear etc., this could be made into a really nice model. Also, it is the only Kangaroo in 1:35 scale to my knowledge, so if you want one for your collection this is it.

Background
The Kangaroo was a conversion of the M7 Priest initially used by the Canadians during WWII but it proved popular in service with the British and other Commonwealth countries too. Due to the lack of decent troop transport and the shortage of M3 halftracks, Lieutenant-General Guy Simmonds, commander of II Canadian Corps devised the Kangaroo as an alternative to purpose-built APCs due to the oversupply of self-propelled guns and tanks.

72 M7 Priests were converted initially with later Kangaroos based on Shermans, Churchills and the obsolete Canadian Ram tank.
---
FirstLook
The base kit was as an M7 Priest which dates from the late 1970s and issued as a Kangaroo in the 1980s. Considering the age of the tooling, moulding quality is what you would expect for something over 40 years old and looking at the parts you have flash present, heavy seam lines and unfortunately some bad sink marks on some of the suspension parts that are actually holes.
The tracks are one-piece vinyl and don't look that bad considering, but there is some flash between the links and raised pin marks on the inside face however these are easily removed with a fresh knife blade. It is recommended in the instructions you use superglue to join them together rather than liquid glue (or a heated screwdriver blade back in the old days).
There is no cast texture on the hull front so you will need to add it with your favourite product. I personally use Mr Surfacer 500 for this or liberally coat the parts with liquid glue and stipple with a stiff brush.
A fairly decent interior is provided although extra detailing and refining of the kit parts will make it look even better. To be nit-picky, the box art shows a fully crewed vehicle however there is only the original three man crew included so you will have to source figures from elsewhere, plus thinking about it, Italeri figures were not stellar anyway so it's probably best they left them out.
Markings are provided for three Kangaroos:
Version A from the 2nd Canadian Infantry Division,4th Canadian Infantry Brigade, Normandy , August 1944;

Version B from the British 51st Highland Division, 154th Infantry Brigade, 7th Argyll & Sutherland Battalion, Normandy, August 1944 and

Version C from the British 78th Infantry division, 2nd Brigad, 1st Battalion, Conselice, Italy, April 1945.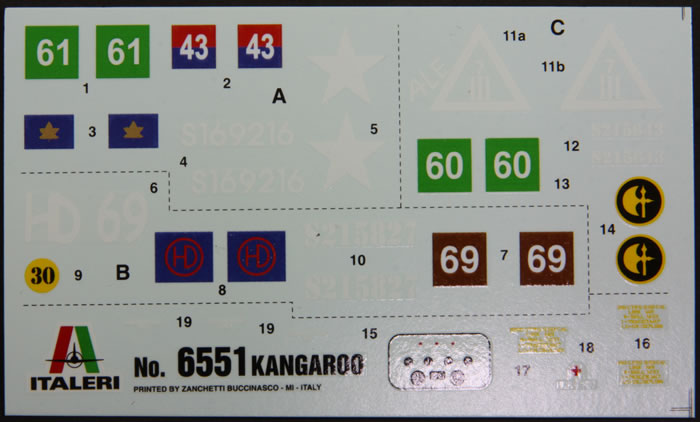 All vehicles are in overall Olive Drab.

Decals are printed by Zanchetti Buccinasco and are in register. Stencilling is included for the .50 cal ammo boxes and vehicle interior and quite legible although the decals for the instruments would look better from an aftermarket company such as Archer.
---
Conclusion
Italeri has once again raided their vaults and reissued an old kit. The only really new aspect here is the decals. However, as with all of their kits, the basics are there and with the addition of aftermarket such as tracks, suspension and etch, stowage from Value Gear etc., this could be made into a really nice model. Also, it is the only Kangaroo in 1:35 scale to my knowledge, so if you want one for your collection this is it.

* History via Wikipedia
Thanks to The Hobby Company Ltd for the review sample www.hobbyco.net