Home > Reviews > Figures > D-Day Miniature Studio 1/35

"Together Against Blitzkrieg" WWII Belgian Army & BEF, Belgium 1940
"Together Against Blitzkrieg" WWII Belgian Army & BEF, Belgium 1940
D-Day Miniature Studio, 1/35 scale
Reviewed by Brett Green

Summary

FirstLook
D-Day Miniature Studio has released another multi-figure set, this time "Together Against Blitzkrieg" WWII Belgian Army & BEF, Belgium 1940.
Four figures are offered. Two are Belgian – a soldier and a nurse wearing a Belgian helmet over her distinctive headdress – as well two BEF soldiers. One of the British soldiers is injured and seated on a chair. The chair is supplied as in three resin parts. The injured soldier is cast with bandages under his tunic and below his helmet – quite clever and effective.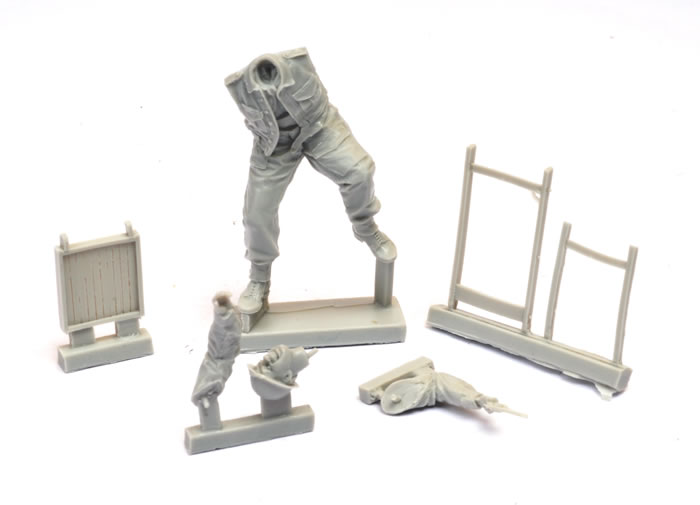 The package is delivered in a single side-opening cardboard box with the figures packed in separate ziplock plastic bags. 23 resin parts are supplied in total. Casting quality is excellent. Fabric drapes naturally and detail is sharp.
The four figures are all standing in relaxed poses, so they will be suitable for all sorts of vignettes and dioramas.
All figures are cast with separate arms and head. Weapons are separate parts too.
The figures are also available from D-Day Miniature Studios' website individually, and also offered in a couple of pairs (the Belgian and the British figures are paired off).
This is another high quality and versatile set from D-Day Miniature Studio that will look great posed with buildings and vehicles or as a standalone vignette.
D-Day Miniature Studio products are available online from their website http://www.ddayminiaturestudio.com

Text and Images by Brett Green
Page Created 5 May, 2019
Page Last Updated 5 May, 2019