Home > Reviews > Figures > D-Day Miniature Studio 1/35

"I Shot 'Em Down" Battle of Britain 1940, Austin Tilly Crew
"I Shot 'Em Down" Battle of Britain 1940, Austin Tilly Crew
D-Day Miniature Studio, 1/35 scale
Reviewed by Brett Green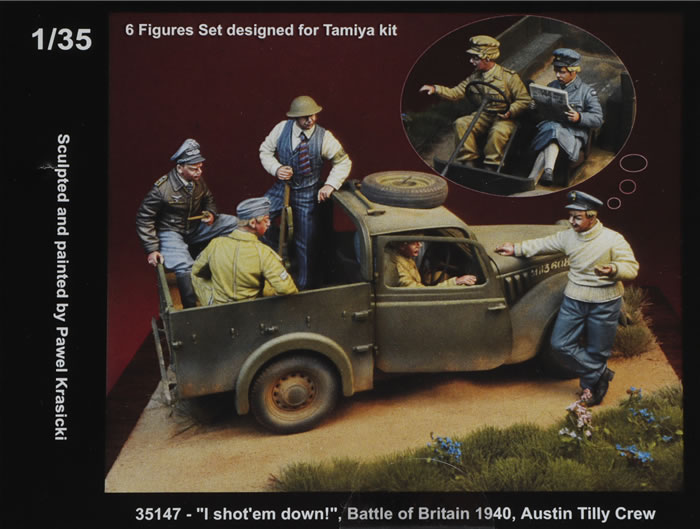 Summary

FirstLook
D-Day Miniatures is getting into the habit of delivering some very interesting vignettes in a box with multiple figures designed to suit a particular vehicle or scene.
Their latest is a big and impressive set called "I Shot 'Em Down".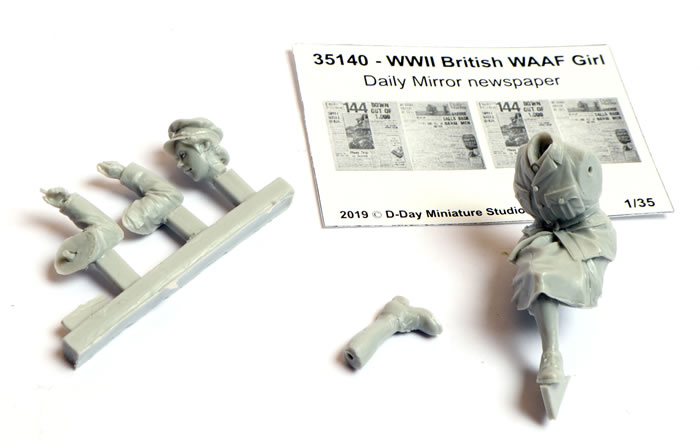 D-Day Miniatures' 1:35 scale Battle of Britain 1940, Austin Tilly Crew comprises six figures – a WAAF and a female Auxiliary Territorial Service driver inside the vehicle, a Home Guard volunteer, an RAF pilot, a Luftwaffe fighter pilot and a member of a Luftwaffe bomber crew. These are designed to be posed with Tamiya's 1:35 scale British Light Utility Car 10HP – better known to you and I as the Austin Tilly - Item No. 35308 (not included). The pilots and their Home Guard guard have been picked up by the WAC driving an Army Tilly.
The package is delivered in a single box, and each of the figures is packed in separate ziplock plastic bags. 26 resin parts are supplied in total. Casting quality is excellent.
The poses tell the story of two downed Luftwaffe aircrew and the RAF pilot who claims to have shot them down chatting up the Army driver while her WAAF colleague reads the newspaper. The poses are natural and casual. Fabric drapes naturally and detail is just lovely. There is plenty of potential variety in colour and texture when painting the six figures.
Sculpting quality is perfect on my sample.
The Luftwaffe officer is dressed as a typical Battle of Britain fighter pilot with leather jacket, jodhpurs, high boots and cap. The second Luftwaffe figure is wearing his one-piece tan-coloured flying suit and side cap. The Home Guard figure is sporting vest and pants with long sleeved shirt and tie, with a helmet and armband identifying his role. The female Auxiliary Territorial Service driver is wearing Khaki trousers, battle jacket and cap, while her WAAF passenger is in RAF Blue skirt, jacket and cap. D-Day Miniatires also supplies four newspaper pages for her to read. The final figure is an RAF pilot wearing a turtleneck sweater over his uniform.
This is a fabulous set and is almost a diorama in a box – just add the Austin Tilly!
D-Day Miniature Studio products are available online from their website http://www.ddayminiaturestudio.com

Text and Images by Brett Green
Page Created 2 September, 2019
Page Last Updated 2 September, 2019