Home > Reviews > Figures > D-Day Miniature Studio 1/35

"Red Storm Over Europe" Soviet Rear Troops, 1944-46
"Red Storm Over Europe"
Soviet Rear Troops, 1944-46
D-Day Miniature Studio, 1/35 scale
Reviewed by Brett Green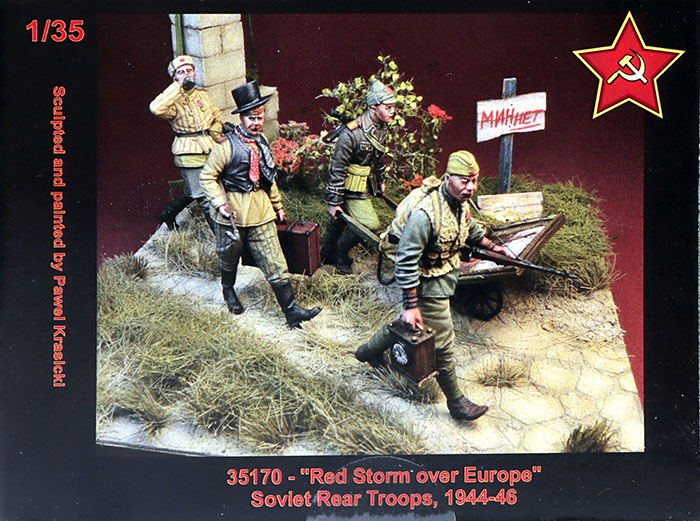 Summary

FirstLook
Over the last few years, D-Day Miniatures has released some very creative vignettes-in-a-box with multiple figures designed to suit a particular vehicle or scene.
Their latest is an impressive set called "Red Storm Over Europe" Soviet Rear Troops, 1944-46.
D-Day Miniatures' 1:35 scale "Red Storm Over Europe" comprises four Soviet infantry figures, all walking and two wearing the characteristic Red Army 1943 Pattern Gymnastroika uniforms, plus a luggage barrow and accessories.
One of the figures is striding along with a PPSh-41 sub-machine gun while drinking from a bottle.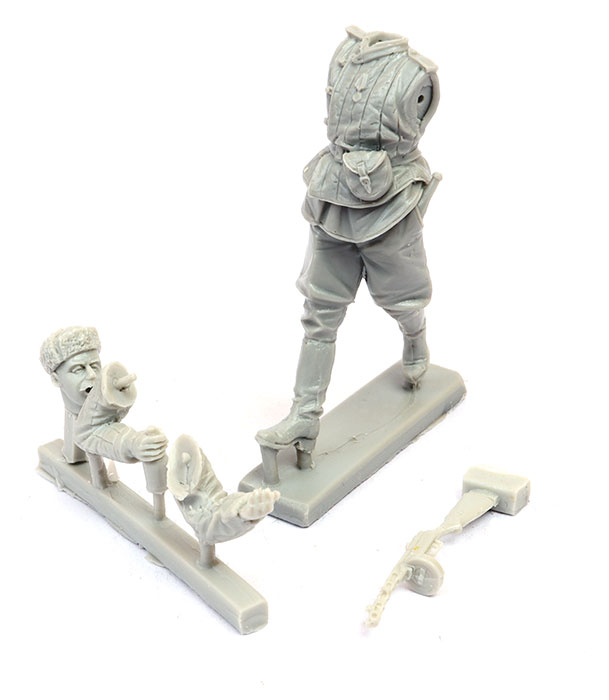 One is carrying a suitcase and walking stick and wears a top hat, a vest and two neck ties.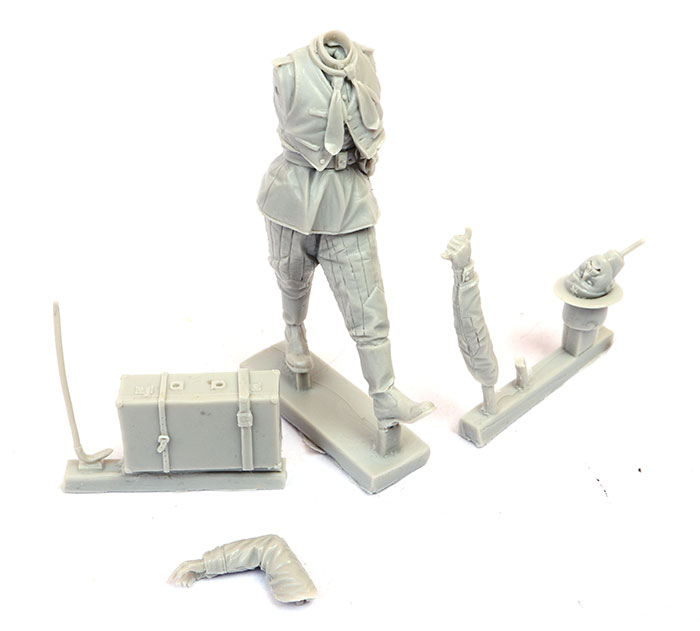 Another is carrying a Mosin-Nagant rifle and a carriage clock. He is wearing a sheepskin vest, a backpack and multiple wristwatches on both arms.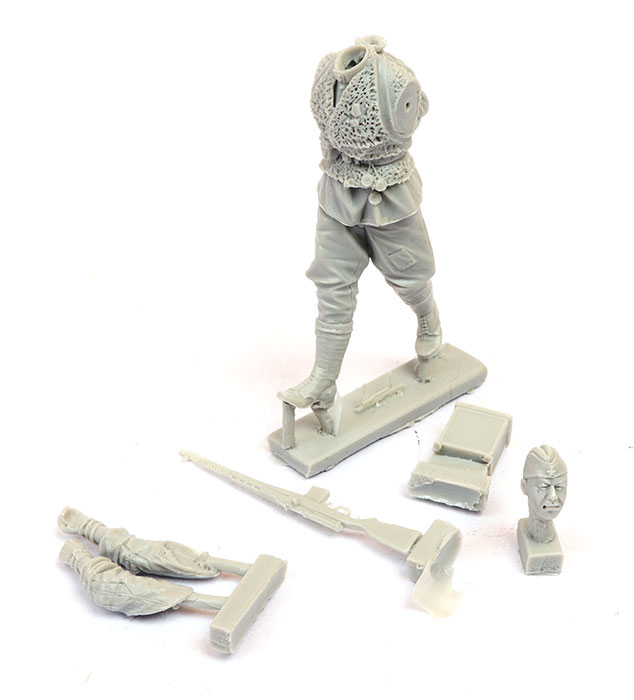 The last figure pushes a single wheel, railway-style luggage barrow loaded up with loot - two oil paintings, a crucifx and more.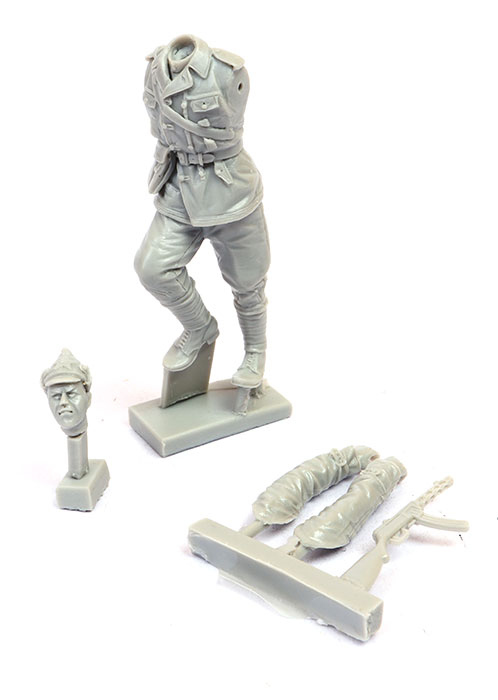 The package is delivered in a single box, and each of the figures is packed in separate ziplock plastic bags. 40 resin parts are supplied in total. Casting quality is excellent.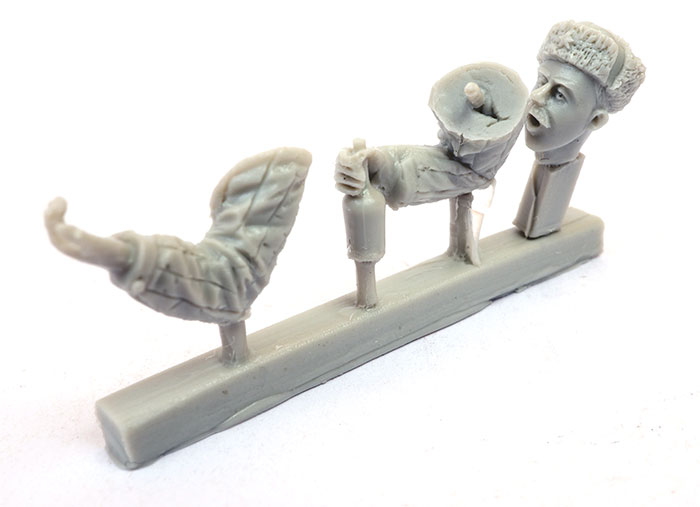 The poses tell the story of four Soviet soldiers marching along with their war prizes. The poses are natural and casual. Fabric drapes are realistic and detail is just lovely. There is plenty of potential variety in colour and texture so painting the four figures and the accessories shuld be a lot of fun.
Sculpting quality is perfect on my sample too.
The trolley is made up from nine resin pieces. Woodgrain effect on the planks is outstanding. There are no instructions but images on D-Day Miniatures' website will assist in parts placements.
The website photos will be helpful for the figure parts placement too.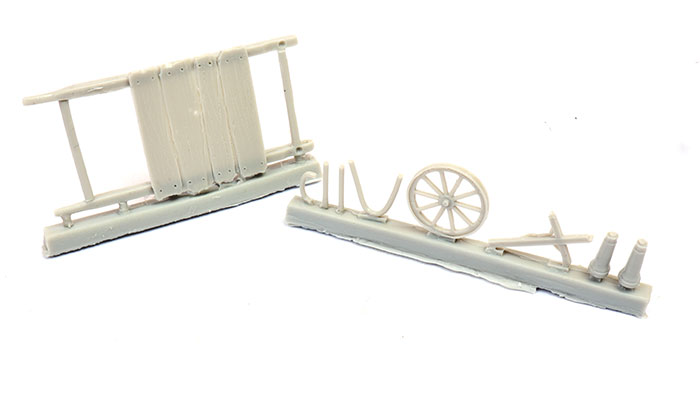 Additional accessories include a second clock and suitcase, two ornate picture frames, a crucifix and a sack.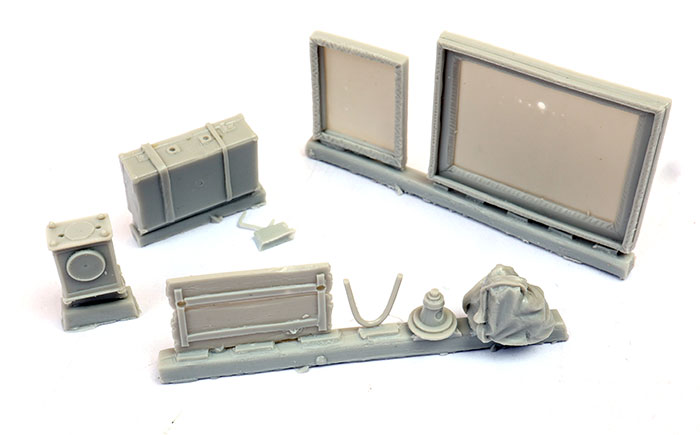 Two oil paintings and two clock faces - one in clean condition and one battle-weary - are printed onto a small piece of paper.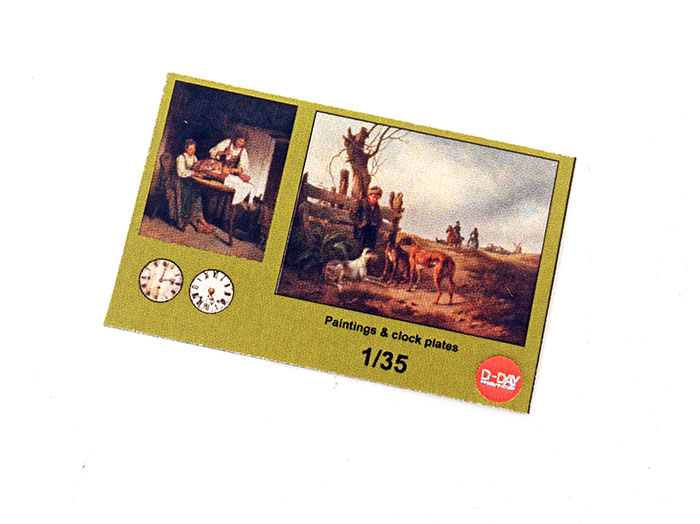 The figures may also be bought in pairs or individually. The luggage trolley and accessories may be purchased separately too.
This is a great little story in a box. D-Day Miniatures latest figure diorama set ticks all the boxes - casting quality, lively personality and a complete package including accessories.
These will be fabulous as a stand-alone vignette or as part of a larger diorama.
D-Day Miniature Studio products are available online from their website http://www.ddayminiaturestudio.com

Text and Images by Brett Green
Page Created 6 December, 2019
Page Last Updated 7 December, 2020